The kitchen should be a focal point for any household. It's a space that is used daily by all family members. Therefore, it's imperative that you give your kitchen the TLC it deserves with regular upgrades. If now is the time for you to invest in new kitchen design, there's a key ingredient that must be considered – sociability. Kitchens can be a wonderful venue for spending family time together. Likewise, they can be a fantastic place for hosting guests. How can you create a kitchen design that is perfect for both? Here's everything you need to know.
Creating a Kitchen Design for Social Occasions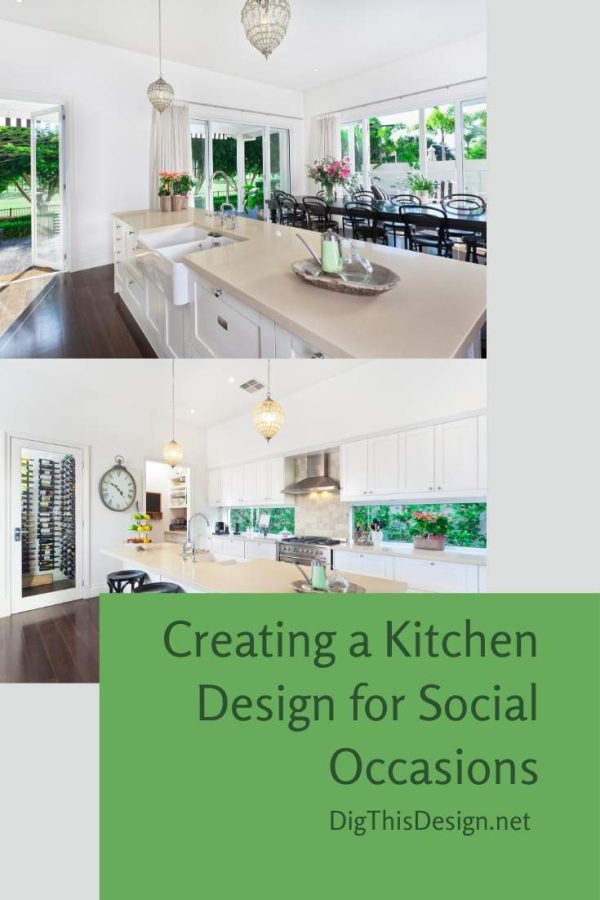 Create Social Space
Kitchens come in almost every shape and size imaginable. Regardless of the exact dimensions of your kitchen, making the most of the space available is key. Otherwise, it will never provide that social vibe that you're looking for. It is possible to add physical dimensions to your kitchen design. Knocking down walls to create more open space can be a great solution, especially if you have the right tools. Alternatively, you could consider hiring a professional to build an addition to your property.
You can create the illusion of space by using strategically placed mirrors. Another option is to install more windows, maybe even consider a skylight. Most importantly, you need to use the space in an effective manner. Building an island, for example, can work wonders. Not only will it add storage space and additional work surfaces, but it can be used as an extra area for socializing too.
Go For Natural Vibes
One of the best ways to make space appear larger is to choose lighter color schemes. This will reflect any light and bring in fresh and natural energy. Not only does this fit in nicely with the general demands of a modern kitchen, but it also increases the social atmosphere. Many homeowners like to designate one feature wall for added color and excitement.
Choosing natural materials for flooring can be highly beneficial too. With the help of an expert timber supplier, you'll be able to do so on a smaller budget. More importantly, the flooring will carry a greater quality and the installation process can be simple for any DIY enthusiast.
Enhance the Natural Atmosphere
For cabinetry, a quick and cheap solution is to replace the doors rather than the whole kitchen. In most cases, the internal areas are in great health. It would be a waste to throw them out. A variety of simple tricks can be used to enhance the natural atmosphere. Growing herbs by the window is a particularly good option. Meanwhile, photographs and artwork can be very beneficial as well. As long as you avoid overcrowding the room, you should be just fine.
The Entertaining Designs
If you are planning to use the kitchen as an entertainment room, simple design choices can add great versatility. For example, opting for an extendable table can allow you to play with the space to suit each specific occasion. Technology plays a huge role throughout the kitchen, and music can be a great ingredient for any social gathering. Wireless speakers are more affordable than ever. Furthermore, they don't need to take up much space and are often portable.
If you are lucky enough to have a kitchen that backs onto the garden, installing sliding doors could transform the entire room. This simple trick essentially brings the outdoors into your home. From a social perspective, it adds a whole new dimension to the area too. Those possibilities become even greater when you have a deck or patio area.
It also improves the overall safety of your kitchen area. Installing a water purifying tap or a fridge with a water dispenser has a huge positive impact too. Beer fridges and other accessories can be purchased to suit your personal demands. Food and drinks are an important part of entertaining. Keep this in mind, and a successful transformation is assured.
Other Posts You Might Enjoy
Kitchen Improvements – How to Increase the Value of Yours
Kitchen Design Tips To Keep Your Food Prep Safe
Kitchen Backsplash Design – Designing a Visual Focal Point
Got A Boring Kitchen? Breathe Life Into It With These Decorative Tips
Share This Story, Choose Your Platform!