Homeowners today have more choices than ever when shopping for a new kitchen. From granite countertops to cabinetry, your dream kitchen is certainly within reach. It's easy to design a visual focal point with the perfect kitchen backsplash design. This will make your kitchen look amazing. Whether you want a warm, country look or prefer something more formal, there is a perfect fit for your kitchen.
Backsplash Designs to Show Off Granite Countertops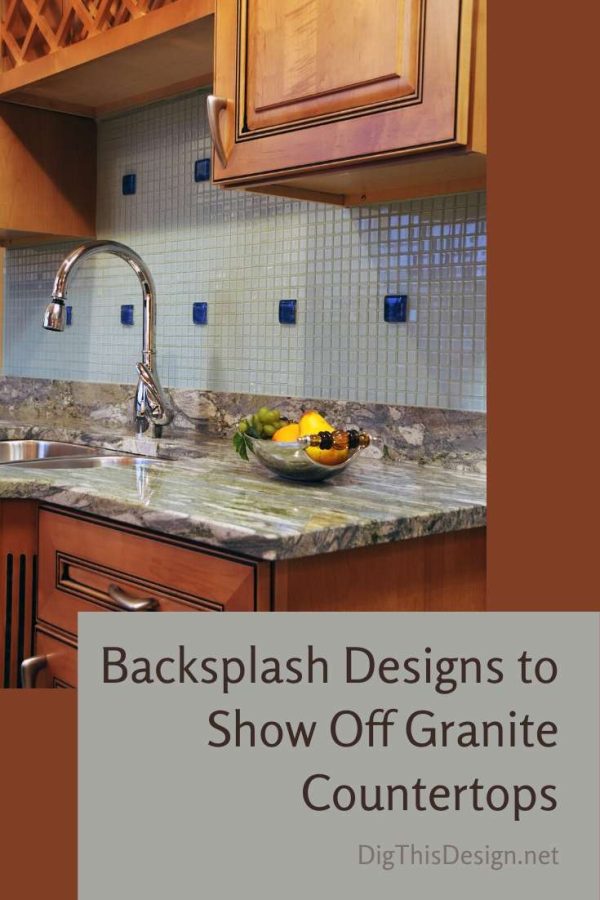 Granite Countertops
Granite countertops are a favorite look for any kitchen. They come in a variety of colors, from deep black to blues, reds, and even a mottled white. I recommend researching the latest in stone materials before making a final decision. Search online for the latest countertop trends as seen at the industry shows like the Coverings Show and the Kitchen and Bath Industry show.
Kitchen Backsplash Ideas
When you find the color and pattern that's right for you, consider how you want the backsplash to look as well. You have plenty of options here including:
Granite kitchen backsplash: Continue the look of your beautiful granite four or five inches above the countertop for a seamless look that really pulls together the kitchen. Want to make a bolder statement? Continue the granite backsplash all the way to the bottom of the cabinets. For something a little bit different but still complementary, try another stone, such as marble or quartz.
Accent colors: If you're going for a look that lends cohesiveness to the kitchen design, try something subtle for the backsplash that blends well with the countertop. Choose one of the more muted colors in the granite and repeat it in the backsplash. However, if you are more daring, pick out one of the brighter tones and echo it in the backsplash for a wonderful, attention-grabbing kitchen component.
Lines and angles: Because granite features swirls and swoops of color in a random flow, creating geometric patterns with lines and angles in the backsplash can be a successful look that contrasts nicely.
Opposites attract: If you're going with a darker granite for your countertops, nothing sets it off better than the opposite, contrasting color in the backsplash. For example, if you choose black granite for the countertops, try a white or pale gray pattern for the backsplash. For a lighter, beige granite, try a deep brown backsplash. You're going to love the look.
Opposite textures: The same holds true for textures. If your granite has a glossy finish, try a rougher, matte finish on your backsplash. The contrast helps lend a balance to the room that draws interest by letting the eye wander from element to element.
Add color: Granite can prove to be a great neutral palette to play with, so if you're into bright colors, try them out on the backsplash. Due to the large variety of materials, colors, and textures available in today's granite countertops, there's lots of room to play. Take a look at the beautiful countertops that await at your favorite granite & cabinet superstore.
Granite Showpieces
There's no doubt that beautiful granite countertops are the showpiece in most kitchens. This is because they're beautiful, but they are also strong. They show off your sense of style and set the tone not only for the kitchen, but also the dining area and into the family/living room as well. When you first begin thinking about remodeling the kitchen, isn't it the granite countertops that you see in your mind? Your look is out there. Are you ready to go shopping?
Images Courtesy of Canva.
Other posts you might enjoy:
A Comparison Between Granite and Quartz Countertops
Silestone – The Leader in Quartz Countertops Introduces New Colors
Cosentino's Products – Fresh and Disrupting the Countertop World
Share This Story, Choose Your Platform!