If you are considering a new kitchen or bathroom remodel then you are needing to make some important decisions on what countertop material might best work for you. The two most popular countertop materials are granite and quartz. The reason is they are super durable and look great.
In today's post, we compare the qualities of each product giving you the information that will best fit your budget and be the best solution for you and your family.
Granite and Quartz Countertops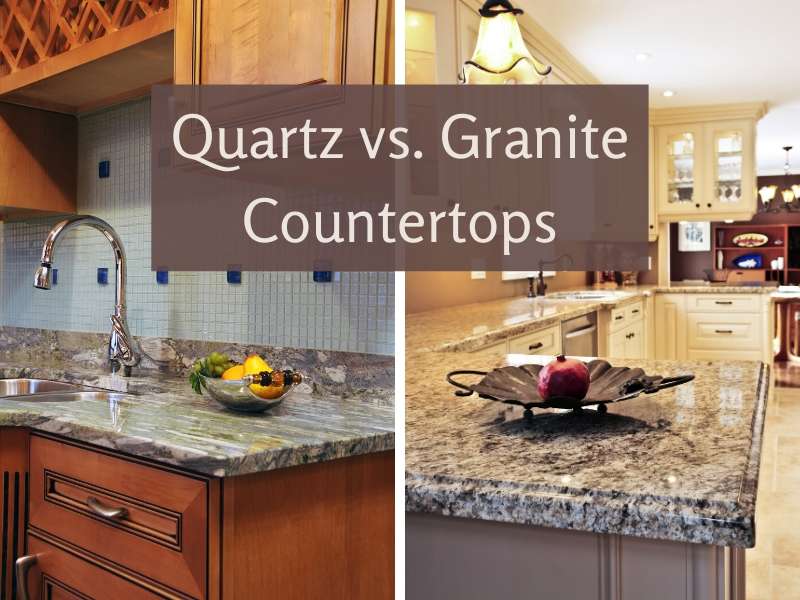 Granite used to be the most popular countertop choice between the two but a recent survey report by The National Kitchen and Bath Association on kitchen and bath design trends showed the following:
"Quartz has gained considerable share in countertop preferences over the last five years. In 2010, 73 percent of NKBA members reported using quartz in their kitchen projects. By 2015, that number rose to 89 percent, with 67 percent expecting to do more quartz countertops in 2016."
Choosing the Right Countertop for you
Granite is a natural stone while Quartz kitchen countertops, is a manufactured composite of stone that offers granite looks along with a large variety of color choices.  Let us take a quick look at some of the advantages and disadvantages of these two materials in order to find out which is best suited for your need.
Appearance Differences – Like any natural countertops, the main difference between granite and quartz kitchen countertops depends on a homeowners taste and choice of finish. Some homeowners prefer the unique look of granite while others like the varied range of colors and patterns of quartz.
Durability – Granite is considered to be the most durable for the natural stone market but, does not mean maintenance free. Because it is porous it will need to be sealed correctly upon installation and then every few years as suggested by the fabricator. Quartz, on the other hand, is maintenance free being a non-porous material and hypoallergenic which makes it a great option for busy families.
Price – You will find there is a low, medium and high pricing level on both materials that allows you to fit it into your budget. You will pay more for Quartz countertops but, there is no maintenance cost.
Work with a Professional
The best advice I can give you when dealing with expensive products is to always work with a licensed supplier and fabricator. Installing any kind of stone countertop is not a do it yourself project. The professionals are trained and have what it takes to do it right!
Images Courtesy of Canva.
Other posts you might enjoy:
What Synthetic Options are Available for Countertops?
Hot Kitchen Design Trends to Follow
Share This Story, Choose Your Platform!