The kitchen is the heart of the home where people spend much of their time together. Whether they are preparing meals, eating meals, or spending time cleaning up after the meals there is a lot of activities that happen here. So, many people love to follow the hit kitchen design trends.
Family and friends tend to congregate in the heart of the home for multiple activities together. Today's kitchens must be not only beautiful and comfortable but also multi-functional to accommodate all of the happenings. If you are considering planning a new kitchen you are invited to continue reading the learn all about the latest kitchen design trends.
Kitchen Design Trends 2016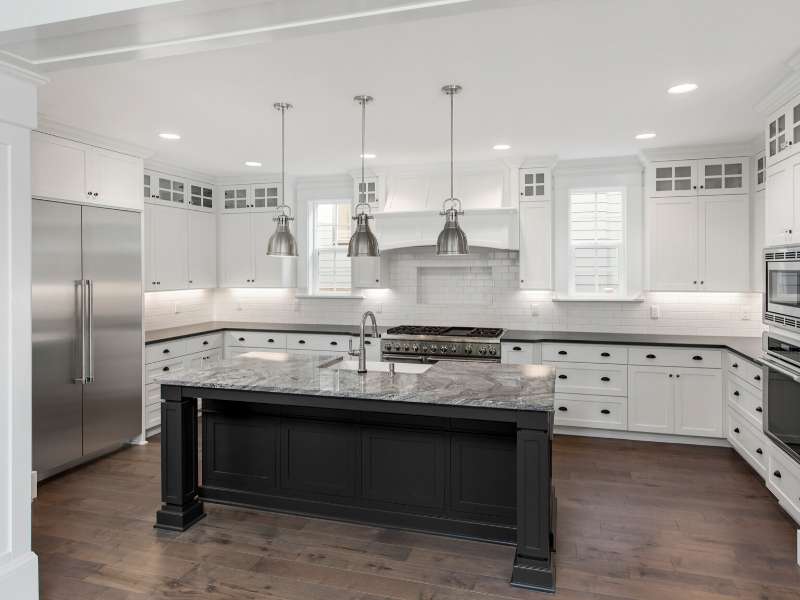 Softer Color Palette
This year's colors for kitchen design trends have been muted palettes. I have seen a trend for grays, pastels in blue and greens with a pop of color typically in the backsplash or center island. Using two different colors in cabinets have been popular adding excitement and drama to the kitchen.
Metal
Metal materials are high in popularity. We all have seen hoods and appliances in metals but, now metals offered in many different finishes are being featured. As seen at the Kitchen and Bath Industry Show in Vegas and the International Contemporary Furniture Fair in NYC this year was a rainbow of options in appliances and plumbing fixtures. Other accents were shown in kitchens such as glass shelving with brass steel supports and brass hardware with brass cabinet doors.
Smart Features
Smart technology is a hot new home amenity this year and is making every aspect of our lives easier and more convenient. So why not bring that technology into the kitchen? Hidden charging stations for phones and tablets make accessing recipes much more convenient. State-of-the-art appliances with smart technology, like refrigerators with cameras or ovens you can control from your phone, are making their way into more and more kitchens.
K+B Insiders at the ICFF show in NYC speaking on Smart Home Technology in kitchens and baths design.
As one of the K+B Insiders with the National Kitchen and Bath Association, I was asked to speak on smart home technologies at the ICFF show in NYC this year. People are wanting their kitchens to stay synced with their devices, creating an easier ways to communicate with their kitchens for a more functional lifestyle.
Open Plan Concept
More and more homes are being designed with open floor plans that combine the kitchen and living area into one big space. Open spaces make the area seem larger while allowing for an easy and smooth flow. In today's world, the open kitchen plan is more conducive to the way families live today.
Contrasts Provided Through Texture
Texture adds personality to a kitchen and creates the right balance it needs to create warmth. One must be careful when using texture because too much can become distracting. This is where hiring a professional with a keen eye can be helpful in creating just what your new kitchen needs to be great!
Layered Lighting Design
Kitchens need a layered lighting plan giving the user control over how their kitchen is seen. This is important to for having the right amount of lighting where you need it whether it is at the countertops for tasks or accent lighting for setting a mood. By having each zone of light considered and designed for a function is the perfect way to light a kitchen. I recommend having dimmers on all controls as we all need different amounts of light to see by, depending on our age.
Quartz Countertops
Quartz countertops are hot in kitchen design trends today. People like the fact that they have more control over color selection where granite and marbles are made by nature and can not be controlled. Quartz countertops are maintenance free and hypoallergenic.
Sinks and Faucets
Sinks have become multi-functional accessories in kitchen design trends today. They have become large with inserts that allow you to not only clean up, but offer great preparation abilities to the user. Faucets are also becoming smarter with convenient hands-free technology offered making it easy to go from prep work to sipping a glass of wine.
While a large beautiful new kitchen is just one of the many things buyers look forward to most when building a new home, you can never overestimate the importance of having a great kitchen. With the right design new and remodeled homes can incorporate many important elements into their kitchen designs, giving new homeowners the chance to have the kitchen of their dreams.
Images Courtesy of Canva.
Other posts you might enjoy:
Kitchen and Bath Industry Show – 2017 a Must Attend Event!
Layered Lighting works Best In Home Design
Share This Story, Choose Your Platform!