Everyone loves colorful kitchens, but the idea of being married to a color for a long time scares most people. There is a way to have color, enjoy it for as long as you want and redo it easily when you tire of it.
Bold Colorful Kitchens – 3 Ways To Make The Most Impact for Less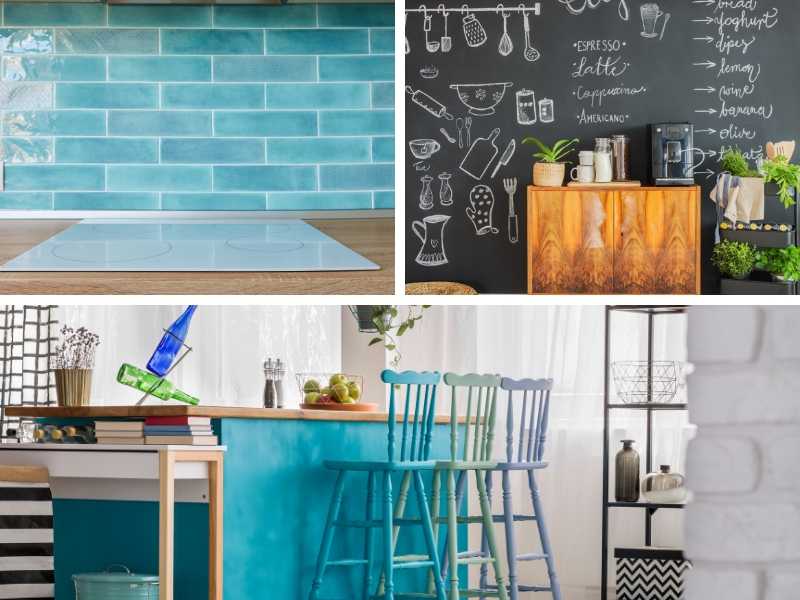 Don't go ALL in.
If you are a little reluctant to commit to bright colors for fear you will hate them in a few months, then think about making the materials that are neutral. You are always safe with neutral cabinetry and countertops, but be bold everywhere else. These materials are easy to change out and won't cost you an arm and a leg:
Walls
Backsplash
Kitchen Chairs
Walls
Tile
Tile pricing is all over the board and doesn't have to cost a lot and could be a great way to introduce some extreme color and patterns to the kitchen. Colorful kitchens should be created with a balance and by anchoring, the bold wall with calmer finishes throughout works.
Paint
Paint is an inexpensive way to add excitement to your kitchen décor and if at any point you don't like the effect, change it and you have a whole new kitchen. White cabinetry is great for this because any color paint will be a standout next to it, making a big impact. I like what this designer did with the backsplash by using glass and giving a little dimension to the flat painted wall.
Wallpaper
Wallpaper is trending and is an easy way to bring any kitchen to life. Wallpaper is a designer's best friend because it allows us to really bring in the clients personality. Today's wallpaper offerings are so unique, they are not just made with paper anymore. Wallpaper with digital images, metal and glass are available and offer a unique finish to any kitchen design.
Backsplash
The backsplash is such a powerful element to the kitchen design because it is the vertical surface at eye level. It is important to think about the style you are trying to create in your new kitchen when considering the backsplash. This area is perfect for bold color and creates a "wow" factor.
Kitchen Chairs
Pop color with kitchen chairs. This is where you can have fun introducing colors into your kitchen and they do not have to be new. Finding vintage chairs that have interesting bones and painting them as a DIY project can also make a conversation piece. You might want to see my post on painting fabric chairs with chalk paint.
Images Courtesy of Canva.
Share This Story, Choose Your Platform!