When we are approaching home decor, the kitchen is one room that often gets left behind and nobody likes a boring kitchen. Of course, it's also the one room that we pay a lot of attention to in terms of actual design and functionality, which means it doesn't come cheap. But what's the harm in spending a little bit of money on making it look nice too? When you think about it, the kitchen really is the hub of the home.
After all, how many times have you thrown a party, or even just had a small gathering that resulted in everyone congregating in the kitchen? So, with this mind, more and more of us are concentrating on making our kitchens both functional AND beautiful. Fancy getting in on the action? Here are some things you can do to leave that boring kitchen behind and create the kitchen of your dreams.
Decorating Tips to Liven Up Your Boring Kitchen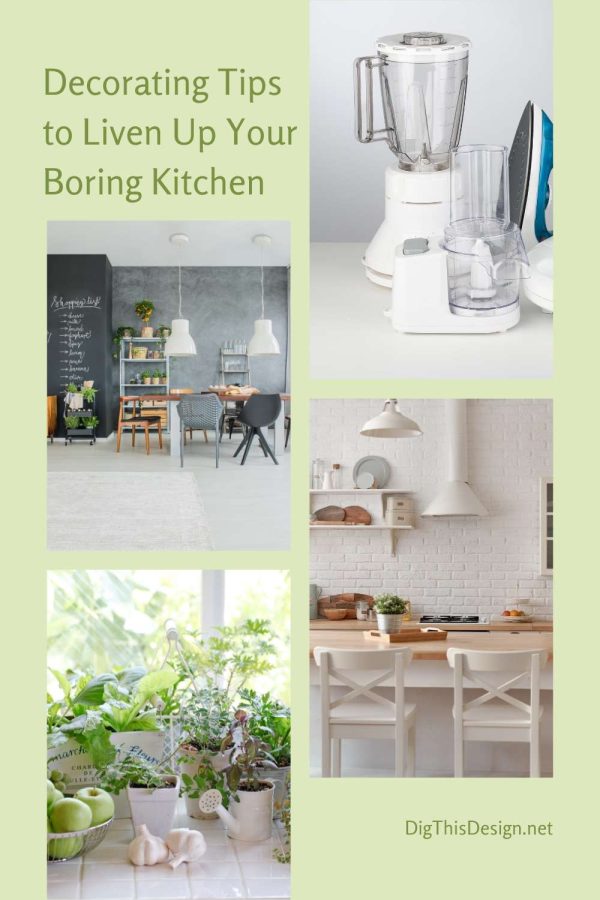 Matching Accessories
Just like that feeling you get when you absolutely nail a new outfit, there is just something that feels SO satisfying about everything in your kitchen matching. It can make it look modern, sleek and well-though out – the kind of look that a lot of today's homeowners strive for. Consider buying certain items from the same store, in the same color; such as your kettle, toaster, and microwave. You could even go the whole way with this and be mindful about the kind of colors and textures you choose for other, smaller kitchen items, such as your salt and pepper grinders or your pestle and mortar. All will probably be on display at all times, so think carefully about these little things as they are what will help to tie your kitchen together.
Kitchen Art
Strategically placing the right piece of art into a boring kitchen can have a stimulating effect. I recommend carefully shopping for just the right piece and picking the perfect spot for the most impact. More artists than ever are now selling art online, so you may be able to find a unique piece that you love and get it delivered straight to your home.
Plants
Plants are an easy, inexpensive way to bring color and design details into your kitchen. I never had a green thumb and then someone gave me an orchid. It was so beautiful I really wanted it to thrive. I was amazed at how little it took to care for it and it added so much beauty to the kitchen. Even just picking up flowers weekly at the supermarket is a great way to pop color into any kitchen. If you love the idea of having plants in your kitchen but are too stressed out at the thought of maintaining them you might try going the artificial route. You can now buy some pretty convincing imitations so no one needs to ever know!
Add Comfy Seating
We have already established that people tend to be drawn towards the kitchen in terms of a place to socialize. Why not play on that truth by adding some comfy seating into your kitchen? If the room is big enough, a small two-seater sofa is a nice touch that will allow your guest to get comfy. Or, if you fancy a slightly bigger project, why not add a beautiful window seat? Kitchens often don't get much natural light. So, if you have the space to do so, having a large window installed along with a comfy seat can help make your kitchen truly unique.
Other posts you might enjoy:
Kitchen Design – the Biggest Mistakes to Avoid
Hot Kitchen Design Trends to Follow
Why Do I Need a Certified Kitchen Designer?
Share This Story, Choose Your Platform!