No matter how many rooms you have in your home, you'll always find that people seem to gather in the kitchen. As the most used room in the home, the kitchen is often a hub of social activity, and whether it's your children working on their school projects or your best friend filling you in on some gossip over a glass of wine, there's almost always something going on. Giving your kitchen a makeover or renovating it is the perfect way to add value to your house, as well as enabling you to make your home feel newer and fresh. I always recommend working with a design professional to get the best kitchen design before you begin your remodel. As with everything, there are a handful of pitfalls that it's beneficial to be aware of before your re-designing begins.
4 Tips to Follow for the Best Kitchen Design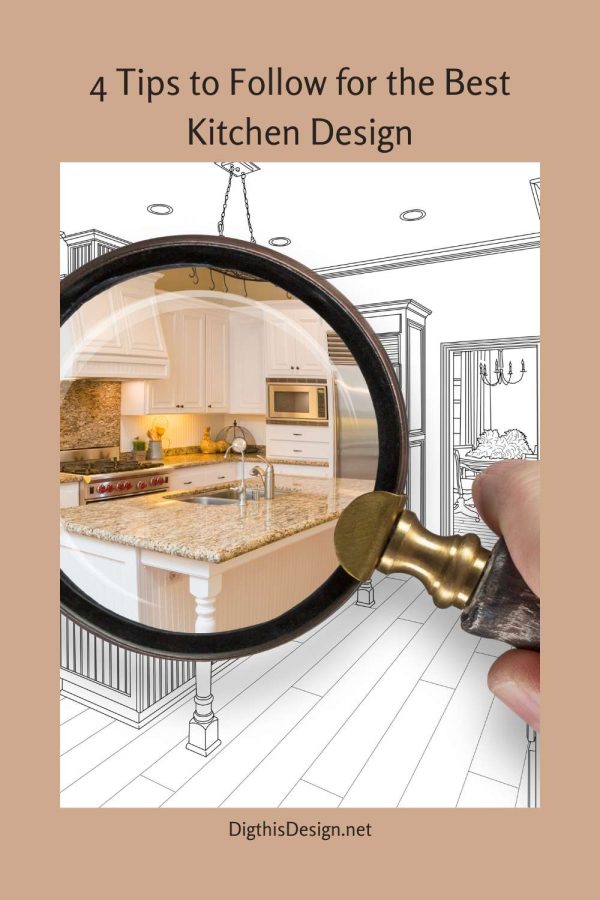 Counter Space
In order to achieve a functional and practical kitchen, you need space. One very common design fault is when a kitchen is created with little countertop space. There's nothing more frustrating than a kitchen with little space to prepare food, and with kitchens becoming more and more of a social hub, additional surface space is essential. When designing your kitchen with more space in mind, focus on what will work well for your day to day routines. You need your kitchen to be both functional and stylish, so designing a space that works for you is key.
Proper Layout
Every kitchen has specific areas dedicated to a specific functionality. For example, you have your sink area, the oven space, and the fridge. You then have your worktops and prep areas, therefore designing the right layout for your kitchen is really important. You often find that people design their kitchens to run around the outskirts of the room, which works well for some rooms, yet other kitchen styles may become cluttered and tight when the cabinets only run around the sides of the kitchen. Introducing features such as kitchen islands are great for opening up your space and adding to the layout. Having a kitchen that has space and a practical layout is extremely beneficial and will prevent you from feeling like you're constantly stuck for space with both kitchen units and flooring.
Plenty of Storage
It's a well-known fact that the kitchen is full of all kinds of weird and wonderful things, of all shapes and sizes. Therefore, it's essential to have the right storage in your kitchen to accommodate all of your bits and pieces. One of the biggest mistakes in kitchen design is the failure to add enough storage space to the kitchen, leaving you with too much stuff and not enough space for it. It's always better to have too much storage space than not enough, and you can always find something to fill an empty shelf or cabinets. There are also hundreds of unique ways in which you can introduce storage to your kitchen, such as replacement kitchen doors with built in spice racks or utensil hooks on the interior, deeper drawers and useful rails on the inside of your cabinets for pots and pans.
Layered Lighting
How you add lighting to your interiors has a huge impact on the overall atmosphere of the room. The lighting is a really important feature that can make a room feel exactly how you want it too. The best way to give you control over your kitchen lighting is to have a layered lighting plan designed by a professional. Without a lighting plan, you do not have a professional kitchen design. You want to make sure that the ambient lighting is soft and comforting and the general pathways are flooded with lighting that is just enough light to navigate. Your task lighting will need to be more powerful and cover the just the counters giving the right amount of light to work by and should have a dimmer so the person working there can adjust to their comfort level. We all see differently and what is right for one person may not be right for the other. Many people fail to introduce the correct lighting, which can result in the room feeling dull and dark, preventing you from being able to use it as well as normal.
Images Courtesy of Canva.
Other posts you might enjoy:
Open Shelves in Modern Kitchens
How to Select the Perfect Limestone Tile for Your Kitchen Floor
Share This Story, Choose Your Platform!