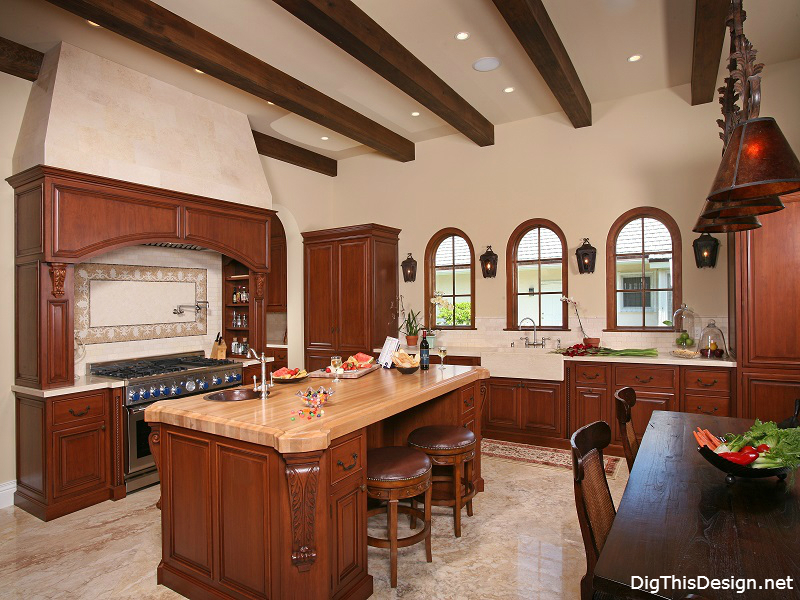 Getting it Right!
I have been kitchen designer in the industry for 30 years and so many people I meet who are building a new home or renovating an old home have no idea where to begin the process. They usually always make the mistake of hiring the building contractor first and the reason that is a bad idea is because it is working backwards. The building contractor will estimate the project based on a set of plans and if there is not a plan then he will estimate the project based on square footage. The reason this is not a good idea is the estimate can vary a lot due to the materials that are ultimately chosen. I am going to walk you through the steps of getting a detailed plan to make sure it can be estimated correctly so nothing gets left out. Because if it does it can make your project go over budget.
What is a Detailed Set of Plans
A preliminary plan is a plan with no details meant to be used as a preliminary budget. It may have the plan view and outside elevations but is in no way complete for a final project cost. A final plan is a detailed plan listing all material selections with specification and a scope of work. The set of plans should include a set of cabinetry plans for the kitchen, bathroom, laundry room and built-ins. It should consist of a lighting plan and the kitchen and the bathroom should come with their own lighting plan that fits the layout. Without a complete set of plans, there is no way of knowing what the project ultimately will cost you. If you have a detailed plan you can avoid costly change orders.
What Makes Up A Final Plan
Plan view
Interior and Exterior Elevations
Roof Plan
HVAC Plan
Cabinetry Plan
Door and Window Plans
Lighting Plan
Lighting Plan for Kitchen and Bathrooms
Landscape Plan
Landscape Lighting Plan
Material Specification on All Materials and Finishes
The more detailed the better for you!
Certified Kitchen Designer
Let me introduce you to the kitchen designer, CKD. This person is going to detail out the most intricate rooms in the house and the most expensive. There design fee will cost you about 4% of the cost of these room and you will make up that money in probably one change order.
CKD or CBD – Credentials
Have a minimum of 7 years experience designing residential kitchen and bath spaces.
They are highly skilled in design, space planning, and product selection and have extensive knowledge of building codes, flooring materials, appliances, and mechanical systems.
They write specifications and draw plans that are easily interpreted by plumbers, electricians, and installers.
A CKD or CBD must meet specific educational requirements and pass a comprehensive academic and practical exam.
This person is your representative throughout the project, keeping everyone on the same page and avoiding finger pointing. If the guy in the field gets the location of the plumbing wrong it's up to him to get it right because it was dimensioned on the plan, that is what having a professional designer can do for you.
The other great thing about having a professional designer is getting exactly what you want in your kitchen and bathroom. Through the design process, the professional will walk you through the steps in designing the best solutions to fit your needs. They introduce you to the latest in products and technology for the home.
Selecting The Right Kitchen Designer
Make sure the designer is a qualified professional, licensed and insured with the proper credentials. Don't be afraid to ask for references from past clients. A good designer will have a long track record of happy, content clients. You will want to look at their portfolio to see if you like what they have done on other projects. Your designer should have a portfolio that offers an array of styles. Make sure you and your designer connect on a personal level. Building or renovating a home can be stressful and you want to make sure you have a good rapport with your design professional.
Other posts you might enjoy:
The Open Kitchen Concept: Designing the Cooking Zone
13 Free Resources for the Home Improvement DIY-er
https://digthisdesign.net/wp-content/uploads/2015/11/KELLY-KIT-1-1.jpg
600
800
Patricia Davis Brown
http://development.digthisdesign.net/wp-content/uploads/2016/11/OLD_DigThisDesign_logo.jpg
Patricia Davis Brown
2016-05-19 01:00:23
2020-06-12 12:30:50
Why Do I Need a Certified Kitchen Designer?