Everyone uses the bathroom so often that it's among the high-traffic areas in your home. Over time, due to wear and tear, its functions decline, the condition worsens, and the aesthetics no longer appeal to future home buyers. This is when it's time to face the fact that your bathroom needs a remodel!
Perhaps, you finally decide to do a bathroom renovation, yet you're not that sure if you really want to take this action. To help you settle in with a decision for a bathroom remodel, the list below explains some of the signs that your bathroom needs a remodel.
It's better to contact a home remodeler, like https://www.modernvalleyconstruction.com/example-work/home-additions-and-remodels/, when your bathroom is suffering from any of the issues on the list below. So, if you're still not sure about remodeling your bathroom, continue reading to learn about 13 signs that your bathroom needs a remodel.
The 13 Essential Signs that Your Bathroom Needs a Remodel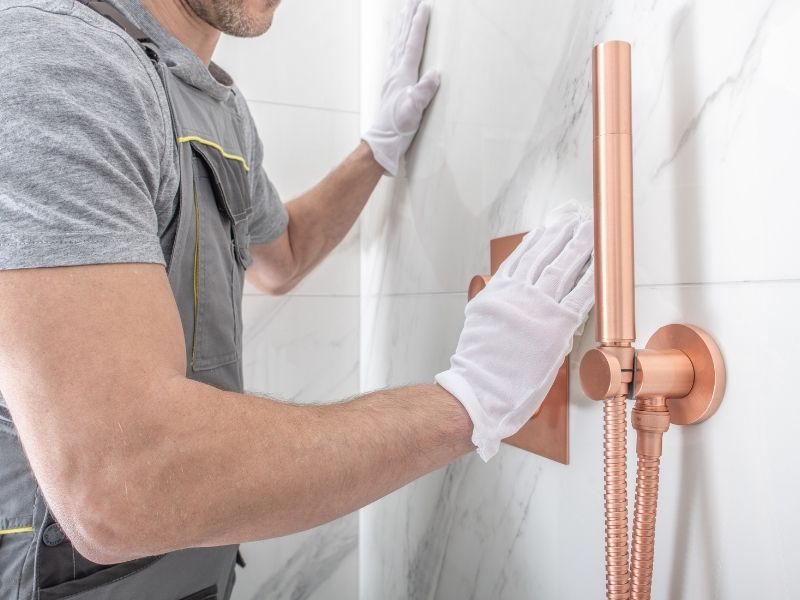 1. Serious leaks. 
Leaks are a sure sign that your bathroom needs a remodel now more than ever. Leaky pipes and fixtures lead to water waste. Unfortunately, this wastes money on your water bills. In fact, water leaks damage your entire home, whether it's from your shower, toilet, or sink. The water quickly becomes a more significant problem if it soaks into drywall and flooring.
Slippery floors also pose health threats to your family as anyone can slip and hurt their body. Furthermore, leaky water connections that lead to electrical circuits pose a greater danger because it leaders to electrical outages or triggers fires.  
Even a small leak causes tremendous damage, mainly because it's easy to overlook. Therefore, it's advisable to act right away and spot minor leaks. Additionally, it's essential to resolve the problems before they worsen.
2. Obvious damages. 
Your bathroom should be on the radar for renovation if it shows signs of damages. When some parts of the bathroom already experience cracks, especially the bathroom tiles, it's time to renovate them. It's time to get to work when even simply walking into your bathroom is no longer a comfortable routine for you. Your bathroom must give you a sense of relaxation and calmness However, if it no longer gives you those things, it's best to check around on ways to renovate. 
Here is a list of damages to serve as the basis for making the decision that your bathroom needs a remodel:
Chipped or cracked tiles
Pipes that have leaks
Toilet flushes and faucets are dysfunctional
Stains on surfaces and areas
Mold growth
Stained ceilings
3. Accumulated mold.
A leaky pipe or moist air in your bathroom promotes mold growth. Bathrooms are ideal environments for mold growth since they are damp and humid. A dark stain can appear first along the edge of your tub or shower before moving into all your tile grouts. Molds are definitely an eyesore, but what's even worse is they affect your family's health. 
It's also possible that dark spots will appear on your ceiling because of molds. They usually scatter in different hidden corners and spaces. Since molds continue to grow, it also attracts insects. Maintaining mold at the first sign of trouble is crucial as it causes health problems.
4. Outdated or old décor. 
You know your bathroom needs a remodel when its décor is too old. Perhaps, the design is too old, and you haven't really taken the liberty to update it. First, check modern bathroom models and check their must-have features. Then, find something that inspires you. Of course, sometimes, changing the color of your bathroom is a necessary step to take to liven up the room. 
A bathroom renovation begins with color decisions, so it's a great place to start. When you've set up a color palette, then design and use some other decorative elements. Of course, this becomes a reflection of your personal taste and style. If you're unsure of the color you want, don't commit to a color you might not like later on. You don't want something too bright and painful on the eyes! However, try to steer away from dark colors as these can make the space too gloomy. 
Do your research and check out what stylish trends are appealing to you for your bathroom. If you're not sure, check out designs that are classic and elegant because these are the ones that are always on-trend. 
5. Lacks functionality.
Consider renovating your bathroom if your current one doesn't meet your family's needs anymore. It's essential for you to have a comfortable and convenient bathroom as you prepare yourself to start a long day. There are many grooming tasks that need to be done inside the premises of your property. So, ensure that your bathroom is fully equipped with functions. 
You don't have to spend a lot of money or time on revamping your bathroom. Sometimes, just minor fixes and the addition of furniture and accents are enough to increase its functionality. However, if budget permits, you can have a full-blast bathroom makeover.
6. Damaged floors.
You can damage your bathroom in countless ways. Due to its high traffic condition, the floors suffer the most damage over time. In cases of water leaks, which aren't visible, your floorboards can be damaged. The floor may have to be ripped up, or the wall may need to be replaced if it starts lifting, and becoming stained and discolored. Whatever flooring materials you use, it's best to have them changed when damages are already visible and irreparable. 
7. Overcrowded space. 
If you have an old bathroom, you might likely have a layout that seems too crowded to your liking. This is another sign that it's time to reorganize your bathroom if it isn't sized, laid out, or organized correctly. You might feel suffocated inside the bathroom and constantly touch surfaces and corners when moving or getting your way around the limited space. Renovations or remodeling can alleviate some of these issues. 
With some thought, a bathroom can be designed completely differently to optimize the space and enhance the feeling of luxury. With minimalism concepts on the rise in these modern times, you can maximize margins by eliminating unnecessary areas. Numerous attractive space-saving designs can be found, which will allow the room to be used more efficiently without requiring the room to become more prominent. Sometimes, a rearrangement and redesigning overhaul can do the trick.  
8. Painted surfaces start to peel.  
Peeling paint may seem like a cosmetic fix to many people, but it can signify the presence of moisture and mold buildup in your bathroom. Another possibility is that the paint isn't tough enough to stand up to constant steam and moisture. However, paint does have a tendency to fade or peel after the longest time, so you don't have to sweat this when you start seeing paint peeling off. 
Aside from investing in long-lasting paint that's perfect for standing moisture and humidity, it's also a brilliant idea to install exhaust fans. This will circulate and improve indoor air quality, fixing problems with paint peels. 
9. Not enough storage.
In case you lack the storage space to store your bathroom essentials, you'll need to remodel your bathroom. Or, maybe, your family has grown, and now you have a teenage girl with so many bath essentials on hand. Your limited storage in the bath will no longer be enough to keep all your things. You can create all the storage you need in your bathroom with a bathroom renovation without using bulky organizers from the store. 
A correctly organized bathroom not only looks better and feels better, but you'll also have an easier time moving around as you locate things you know where. If you're remodeling your whole bathroom, take advantage of storage designs and solutions that won't take up space, but provide enough storage spaces. 
10. Compromised safety. 
Unfortunately, a lot of accidents occur in bathrooms because they're basically wet rooms with hard floors. When the floors are too slippery, your family members might constantly experience falls. This is particularly dangerous for your elderly loved ones. Even your kids shouldn't be able to put up with such floors.
Moreover, other factors that pose safety threats are lousy lighting and poor ventilation. Skin allergies and asthma might be triggered by bad bathroom layout and systems. 
Thus, it's totally wise to remodel your bathroom now to eliminate severe accidents in the future. Upon renovation, consider the following features for your bathroom to make it safer: 
Change the tiles into non-slippery floors.
Grab bars and rails should be installed by the bath and toilet area.
Add some night light.
The adjustable shower head will also help any family member.
Install the most reliable shower heater.
Add in some non-slip strips on constantly wet areas.
11. Lighting needs improvement.
Lighting enhances the ambiance of a room, a factor that's often overlooked in DIY bathroom renovations as they focus more on decorative features. It can't be stressed enough how lighting plays a crucial role in bathrooms. Sometimes, your family spends a lot of time in the bathroom to fix their hair, apply cosmetics, and so on. 
When there's proper lighting, this will make them feel comfortable as they prepare themselves for the day. You may regret the color of your paint or the art in a room, but you'll never regret upgrading your lighting. A dimmer switch is highly recommended if you want to control the degree of brightness and dimness of your bathroom lights.
12. Increase home value.
Is your home about to go on the market?  Some homebuyers emphasize checking the bathrooms when deciding to buy a home. Renovating it can potentially increase its sale price and attract more buyers. Consider what you could improve about your existing bathroom. Some people are turned off by old and outdated décor. 
You don't have to spend a lot of time or money rendering your bathroom more attractive to potential buyers. It's amazing what a layer of paint and some new fixtures can do for a room. To determine the best way to improve your bathroom, enlist the help of a professional designer. 
It'd be worth it to remodel your bathroom even if you plan to move out in the near future. Remodeling is most worthwhile when you plan to sell your home since even renovations can significantly boost its value. Not only will you be able to enjoy your new bathroom and take advantage of your investment until you sell, but if your bathrooms are updated, you'll attract a lot of potential buyers. 
13. Rusty faucets and shower heads. 
It's normal to expect clear running water when the water faucet turns on, but, sometimes, you see rusty water instead. That happens when the water stands over time when the once clear water turns reddish-yellow. Anytime you see signs of a water issue, contact a professional plumber right away to investigate and fix the problem. They advise whether the pipes or plumbing fixtures, like faucets and showerheads, need replacement.
The constant switching of pressure in pipes caused by faucets causes rust residue inside them to loosen and fall out. Afterward, the rusty water goes through the water supply line to sinks in bathrooms and kitchens, bathtubs, showers, and laundry rooms. 
A preventative measure you can take is to keep your fixtures free of rust stains. Weekly cleanings are considered a good idea for faucets, toilets, showerheads, and anything else that accumulates rust stains.
A slightly abrasive cleaning product, like baking soda or powdered cleaners, and a somewhat abrasive sponge will help you remove rust stains. However, when stains have been permanently embossed into the faucets and showerheads, it is better to replace them. Luckily, rust is easily controllable to prevent too much damage, so try to maintain these fixtures as much as possible. 
In conclusion. 
Selling your living space includes making the bathroom one of the selling points. You're likely to need a bathroom remodeling if you're planning to sell your home. However, there are many other reasons when your bathroom needs a remodel. To take advantage of comfort and ease when using the bathroom, it's best to remodel it as soon as the signs we list are obvious.  
If you have any questions or suggestions, we always love to hear from you in the comments below. Also below are links to more fantastic articles about ALL things DESIGN for your home or business.
Images Courtesy of Canva.
Other Posts You Might Enjoy:
Remodeling on a Budget • Tips to Create a Dream Living Space
10 Signs that Your Kitchen is Ready for a Remodel
Check Out These Amazing Types of Kitchen Sinks for Your Next Remodel
Share This Story, Choose Your Platform!