Kitchens are a significant part of every home. Some people dream of having their perfect Kitchen. If they are ever able to remodel their kitchen, they will never refuse the offer. But how do you remodel your kitchen the right way?
Well first, a good kitchen looks amazing while being spacious with good ventilation. It's also nice to have durable and attractive fixtures, fittings, and flooring that is easy to clean up and has space to store utensils. Plus, it features the necessary gadgets you will need while working in the kitchen.
Do you want to know how to remodel your kitchen the right way? Below, we share effective kitchen remodel tips that will help you in your next project. Have a look.  
Your Essential How To Guide to Remodel Your Kitchen the Right Way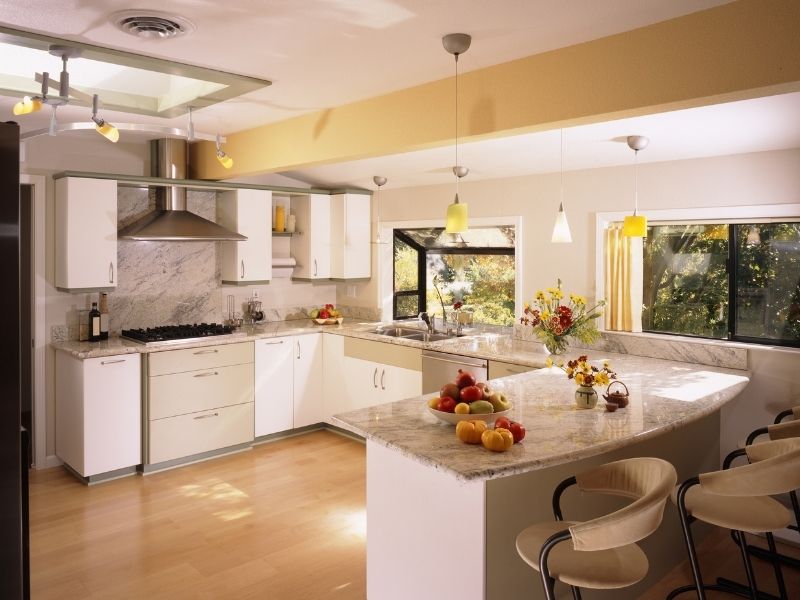 Dust and Dirt 
Before you start with kitchen remodeling, you need to protect your home from all the dust that will fly around from work. Use plastic to cover the doorways of your house to keep it sealed from the dust.  
Protect your utensils from the dust as well. Use storage boxes to store your utensils for a while until your kitchen remodeling work is done. 
Here are the steps you can take to protect your Kitchen elements from dirt and dust: 
Install plastic on all furniture 
Lay down drop clothes 
Cover all plates and dishes 
Seal off Kitchen from rest of house 
Provide easy access to kitchen 
Wash dishes in bathroom or garage sink 
Leverage Expertise 
You will need some expert working in the kitchen remodeling process. An electrician, plumber, and contractor are necessary for your kitchen remodeling job.  
Look for a reliable contractor to get your kitchen remodel done for your home. Fix a budget and let the experts do the budget breakdowns on your kitchen remodel.  
Design 
When you plan your kitchen remodeling, you will have to choose a design that will maximize your budget and get more bang for your dollars.  
A great design will allow you to get more space, better appliances, a better kitchen layout. Buy moving around some cabinets, sink, and refrigerator, and can maximize your kitchen space.  
Understand Your Kitchen 
Every kitchen space has its pros and cons. Big kitchens have more optimization for their space. In contrast, smaller kitchens or u-shaped, island, multi-level kitchens have different needs.  
You, the remodeling contractor, and the design team need to develop an effective plan for your kitchen remodeling. 
Pay Attention to the Finish Materials 
One Of Our Tips On Kitchen Remodeling Is The Finish materials are being used on your kitchen remodel. You will want to use the best and most durable materials in your new kitchen remodel, especially when it comes to the flooring, countertops, sinks, appliances, and your new kitchen cabinets. There are seven kinds of materials that are widely used as the finishing in your new kitchen: 
Natural Wood 
Wood Veneers 
Thermo Foils 
Laminates 
Natural Stones & Granite
Plastics 
Stainless steel 
Natural wood and veneers are used on your kitchen cabinets. Laminates are thick material that is scratch-resistant. Natural Stones are used on kitchen countertops. Your new kitchen might have stainless steel appliances, thermo foils are used around the kitchen stove, and island ventilation.  
Lighting 
Every kitchen should have a budget for new can lights, under-mount lights, and hanging lights. Your remodeling contractor can help you with your lighting plan and guide you on your lighting decisions. They will sit down with you and together come up with a lighting plan and all your options.  
Generally speaking, you need lights on your cooking area and commonalty used areas. These useful tips on kitchen remodeling can save you some money and save time also. 
Can Lights 
Under Mount Lights 
Hanging Lights 
Switches 
Dinners 
Timers 
Final Word 
As you can see, remodeling your kitchen can be a fun process. Be it residential or office renovation, kitchen remodeling is a crucial aspect for both types. Use the tips mentioned in this article to get the best out of your next kitchen remodel project.  
Images Courtesy of Canva.
Other Posts You Might Enjoy:
How to Be More Energy-Efficient in the Kitchen
5 Affordable Improvements to Make to Your Kitchen Before Selling Your Property
What is the Best Kitchen Sink Material
Share This Story, Choose Your Platform!