A kitchen remodel project is no small feat. There's a budget to consider and plans to make, not to mention that the room will be out of bounds for some time. Irrespective of these factors, several signs tell you it's time to undertake the project. Are you thinking lately that your kitchen is ready for remodel? Are you having trouble deciding what to do first? If so, then continue reading to see if your kitchen is ready for a remodel.
Is Your Kitchen Ready for a Remodel? It might be if…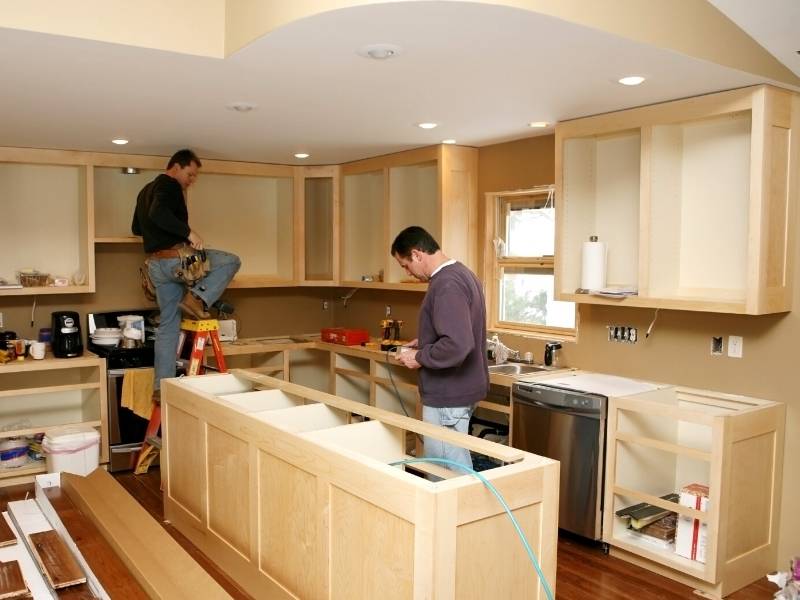 1. You don't like the layout of the kitchen.
The layout of your kitchen affects how you carry out activities like cooking and entertaining your family. If you find yourself going back and forth several times to fetch the things you need when cooking, you need a better plan. The oven could be too far from the fridge or counters or the dining space too small for your family. 
If this is the case, you need to redesign the kitchen and create layout flows that provide more space. The square footage is not the issue but what you do with the space you have is what matters. 
2. The design of the kitchen is outdated.
If the design of your kitchen is outdated, it makes the entire home appear older. For a more modern look, consider giving your kitchen a facelift. This is especially crucial if you're considering selling your home. Incorporate contemporary styles and use quality finishes, install new cabinets, and buy modern appliances. 
3. You don't have enough space.
If you constantly find yourself looking for extra counter space when cooking, it's time for a remodel. Crowded kitchen tops and cabinets are also a subtle sign that a remodeling project is due. Does your family cram in a tiny corner space during meals? It means your dining space is too small to accommodate all of you, and redesigning can create some extra spaces. 
4. You have a hard time cleaning the kitchen.
If you have tile countertops with deep grout lines that never look clean despite how hard you scrub them, renovating the kitchen would help. Mottled linoleum floor tiles are also other culprits that would necessitate a kitchen makeover. A high-maintenance kitchen that never seems to give you the satisfaction you need is enough reason to remodel. 
A simple project that entails replacing the offending finish can go a long way towards enhancing the kitchen ambiance. It will boost your happiness and cleaning experience. 
5. Outdated appliances raise your energy costs.
Older kitchen appliances can cause a spike in your energy bills. Most were designed without energy efficiency in mind and hence take up too much energy. New and modern appliances can help you save on energy costs. Besides, they will give your kitchen a new and inviting look. 
6. Your kitchen no longer suits your lifestyle. 
Has your life recently changed, and you feel that the kitchen space doesn't match the new standards? It could be that you have become a full-time cook, but your kitchen is too small to meet the demands of your new hobby or career. If your kitchen is affecting your lifestyle in one way or another, it's enough reason to renovate it. 
7. Your kitchen looks worn out or damaged.
Has your kitchen been exposed to any disaster like flooding or fire and smoke? Even after disaster restoration work has been done, it still looks worn out and is no longer appealing. It probably shows signs of aging like cracked tiles, broken cabinet doors, faded walls, and floors, or discolored finishes. Your kitchen needs a professional touch to enhance its curb appeal. 
Besides, not addressing these issues could lead to more severe problems in the future. They could be harmful to your health and costly to repair. For example, mold growth could lead to respiratory issues. 
8. The look of the kitchen drags down the value of your home.
If you find yourself particularly concerned about the unusual look of your kitchen, an upgrade would do. This is particularly true if you're planning to sell your house and the unusual style seems like a potential hang-up for buyers. Any feature that could lower the value of your home needs immediate attention. 
9. You don't feel inspired to use your kitchen anymore.
Do feelings of depression engulf you when you step into your kitchen space? This could be for several reasons like being dingy, too small, outdated, or outright boring. You hide it from your friends and don't feel proud about it in any way. It's an unspoken sign that you need to remodel your kitchen. A kitchen should be inviting and warm. 
10. Doom and gloom indicate the need for updated lighting.
Nothing ruins a good appetite like squinting to see your plate of food. If the lighting in your kitchen is poor, the whole cooking and dining experience can be depressing. Consider installing under-cabinet and overhead lighting to bring back the spark in your kitchen. 
Considering a kitchen remodel?
There are many reasons why you should remodel your kitchen. For the best results in your kitchen remodeling project, work with a home building and renovation expert. They will help you determine what needs changing and how to best create a modern and appealing kitchen.
If you have any questions or suggestions to add, we'd love to hear from you in the comments below. Also below are links that will take you to more interesting articles about ALL things DESIGN for your home or business.
Images Courtesy of Canva.
Other Posts You Might Enjoy:
4 Tips for Setting Up an Outdoor Kitchen
6 Upgrades for the Perfect Kitchen
5 Design Ideas for Your Future Kitchen
Share This Story, Choose Your Platform!