Outdoor kitchens continue to grow in popularity for several reasons. They add value to homes, are great for entertaining, expand living spaces, among other perks. However, setting up an outdoor kitchen is no easy feat. After all, you must consider everything from where you're going to install it to what appliances you're going to use.
The following four tips will help create a functional and beautiful outdoor kitchen. So, we invite you to continue reading to learn what you need to know about setting up an outdoor kitchen.
Setting Up an Outdoor Kitchen, Step-by-Step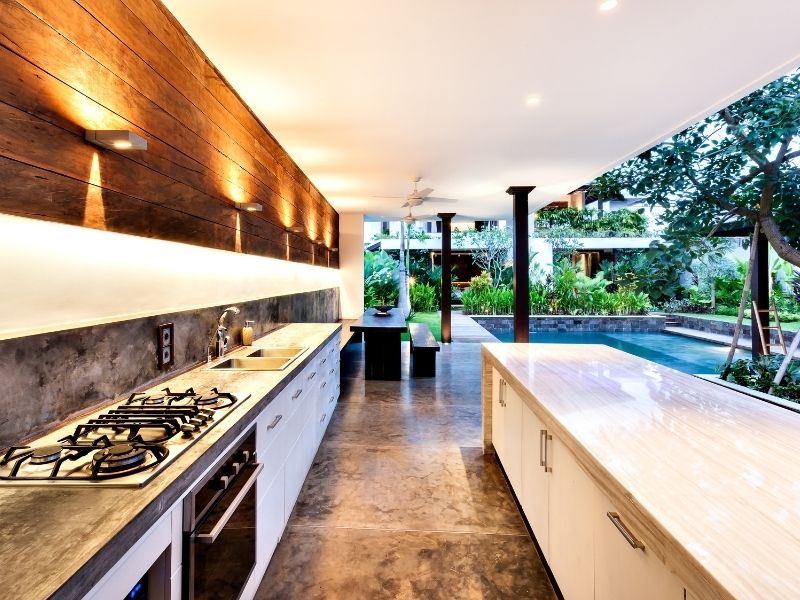 Decide on a Location
Choosing the perfect location for setting up your outdoor kitchen doesn't have to be difficult. In fact, you probably already have an idea of where you want to set up shop.
Here are some tips that will help you decide:
Select a space with ample shade. Protect yourself and your kitchen appliances from being overheated by providing ample shade. Patios or pergolas are great options to consider.
Stay close to the house. Make sure your outdoor kitchen isn't too far from your house. This makes it easy to go back and forth when you need cookware or dishes from inside.
Consider the view you want. What do you want to see when you're cooking? What do you want others to see? How private do you want it to be? Perhaps you want to watch your kids in the pool or a view of your beautiful garden.
Choose the Right Appliances
The most popular item that outdoor kitchens have is a built-in gas grill. However, you don't have to limit yourself to just this. One of our favorite appliances is adding an outdoor refrigerator for quick access to a cold beverage. We even encourage you to go with a display fridge that will showcase all your tasty beverages. This is a great appliance especially if you like to entertain.
Another favorite appliance to consider is a pizza oven. The kids will love it as will your guests. These outdoor appliances add a level of sophistication that is hard to find elsewhere. Check out sites like Pizza Oven Hub to find the perfect one for your outdoor kitchen.
Get Organized
You're going to want cabinets and areas to store away dishes and kitchen tools. While this isn't a must, it will save time by eliminating the need to go inside whenever you need utensils, pans, or everyday dishes.
Another easy way to get organized is having a designated prep space. Ample counter space is nice for prepping food and serving it too. If you're going with a pre-fabricated kitchen, you'll most likely have the countertops included. However, if you're getting it custom-made, you'll need to choose them on your own. We recommend going with options that are weather-friendly like steel or concrete.
And then finally, you'll want to install a sink within your outdoor kitchen for tip top convenience. Otherwise, you'll find yourself going inside your home more than you'd like to wash dishes or foods like veggies and chicken. When dealing with sink installations, you'll need to hire a professional plumber to ensure this part gets done right.
Ensure Safety
The one tip you cannot overlook is safety. A hazardous design can injure you and involve very expensive repairs. You always want to protect yourself and your property.
A few ways to do this include:
Ensure the area is well insulated and ventilated.
Add safety lighting that illuminates important areas like grills, prep areas, or storage units.
Use the right materials. This includes materials resistant to heat, moisture, direct flame, staining from grease, among other substances.
When dealing with the installation of electrical wires, gas lines, or plumbing, call a professional to ensure safe installation.
And then of course, always clean up after using your kitchen. Properly maintaining it means a lifetime of enjoyable meals in the outdoors.
Conclusion
Following these four tips will get you well on your way to creating an outdoor kitchen you'll want to cook in each and every day. Let us know if you have questions or suggestions in the comment section below. Also below are links to more interesting posts about ALL things DESIGN.
Images Courtesy of Canva.
Other Posts You Might Enjoy:
4 Outdoor Patio Ideas for Party-Perfect Entertaining
5 Outdoor Home Renovation Inspirations
Kitchen Design Trends In 2020 That You Need To Copy In Your Own Home
Share This Story, Choose Your Platform!