During the summertime, we all want to be outside whenever we can.  There is no better way to do this than to design an outdoor cooking space for party-perfect entertaining. There are spaces all around a home that are adaptable to an al fresco dining experience.
Do you know that a survey by the American Institute of Architects names outdoor cooking spaces as the most popular kitchen-related feature? What's really nice is that, in some areas, it might increase your home's value up to 200 percent. That makes an outdoor patio kitchen a valuable addition to your home in addition to the fun your family and guests have with your gracious designs for party-perfect entertaining.
Al Fresco Party-perfect Entertaining
Super Fun Regional Designs
From the knotty pine of the Northwest to the palm trees of the Southeast, people love their outdoor kitchens. To inspire you to add or upgrade outdoor entertaining around your home, I've curated several examples below.
Oregon • Organic Elements
In this all natural-vibes outdoor kitchen, I love the matching tone of metal in the bar stools and the oven hood. They look shiny and slick next to the very earthy rough-hewn rock bar topped with marble. Additionally, the retro knotty pine ceilings are modern yet nostalgic. Additionally, the full-grown trees act as natural barriers surrounded by large aggregate for both a raw natural look and a highly-effective natural barrier. Add this all together with a terrific barbeque, a smoker, and a refrigerator and you've got a party paradise in the Northwest.
Florida • Relaxing and Refreshing
Relaxing and Refreshing Image Source
These luscious Carribean colors just can't help but refresh anyone's day who is lucky enough to enjoy this design first-hand. With whiteness all around from the ceiling to the marble floors, the pops of tropical shades of color remind you of what living in the sun is all about. With a complete array of contemporary stainless steel cabinetry and appliances, this happy arrangement will never disappoint.
Idaho • Unique Layout
Nature must bring out the creativeness in designers because this unique design appears to be in the shape of a lake. Or, is the designer simply making maximum use of minimum space? Either way, this is truly a dreamy outdoor kitchen with a full array of amenities for an outdoor experience that is hard to top.
New York • Pagoda Paradise
Brimming with New York sophistication, this patio kitchen has a complete array of amenities. Not to mention the incredible color scheme of neutrals with just a few pops of red in the dining chairs and the smoker. Moreover, this is a perfect mix of organics in a modern design.
Louisiana • Under the Pepper Tree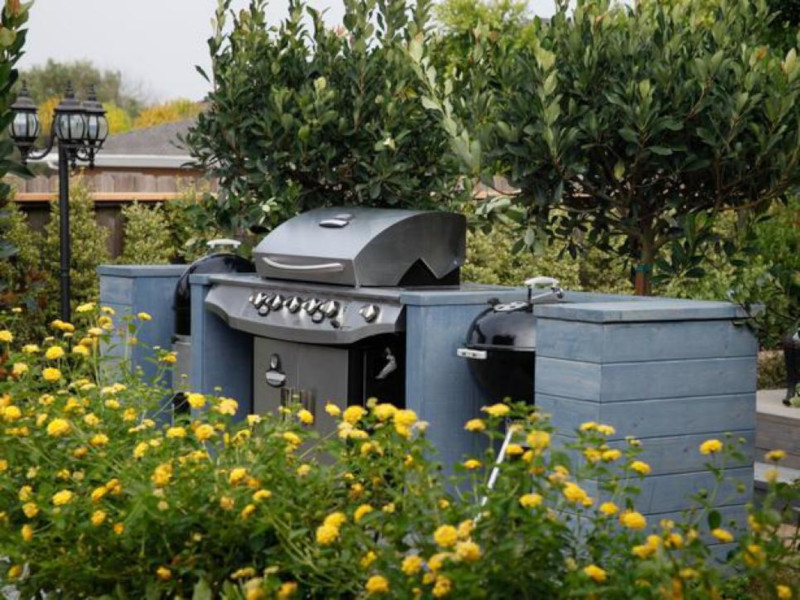 In an inherited family home, an ordinary backyard transforms into an outdoor kitchen. This compact yet highly versatile unit contains two smokers and a grill. With these features, it is easy to accommodate a large number of family members in the beautiful landscape of this classic back yard.
Party-Perfect Entertaining Appliances
Now that you've seen some amazing layouts for outdoor kitchens, let's look at some of the appliances a little more closely. We've narrowed the wide array of products into just a few of the more popular items that are available.
Kalamazoo Pizza Grill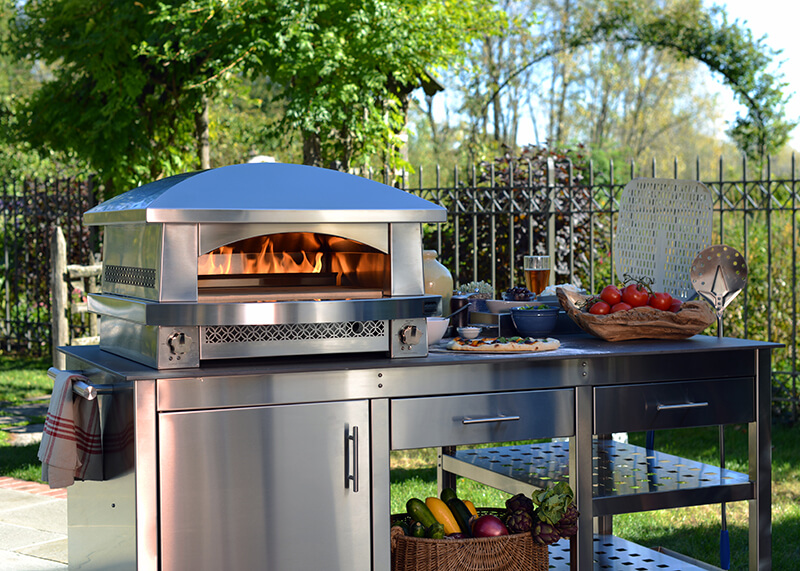 The artisan fire pizza overheats to over 800 degrees to bake pizza in less than three minutes with the use of either liquid propane or natural gas. But pizza isn't all this oven is good for because it's perfect for baking bread and for roasting vegetables, meat, and fish.
Fontana Forni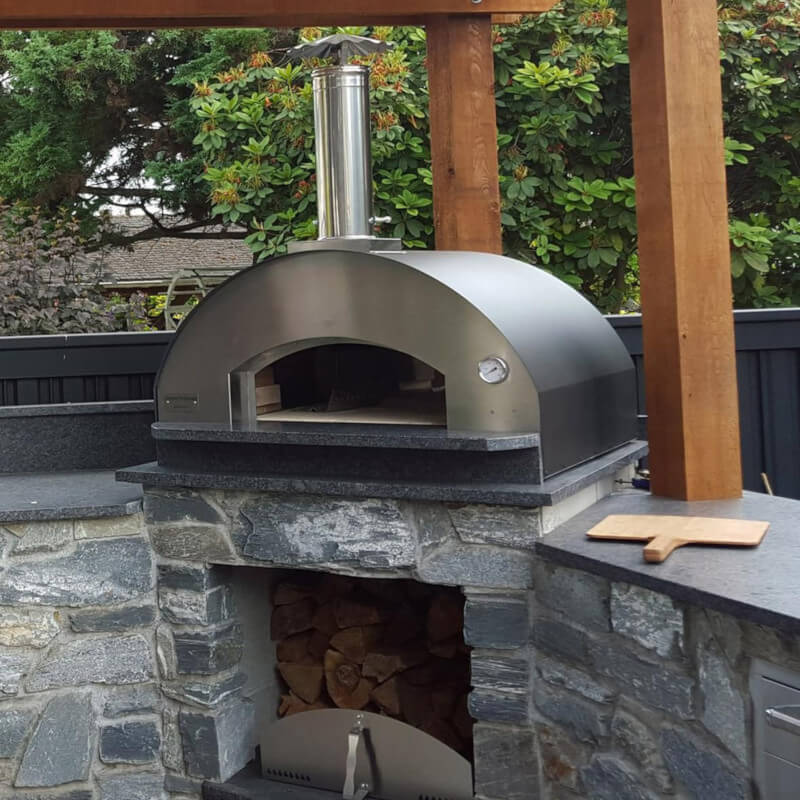 "Fontana Forni has been manufacturing high quality steel products for more than 60 years, and the ovens are made to exacting Italian rules and regulations," says Fontana Forni USA's owner Kirk Laing.
What makes these ovens unique is that Fontana ovens are famous for their ability to reach cooking temperatures nearly twice that of a standard home oven. Moreover, they require 80 percent less wood than traditional brick ovens. What's even better is they achieve optimal cooking temperatures in under 15 minutes.
Coyote Grill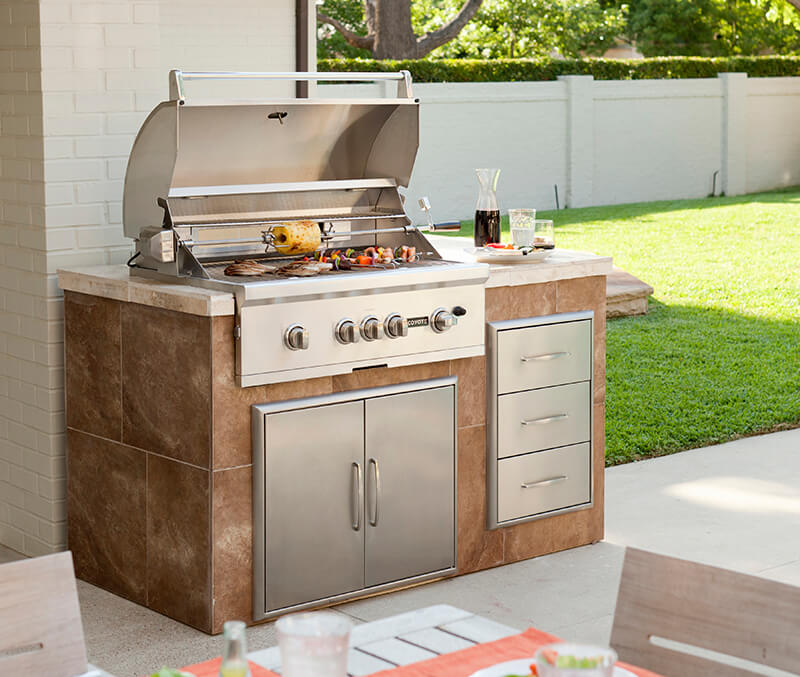 "Our goal has always been to provide customers with premium quality, affordable outdoor kitchen products, and our latest innovations support that mission," says Jim Ginocchi, the company's president.
The Dallas based Coyote Grill specializes in offering an extraordinary array of high-quality, all-stainless steel grills and accessories. Along with this line of grills, storage solutions, and refrigeration there is a recent addition of a refreshment center, a power burner, and combination drawers and doors.
Lynx Grill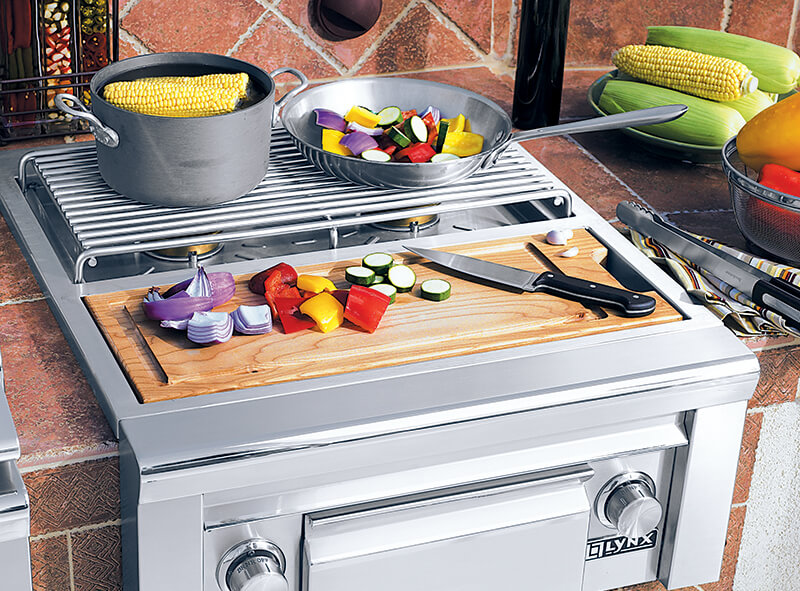 Since its launch in 1996, Lynx Grills, based in Downey, California, leads the way in innovation. One recent innovation is voice-activated connected grill which is programmed from a smartphone. This allows the user to cook food based on user commands. There is also an incredible option to allow Lynx master grillers to pre-program their recipes for perfect outcomes every time. It even has a feature that remembers the temperature setting of the last steak you cooked.
Add Your Own Inspirations
Add your own ideas to these inspirations for a wonderful party-perfect entertaining outdoor cooking space. Also, there are several links below for more information and inspiration for outdoor entertaining.
Other Posts You Might Enjoy:
How To Create The Perfect Outdoor Space In 2019
Designing Water to Enhance Your Landscape with Elegance
7 Examples of Entertaining Designs for Winter Patio Enjoyment