Designing water is a stunning way to add a special mesmerizing effect to any home and the surrounding landscape. Whether it is a large fountain in front of your luxury home or a small backyard accent placed carefully in your garden, designing water adds freshness and vitality.
Inspirational Ways to Add Designing Water to your Landscape
Did you know that water fountains existed as early as 3000 B.C. in Mesopotamia, ancient Greece, and Rome? We owe a debt of gratitude to Italy for the first installation of the mechanically-operating fountain in the 15th century. For the next few hundred years, some fountains grew to be known as "stations en route to illumination" which made fountains very popular in the grand gardens of Italy throughout the 16th and 17th centuries. Today, homeowners love to include designing water of many styles in their home landscape designs.
Do you want to add the peaceful and serene sounds of gently-flowing water to your home environment? If your answer is yes, the next question is which designing water feature will you choose? There is a wide range of options — from a simple accent to the centerpiece of your landscape. To stimulate your imagination when you are ready to install designing water around your home, here are some inspiring examples for you to view.
Drive Around a Lighted Fountain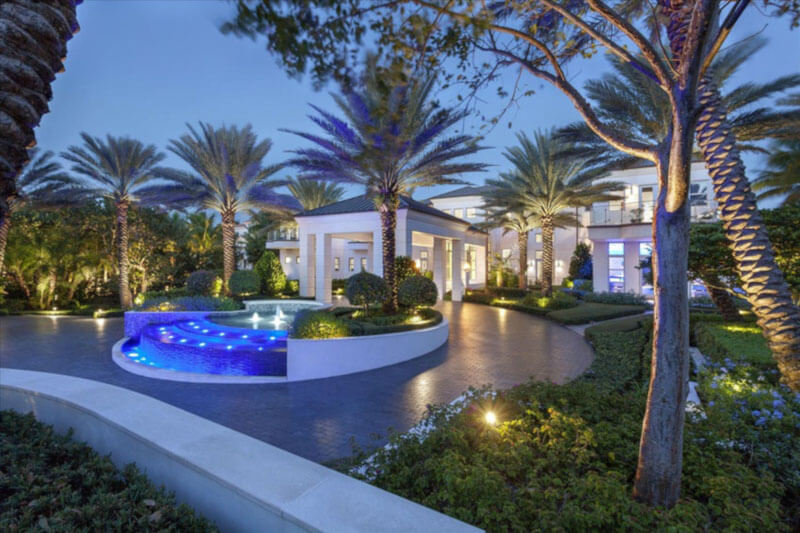 At the center of this circular driveway is a stunning waterfall that features multiple fountains surrounded by lush greenery. Add to this the high glossy sheen on the pavement and the tropical garden to the entrance of the home for a superbly elegant driveway to your home.
Koi Ponds for a Legendary Experience
Koi ponds are always popular and add a unique experience to any home not only because of their natural beauty but also the myths and legends surrounding this fish. They represent courage for many and remind us that life is ever in motion and transition. However, kindly note that these ponds need suitable air and filtration systems to give your Koi long and healthy lives.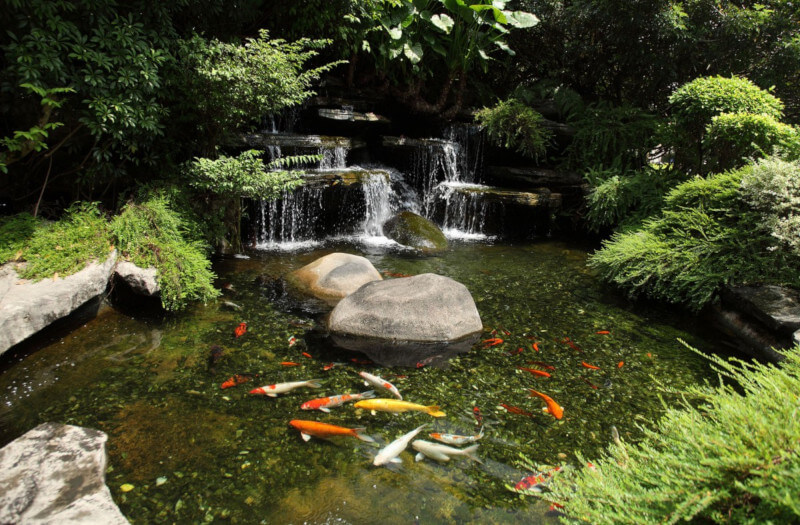 Celebration of Artistic Texture
This beautiful pond is placed in a sunken courtyard and finished with artsy and colorful handpainted ceramic tile inside and out. Contrast this with the antique brick flooring for a delightful experience in natural textures.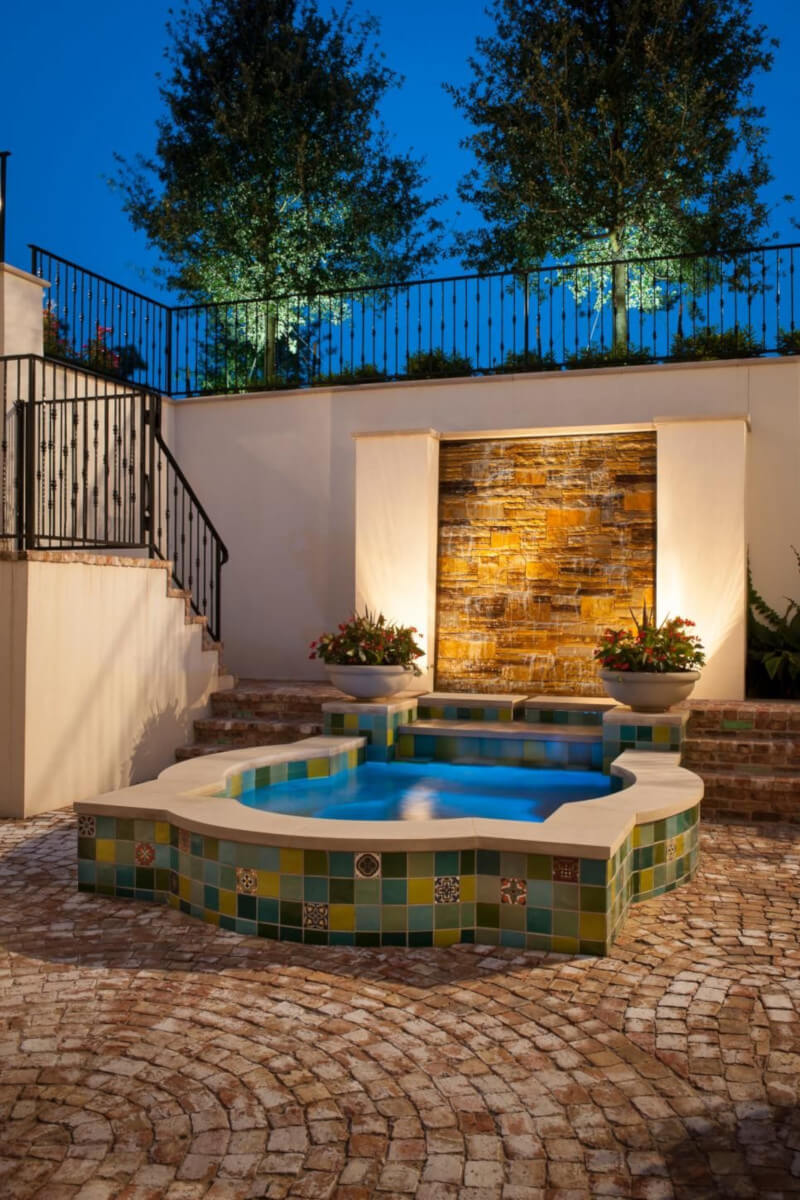 Simple Designs Brings Tranquil Moments
Nothing oozes with coziness more than this simple, circular fountain placed on a bed of small rocks surrounded by textured concrete in a serene backyard setting of tranquility and peace. When it sits beside an equally simple yet gorgeous pergola, you have the perfect relaxation space for your quiet moments of reflection.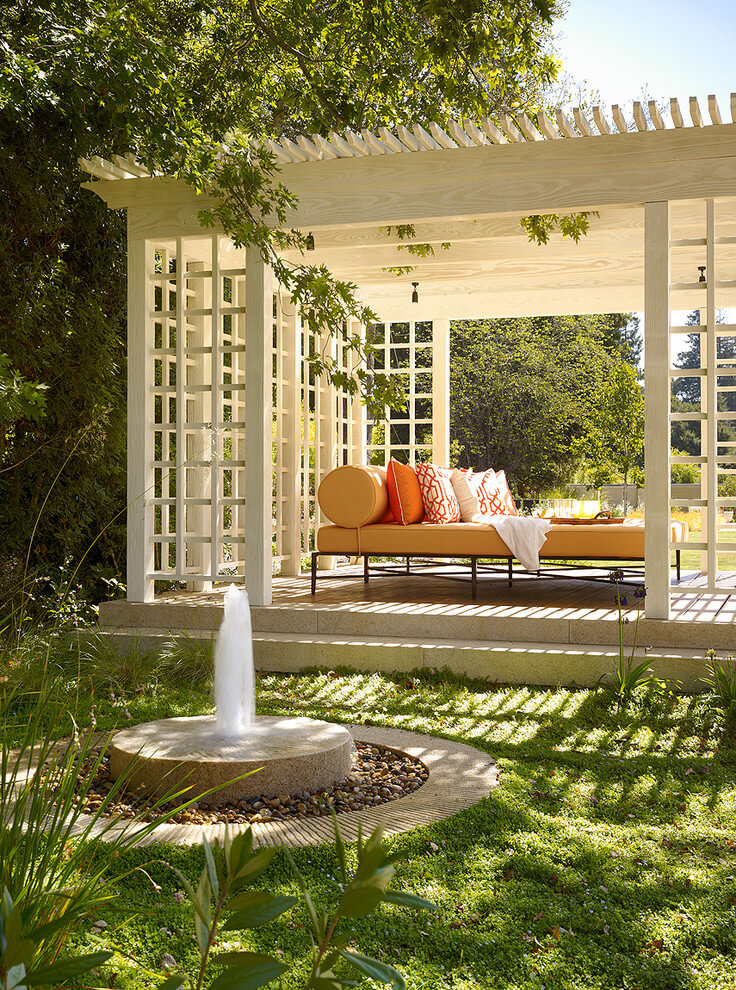 Water Vortex for Exceptional Effect
This amazing creation uses a glass cylinder to create a vortex effect for this spectacular fountain. With this design, a fine filter polishes the water to a crystal clear quality for optimal viewing. This fountain is sure to create the desired ambiance for your backyard garden and adds a very unique point of interest.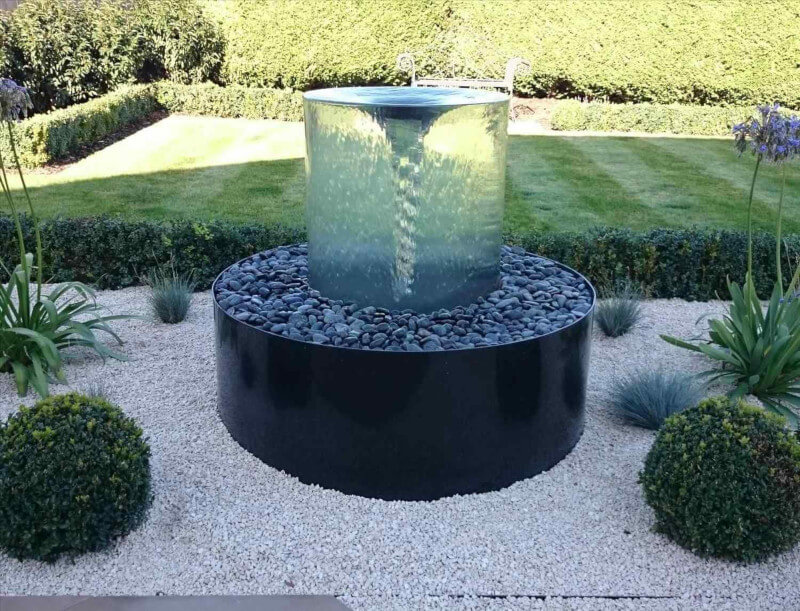 Fire and Water Fountains Warm the Soul
Include a spectacular fire and water fountain and you are sure to impress your guests. This feature is attention-getting and warms the heart and soul with this earthy combination of the elements of fire and water. Moreover, it is an unusual addition that grabs everyone's attention.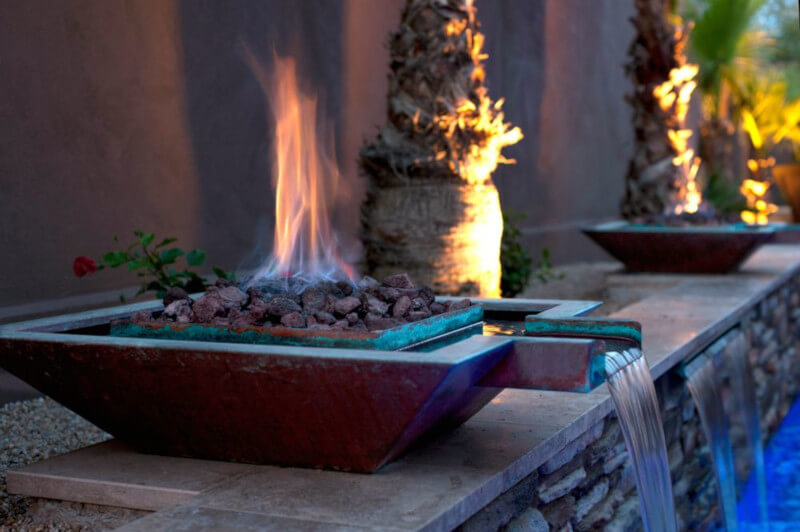 Of course, there are many other designs that you will discover as you begin your project. So, we hope you find inspiration and delight in these examples of designing water.
Water is fundamental to the human experience. We encourage you to search until you find the design that fits your lifestyle and one that gives you pure enjoyment.
Other Posts You Might Enjoy:
Decks and Patios; The Pros and Cons Listed
Sunroom Design for All Seasons Enjoyment
4 Steps to Achieve Better Landscape Lighting