If you're a person who loves to prepare delicious meals for yourself, family, and friends, you probably dream of upgrades for the perfect kitchen. For instance, your ideal kitchen is where you have every tool, appliance, and utensil that you need. Then, all you have to do is open your kitchen cabinets, and everything is within reach.
Because your kitchen is your haven, you most likely dream of upgrading it into something better. Perhaps you want a space that allows you to use your skills and more fully enjoy creating dishes. If you're just wondering how you can upgrade your kitchen, listed below are the ideas you may want to consider.
Your Inspiration for Upgrades for the Perfect Kitchen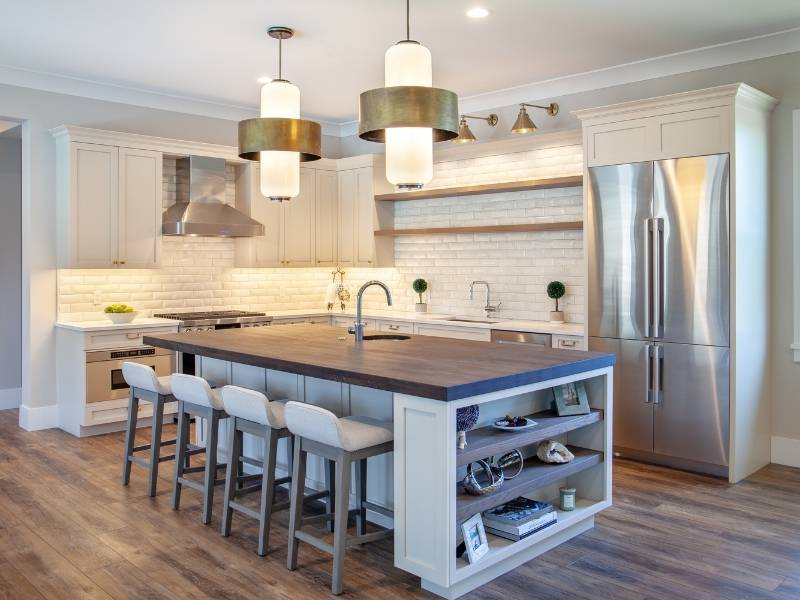 1.     Change Your Hardware
If it's time to update your kitchen's look into something more modern, changing out the hardware is an easy tactic. In fact, you may want to upgrade the hardware for a brand-new look. But, don't simply focus on its appearance. You must also shop for durability for long-lasting results. Moreover, try custom cabinetry and countertop services from companies like Metropolitan to ensure that everything blends well and is the perfect fit. 
Apart from your cabinetry and countertops, updating your sink also creates a drastic change in your kitchen's appearance. Just ensure that you purchase the right size for an easier transition. 
2.     Upgrade Lighting Fixtures  
If your kitchen's lighting fixture is old and uninteresting, upgrading is a great way to improve your kitchen's overall appearance. For some people, a great lighting fixture in the kitchen increases their mood. Of course, who wouldn't want to work in a kitchen that looks straight out of a magazine? 
Ideally, you can add pendants to your kitchen island or peninsula for a dramatic look. You can also add puck lights under your cabinetry to add depth and ambiance to the room. An LED strip light also adds a fantastic atmosphere to your kitchen when highlighting your backsplash. 
3.     Create A Backsplash  
It is common to have plain tile work in your kitchen as it provides a modest and simple look. While simplicity works well, adding a new and colorful backsplash also amps up the appeal of your kitchen.
With backsplashes, you might consider a minimal design or go with artistic creation. The choice depends on you and your kitchen's theme. Just ensure that you decide on kitchen-friendly materials that are easy to maintain. 
4.   Design a Clever Coffee Bar
If you're a coffee-lover and you simply must start your day with a cup of joe, adding a coffee bar is an instant mood-lifting experience. So, if you have the extra space in your kitchen, consider adding a coffee cart corner. This is where you keep your coffee maker appliances and supplies easily accessible in one area. 
When creating your coffee bar cart, you must remember to keep your color scheme in mind to enhance the rest of the kitchen! 
5.     Update Your Containers
Is your kitchen full of containers that don't go well with one another? Some may be plastic or glass or may even be the original packaging of the product. Then, perhaps it's time to streamline your containers. This is one of the practical upgrades for a perfect kitchen that is a great organizational tool.
There are plenty of containers available in the market that vary in size, material, and design. When shopping, ensure that they're airtight to keep your food fresh. Also remember to pick up labels for those containers for even greater organization.
6.     Consider Open Shelves
In the interior design world today, the use of open shelves is ever popular as it helps to make the room more spacious. The only downside of having open shelves is that you only have limited storage space. However, if you have plenty of cabinet space, that shouldn't be an issue. 
You can choose to display your condiments, fancy utensils, and other kitchen decors to add beauty to the room. Just ensure that you don't overcrowd the open shelves and that you use good organizing techniques. 
In Conclusion
Your kitchen is a magical place where you create something out of the ordinary. As good food comes from a kitchen, you may want to upgrade your work area for greater enjoyment in creating meals. With the right upgrades for the perfect kitchen, you might even make a tastier meal. Plus, you get the bonus of being in a good mood while you cook. What's more, a great kitchen improves your home's value. So, it's a win-win all the way around! 
If you have any questions or suggestions you want to add, please do so in the comments below. Also below, you will find links to more fantastic articles about ALL things DESIGN for your home or business.
Images Courtesy of Canva.
Other Posts You Might Enjoy:
3 Bad Ideas for Your Kitchen Renovation
What is the Best Kitchen Sink Material
How to Modernize Your Kitchen Style and Maximize Space
Share This Story, Choose Your Platform!