We're often told that beauty is in the eye of the beholder, which is good news when you purchase furniture and décor for your home to suit your preferences and personality. However, if you were to decorate your home based on the most common décor rules, you might find that you're breaking many of them.
Common Décor Mistakes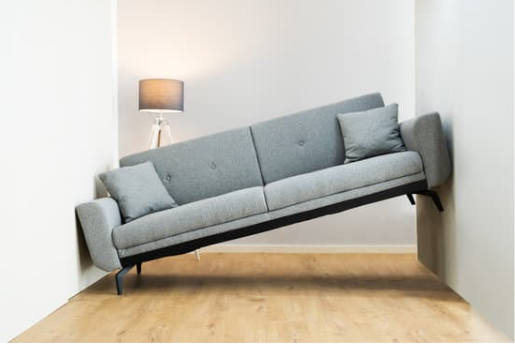 If the time has come to transform your home, or you're simply curious whether you're a rule breaker, you can find some of the most common décor mistakes that are easy to make below. 
Overlooked Décor Mistakes: Only Having a Ceiling Light
The beauty of interior design is that many things are easy to fix. While that ceiling light might be a show-stopper, such as a chandelier, it's not always enough to illuminate your space properly. When you only have illumination from above, it can even be unflattering. 
Invest in multiple lighting sources, such as floor and table lamps that can provide light for the space from various angles. Pair these with soft white bulbs since bright white and fluorescent lights can make rooms appear cold and uninviting. 
Pushing Furniture Against Walls
It can be tempting to push all your furniture against the walls to save space in the center. The more free space you have, the larger your rooms can look. However, pushing furniture against walls doesn't always achieve the desired results, and you might not save or make space as anticipated. 
Keep conversational placement in mind when you're unsure where furniture should go. Think about where people would want to sit when engaged in conversation. If it helps, measure your room and furniture and sketch out placement. You can then play around with different arrangements until you find one that works. 
Hanging Art Incorrectly
When you have beautiful art you adore, it doesn't always matter where you put it. It also doesn't typically matter if something is in front of it, partially obstructing the view, such as a lamp or indoor plants. However, always aim for eye level if you're trying to avoid as many décor mistakes as possible. Position art where people will be looking straight ahead and don't be afraid to place it somewhere unexpected. 
Forgotten Décor Mistakes: Following Design Trends
When you want your home to be warm, welcoming, and stylish, you might thumb through the pages of your favorite interior design magazine. You might also purchase many of the goods you see in the photos. There's nothing wrong with adopting design trends you adore, but don't forget to showcase your personality in your home. 
Rather than designing your home to look like one out of a magazine, think about the furniture and home décor you like and that represents you. A vibrant feature wall, a throw blanket that has been in your family for generations, and a worn old lamp from your childhood are just as deserving of a place in your home as on-trend cushions and rugs. 
Other Posts You Might Enjoy
Kitchen Renovation Mistakes to Avoid
Five Mistakes that Homeowners Make in Home Improvement
Mirror Décor Works For Every Room
Share This Story, Choose Your Platform!