As you build your home, there are plenty of finishes for floors from which to choose. While adding carpet or hardwood floors is one of the most popular options, also consider adding epoxy floors to give your home a brand-new look while still providing stability and beauty. However, figuring out how to add and maintain epoxy floors in your home is no easy task.
When deciding to add epoxy, you can choose to hire professionals or complete the project yourself. If this intrigues you, continue reading to learn how to add and maintain epoxy floors in your home.
Your Guideline to Adding and Maintaining Epoxy Floors In Your Home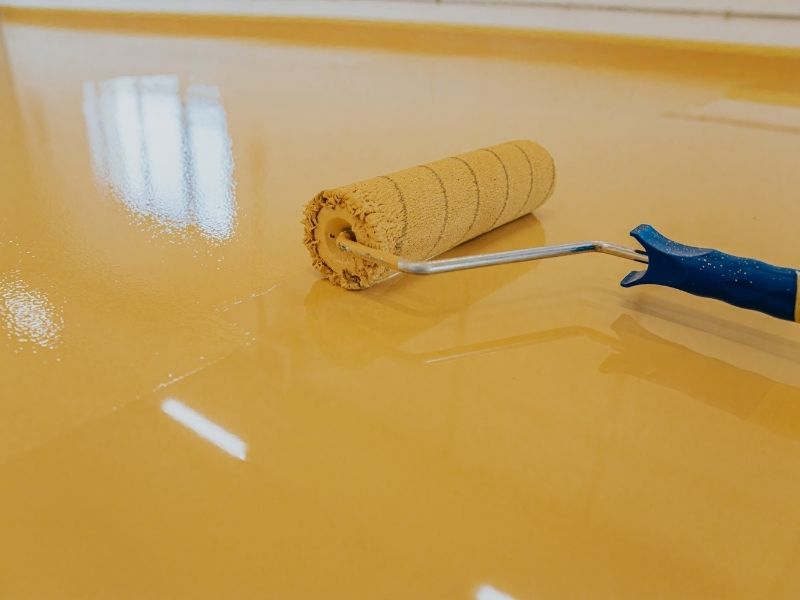 1. Hire a professional.
One of the best ways to ensure that your epoxy floor project comes out well is to hire a professional to do the work for you. Because they have all the right tools and knowledge to complete the project, they can deliver the best outcome. Although hiring a professional entails additional costs, you have peace of mind in knowing that your project will be a success.
If you're looking for epoxy professionals in your area, simply search for 'epoxy flake flooring Brisbane' on your web browser. There, you will see a list of companies that can serve your home. However, it's ideal to look for the best customer reviews to ensure a professional project. 
2. Prepare your tools.
If you want to add epoxy floors by yourself, prepare all the tools you need in advance. You can begin by arranging the two-part epoxy resin, mixing bucket, scraper, power scrubber, vacuum, acid-etching mixture, paint roller, goggles, respirator mask, and nitrile gloves. 
As you prepare your tools, ensure that you have enough to cover the entire surface of the floor. The last thing you want to is to apply resin and discover that you've run out with a few inches left to cover. 
3. Smoothen and clean the surface.
After preparing all the tools you need, the next thing to do is smoothen and clear the entire surface for your epoxy floor. You can use a grinder or scraper to even out the floor until the condition and appearance of your bare surface is the way you want it. Then, you must clean them using a vacuum to rid the floor of dust particles that affect the quality of your work.
To eliminate gas and bubbles, use an epoxy primer or acid etching mixture. Interestingly, this helps smoothen out your floor and prepare it for the resin mixture. 
Finally, use a scrubber with a cleaning solution to wash the area. Then, you can dry the floor using a wet vacuum. 
4. Applying the resin mixture.
After preparing your floor by cleaning and smoothing every inch of the surface, begin applying the resin mixture. Also, use a paint roller to apply the mixture and place it on your floor for an even and smooth finish.
After your first coat completely dries, begin using the second coat for a more thorough execution. Just ensure that you fill in any holes and cracks. Finally, you apply the final coat. 
The entire process of the resin floor application may take 12 to 24 hours before it's completely dry. What's more, it takes two to three days for the entire surface to cure. With that, it's best if you could temporarily move out of your home or do it part by part to avoid ruining the curing process.
5. Maintaining your resin floor.
Since applying resin floor requires intense work and a significant waiting period, ensure that you conserve it well to maximize its beauty and stability. To that end, we're listing below the ways to maintain your resin floor.
⎆ Clean the floor daily.
At the end of the day, sweep the floor with a dust mop, especially in high-traffic areas. Then, for low-traffic areas, sweep the floor at least once a week to ensure its cleanliness. Additionally, every time your floor is exposed to dirt and grit, you must clean it immediately to prevent staining. 
⎆ Use the right cleaner.
Apart from sweeping the floor, you may also need to use a cleaner to ensure that it's in the best shape. However, try to avoid using soap cleaners as they affect the quality and condition of your epoxy floors. You can look for epoxy floor cleaner in your local supermarket. This way, you can clean your floors worry-free.
⎆ Spot clean immediately.
Even though an epoxy floor is water-resistant, it may catch heavy stains that are hard to remove. As soon as any form of liquid spills on your floor, you should spot clean it immediately. This will help prevent any stains.
In conclusion.
Epoxy floors are a popular choice for many homeowners. Apart from the beauty that it brings to your home, an epoxy floor also provides additional strength to your home. Moreover, this flooring option is easy to care for and maintain, making it a perfect choice for everyone. If you have any questions or suggestions, we always love to hear from you in the comments below. Also below are links to more fantastic articles about ALL things DESIGN for your home or business.
Images Courtesy of Canva.
Other Posts You Might Enjoy:
5 Reasons Why Laminate Flooring is Popular
Redesigning Your Bathrooms with Innovative Design Ideas
5 Tips to Prepare for Home Roof Replacement
Share This Story, Choose Your Platform!