To buy the right furniture for your home, it's important to spend some time looking at your options. But, for many, it's hard to find time to go to furniture stores to view couches, dining tables, storage cabinets, bedside tables, and other furniture for your home. Instead, why not use an alternate way of shopping for furniture? For example, sourcing furniture online is a great solution, allowing you to choose from a wide variety of furniture, without leaving the comfort of your home. 
Many online furniture stores offer free delivery, which is also a time and cost saving. Shopping online for your home furniture is a convenient solution for many homeowners. As technology improves with online viewing rooms,it allow users to get a complete view of furniture pieces before you buy. What's more, you can look at reviews from other people who bought the same piece to gain more insight. Spending some time researching your options online can bag a bargain in comparison with visiting a furniture store in person. 
Are you new to this type of shopping or want more information about it? Then, we invite you to continue reading to learn a few interesting tips for sourcing furniture online.
Your Guide to Sourcing Furniture Online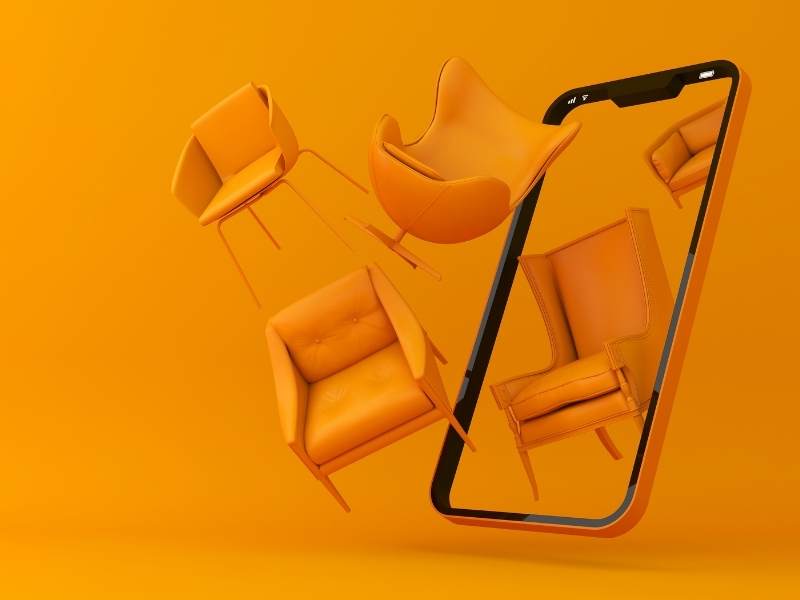 ⎆ Check your measurements.
If you are buying furniture for your home online, it's crucial that you measure your space correctly. Many homeowners fail to record their measurements properly and end up with furniture that does not fit their space correctly. Remember the height, length, and depth of the space that you have available, and try to leave a little wiggle room if possible. It's also important to consider the positioning of switches, vents, and other fixtures when you choose a location for your new furniture.
⎆ Removable features.
After delivery of your furniture, you must ensure that it fits through the front door. You might also opt to assemble furniture at home, making it easier to deliver. However, bulkier items such as couches might be more difficult to bring into your home. Many couches have removable legs or arms that will make it easier to squeeze your new couch inside. So, measure your space carefully and use the measurements on the website to ensure you can easily bring the pieces inside when they arrive. 
⎆ Delivery options.
While many online furniture stores offer free delivery, others do not, so it is always wise to double-check. Depending on what you order, you might have to wait for the construction of the furniture or delivery from a manufacturer or wholesaler in another part of the country. When you are choosing your online store, be sure to look at their delivery options to ensure you get the best deal possible. The wardrobe you want might be ten dollars more from one supplier but they might deliver it a month earlier than a less expensive provider. Make sure you get the full picture before you click confirm. 
⎆ Sourcing the perfect furniture online!
To view the widest selection of furniture possible, the internet is the best place to go. Browsing online furniture shops, you can look at a vast array of different styles and types of furniture to match the look and feel of your home. Reviews from other customers help ensure that that you are happy with your purchase. Additionally, direct delivery to your door saves you time and hassle.
For a convenient, hassle-free way to buy your home furniture try sourcing your next piece of furniture online and enjoy the experience of furniture shopping from the comfort of your home. If you have any further suggestions, please let us know in the comments below. Also below are links to take you to more excellent articles about ALL things DESIGN for your home or business.
Images Courtesy of Canva.
Other Posts You Might Enjoy:
Top Tips for Protecting Your Wooden Furniture
6 Tips In Finding The Right Patio Furniture
How To Choose The Best Contact Lenses & Buy Them Online
Where To Buy Quality Furniture Online Without Paying Retail Prices
Share This Story, Choose Your Platform!