We all want to make our homes look and feel as cozy, inviting, and stylish as possible, but knowing how to style your home properly can be a challenging feat, from choosing the right furniture pieces to accessorizing your space with elements that will truly transform it into a show-stopper. There are many considerations to take into account when it comes to decorating. 

Fortunately, transforming our living spaces doesn't have to be overwhelming or confusing anymore; we can use insider tips used by professional interior designers and makeover experts to make our houses look magazine-worthy. Below, we'll detail how to ace the art of styling and accessorizing so that your home looks fresh and up-to-date.
How to Style Your Home Like a Pro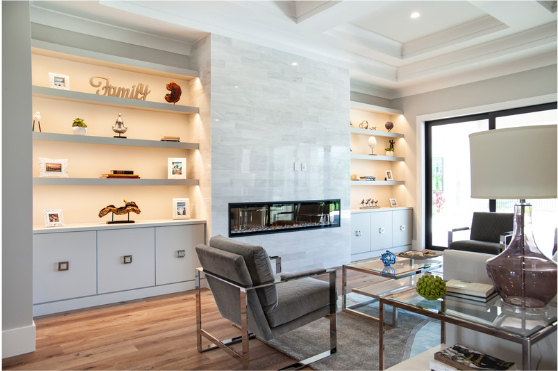 Design by Patricia Davis Brown Designs
1. Choose the Right Furniture
The first step in styling a home is finding the right furniture for each room. Choosing items that are the correct size, shape and color can create a look of balance and flow throughout your space. Selecting timeless pieces you love can ensure that your style won't go out of fashion soon.
If you have a home office, try to find stylish and functional pieces; for a bedroom, look for items with soft edges and warm tones to create a calming atmosphere.

With these options, you can ensure that each item you purchase will serve a purpose in your home and create the look you're going for. The key here is to take your time and shop around until you find the right items.
2. Incorporate Color and Texture
Adding pops of color and various textures to your home can make it look more stylish and inviting. For example, if you have an all-white living room, adding a few colorful throw pillows or a patterned rug can instantly liven up the place. You can add texture to your space with faux fur throws and textured wall hangings. Experiment with different hues and textures to create a look that speaks to your style.
Rugs are also essential accessories for both comfort and visual appeal. By choosing a small, low-pile rug that is the correct size for your room, you can add style to the space while still providing warmth and softness underfoot.
3. Use Window Treatments to Your Advantage
Window treatments are essential to styling a home, as they can add depth and character to any room. Curtains and blinds come in many different styles and colors, so you can find the perfect pair that works with your space. You can also use window treatments to let in more natural light or create a certain mood. For instance, if you want a room to feel more energetic and cheerful, pick a warm-colored fabric.
How you use window treatments can also make a big difference in the overall look of your home. For example, if you have blackout curtains that block out all the light, it might make your space feel dark and uninviting, whereas if you opt for something sheer to let some natural sunlight through, you'll create a more airy, inviting atmosphere.
4. Add Some Greenery to Style Your Home
Plants are a great way to add life and color to any room in your home. They help to create a calming ambiance while also purifying the air and adding texture. Whether you opt for something simple like succulents or something more exotic like a fern, there are plenty of options for houseplants. You can add some greenery outside your home with a few potted plants or even a full garden. Adding houseplants is an easy way to transform any room and give it something special. They also require minimal upkeep so that you can enjoy their beauty without the hassle of daily care.
Styling your home can be a fun and creative process. With just a few simple tricks, you can turn any space into something that looks magazine-worthy. Don't hesitate to get creative and give your home the makeover it deserves.
Other Posts You Might Enjoy:
Decorating Styles You Might Like to Consider for Your Home
How to Implement the Industrial Style in Your Home
Top 5 Best Home Furnishings for Style and Comfort
3 Ways to Bring Natural Light Style Into Your Beautiful Home
Share This Story, Choose Your Platform!