If you've recently purchased your first property or have upgraded to your dream home then you are ready to consider some decorating styles.
It's helpful to research some of the most popular decorating styles that have been around for a long time. Here are some home decorating styles to examine further as you decide how you want your new home to look and feel. 
Choosing Your Decorating Style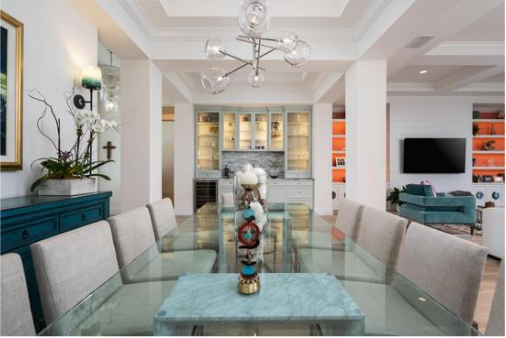 Designs by Patricia Davis Brown Designs
The Farmhouse Decorating Style
The modern farmhouse look is trending now and involves using a lot of wood. Many people use salvaged materials from old buildings, warehouses and other reclaimed pieces to create a farmhouse interior. You can add a twist on the farmhouse style by adding some Scandinavian, industrial, or minimal touches to it giving a fusion farmhouse style. 
The farmhouse is a warm, inviting style to embrace because it's relaxed, comfortable, down-to-earth, and practical, especially for families with young children or pets. You might like to add some barn-type details to your home by installing wide-plank wooden flooring and impressive sliding barn doors throughout. 
Ensure there are plenty of wooden design choices in your home, as well as open shelving to display your glassware and dinnerware, and a mix of high and low contrasts that bring everything together in an unpretentious way. 
The Shabby Chic Decorating Style
Another laid-back kind of decorating style to consider for your place is shabby chic. This option was all the rage in the mid-1980s and 1990s and was particularly known for being used in California. Shabby chic was featured on many television shows and in popular magazines making it very popular. It is an aesthetic that brings back vintage and antique French design styles. 
To go down the shabby chic design route in your home, stick to a light color palette. You might pick out an overstuffed sofa in white or soft beige and pair it with some bookcases or display cabinets in a distressed painted wood style. You can also add some bling to bring in the antique French themes by choosing ornate gilt adornments like gold French mirrors, brass handles or candle holders, etc. 
The Mid-Century Modern Decorating Style
The mid-century modern dates back to the mid-1930s to late 1960s and gives you a retro look that has become a popular choice in today's decorating style. Head to furniture stores in your area, and you're sure to spot some replica mid-century pieces you can select from, or you might even find some proper period items at specialty stores, garage sales, and other places. Pair such pieces with accessories in bright, fun, retro colors like look-at-me reds, oranges, and greens. 
Also, to create a mid-century modern look, focus on form and function in your purchases and keep decorations streamlined and not too cluttered. For instance, pick out items with clean lines, playful curves, and sleek, tapered legs. 
The Contemporary Decorating Style
Another style to put on your list of choices is contemporary. As you might guess from the name, this option is fresh and modern. It concentrates on clean lines and current vibes, although not necessarily just sleek, stark spaces that feel a little cool. While contemporary can give this feeling, there are also other sub-sections within the contemporary field, so you just need to come up with a balance that suits your tastes by featuring some classical choices mixed with some more surprising ones. 
Most contemporary homes utilize a lot of metal, glass, and stone to keep things simple yet elegant, along with neutral color palettes. Add a little texture through deliberate design choices, but you want to avoid picking out goods that seem too trendy. 
The Traditional Decorating Style
If you like a timeless style you won't have to update often, a traditional décor is likely a good fit for your needs. This is typically seen as the most popular choice in many countries and is based around elegant and cozy furnishings, fixtures, fittings and accessories that feel comfortable and lived-in while still being beautiful and pared back. Traditional homes don't look cluttered, but they're not stark, either. 
To design traditionally, pick out calm colors and furniture with classic lines and other pieces that are understated and orderly and showcase a sense of symmetry. You can bring in some crown moldings for a bit of oomph in a room, showcase your china vases, add a little wooden furniture, hang some framed prints, and purchase a chandelier ceiling fan as a feature for a room, among other options. Don't forget to bring in some matching plump pillows, too. 
These are just some design styles to keep in mind when you choose how to set up your home. You might also like to consider Hamptons, bohemian, Scandinavian, coastal, French country, art deco, and industrial looks. Alternatively, blend a couple of styles to get a look and feel that's just right for you. 
Other posts you might want to read:
Moving in Together – 7 Tips for Merging Styles
Decorating Tips to Make Your Home Cozy
DIY Home Decorating Guide for Success
Share This Story, Choose Your Platform!