Moving in with your partner is undoubtedly exciting. However, the whole idea of combining your items or moving out of your home can prove overwhelming. Nonetheless, as you take the next step in your life, you should create a home for both of you. One of the most exciting aspects of moving in with your partner is organizing and decorating together. From this process, you'll identify your partners' uniqueness and learn how to complement each other when you move in together.
As you gear up toward making the move, you should have the following tips in mind:
Moving in Together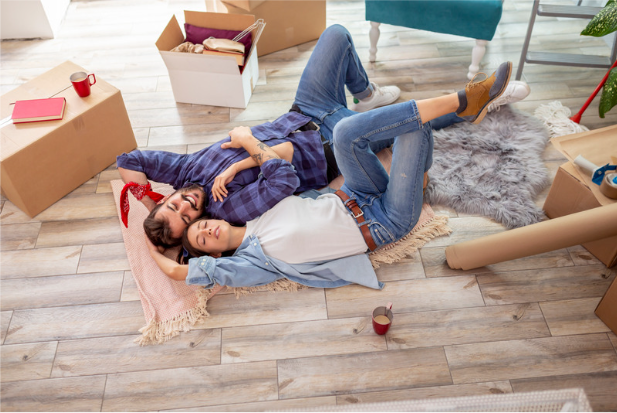 1. Declutter before moving
Moving in together is a stressful process, and combining two houses presents added challenges. Therefore, you should proactively prepare for this challenge by decluttering as much as possible. Like any other moving process, you should declutter and organize your belongings before moving.
While in your separate homes, you've probably accumulated several items that may not fit the new space. It will be easy to eliminate items that are too large to fit which is the first process of decluttering. Now is the time to take inventory and purge unused items and make room for blending your items together. 
Depending on the condition of your items, you can donate to charity, sell to thrift stores, or organize a garage sale. 
2. Take an inventory of your items
Before moving in together, you should take an inventory of your items. Taking stock of your items ensures you don't bring the same things into the new home. You should compare your inventory to identify duplicate items that should be sold or donated. In most cases, couples may find the following items in common:
Kitchen appliances, such as the toaster, microwave, refrigerators, and crock pots.

Lighting equipment

Large furniture, such as tables, chairs, couches, and dining table

Decorative items, like rugs, planters, and bar cart

Large electronics, such as desktop computers, speakers or sound systems, and television
The main challenge is deciding between duplicates when combining your items. Choosing which item stays or goes requires that you consider the condition, size, and quality.  Consider keeping some duplicated items, like televisions that you could use in different rooms.
3. Make space for your partner
Moving into an entirely new home together is an opportunity to make it your home for you and your partner. However, if your significant other is moving into your house, it becomes challenging for them to claim ownership. It's essential to make them feel part of the process by allowing them to suggest décorating options. You want them to feel it's their home too.
You should suggest design changes to make them feel at home and know that the space is no longer yours alone. Clear part of the closet and swap some furniture items to accommodate their pieces. Rearrange the layout of your house to their liking for them to feel a sense of ownership. The goal is to make your partner feel welcomed and at home, regardless of who moved in first.
4. Discuss your ideas openly
Before moving in together, you should discuss your design expectations and other important features extensively. You both should expect and accommodate different opinions from your partner concerning how they want to style the new space. Define individual styles, especially using pictures, and find common ground.
5. Be ready to compromise
 Everyone has something they like or has sentimental value, which may not excite their partners. This is where compromising comes in. For instance, if your partner loves collecting comic books, which aren't your favorite, you should accommodate and create space for them to keep their collection. Compromising is a crucial ingredient to a happy and healthy union.
6. Transitional Design Style
Transitional design elements are important in creating a home that represents you and your partner. The transitional design style offers unmatched flexibility, allowing you and your partner to combine and integrate various ideas. You can connect modern and traditional décor fluidly to accommodate both your design preferences.
You should consider several elements, such as the wall color, flooring, ceiling, and unique fixtures. These items play a significant role in determining your design choices in your new home. Playing with color and texture is also a key design element that can make your new house a home. Adding texture and the right color choices adds a lot of texture to your rooms. You should find ways of blending different elements if you have slightly varying preferences.
7. Go shopping
Shopping for your shared space is another practical tip for styling your new home. Choosing new items together represents the merged styles of both partners. However, ensure that you agree on the budget ahead of time to avoid misunderstandings on the amount to spend on new items.
The Bottom Line
Coordinating different décor styles, items, and household appliances is the main challenge for partners moving in together. The key is ensuring that both partners feel comfortable in the space. Remember that creating a home shouldn't be done in a hurry. It is a work in progress that you'll probably continue refining for years.
Other posts you might enjoy:
Cleaning Check List for Moving Out
10 Signs You're Dealing with a Good Moving Company
How to make moving Fun: 7 Tips for Glasgow, Scotland
Share This Story, Choose Your Platform!