If the walls of your house are only painted, perhaps in white, and nothing else, it soon feels boring, as you don't have anything interesting to look at. Of course, you can leave the designs to minimalists who love them simple and clean. But if you enjoy sprucing up your home, there are several ways to spice up a boring wall.
So, today we are bringing you inspiration for you to use in your own home for a gratifying uplift to your environment. We invite you to continue reading to learn some interesting ways to spice up a boring wall in your home.
Spice Up A Boring Wall In Your Home With These Inspirations!
1. Wall tapestries.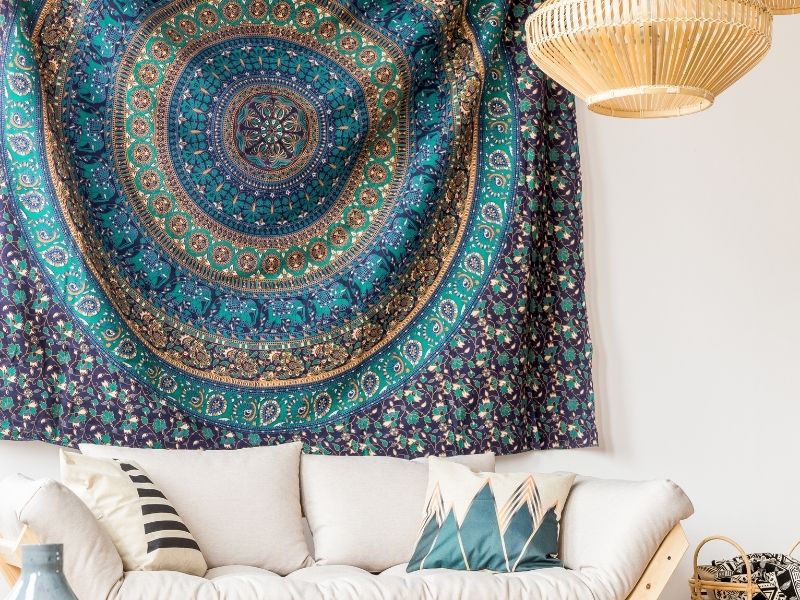 Wall tapestry is one of the most famous of all wall decor. They come in the form of a fabric woven with unique and beautiful designs. In medieval times, they were popular with royalty and those in the upper classes. Consequently, they were initially viewed as luxurious stuff (1).
But as of now, you can get them at affordable prices from local and online home improvement stores. There are several design themes you can choose from, including Bohemian, abstract, colorful, floral, funny, animals, real-life photography, nature, and more.
You want to go for high-quality tapestries with guarantees to last a lifetime. Think along the lines of museum quality. Also, ensure that the design you choose matches the interior decor of your home. For instance, if you fancy a tranquil atmosphere, go for cool tapestries.
2. Statement wall clock.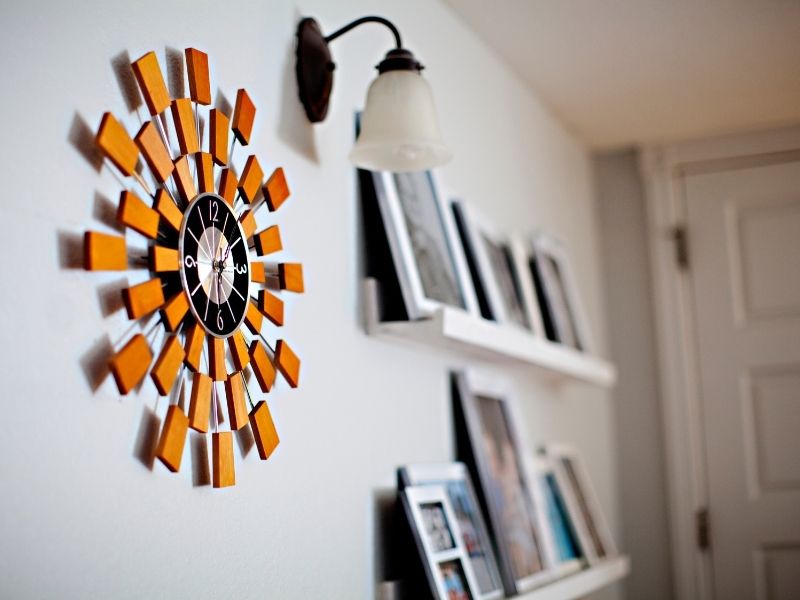 They say that 'even a broken clock is right twice a day.' Whatever meaning you put to this age-old proverb, remember that you can't go wrong with a wall clock in your home (2).
Most interior designers are of the opinion that clocks aren't just tools for displaying time. They're more than that, especially if you choose the decorative ones. They can add life and elegance to your home, regardless of the decoration theme you already have, as the designs available are limitless (3).
So, choose one that matches your sense of style. Also, don't shy away from installing those gigantic ones. They're a statement piece, and the more they stand out, the better.
3. Mirror, mirror, on the wall.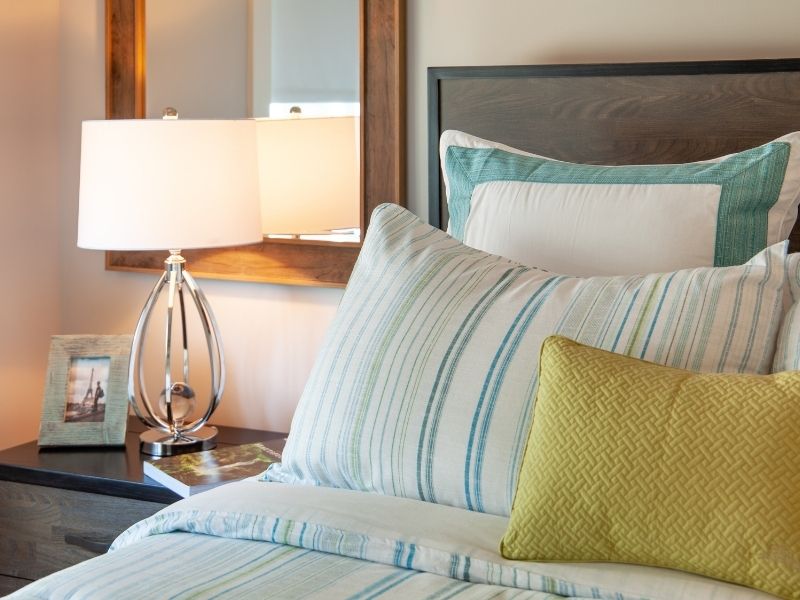 You certainly remember Snow White's story that captivated your childhood years, wherein the Queen looked into the large mirror on the wall and asked, "Who's the fairest of them all?" So, aside from the lesson, you get it that mirrors have been a popular wall decor for many centuries (4).
Every gorgeous home must have a mirror, at least according to Apartment Therapy. Apart from viewing yourself, mirrors bounce light around which amplifies the indoor illumination. They're also an excellent decorative piece, given that they come in various shapes, sizes, finishes, and materials (5).
It's best if you make the mirror the focal point in a room. Some of the ideal spots to mount a wall mirror are as follows (6):
In a long narrow hallway.
Over a buffet.
On a side table.
Over the fireplace.
Next to the front door.
Over a desk that faces the wall.
Behind the largest sofa.
Wherever you choose to position your wall mirror, it provides light, amazing beauty, and adds playful illusion to your home.
4. Gallery wall.
A well-laid gallery wall adds never-ending visual interest to any room. It's a popular trend, and it won't go out of fashion any time soon. Moreover, it's a fantastic way to display all your favorite photos and prints (7).
There are no strict rules when it comes to gallery walls. Rather, your creativity is what makes the final look captivating. You can choose to display ceramics plates, oil paintings, portraits, antique finds, certificates, awards, decorative light fixtures, and pencil drawings.
The more pieces of art, the better, but don't create clutter. For large walls, you want to have smaller pieces, whereas, for small walls, your best bet is large art pieces. This way, you create the illusion of depth on your wall, which changes the perception.
5. Bold paint.
If you have the usual neutral color walls, say white or grey, spice things up with at least one accent wall painted in bold colors. These include olive green, inky blue, vibrant yellow, pink, moody blue, and bright coral. Also, as painting is one of the most affordable wall treatments, you can experiment as much as you wish to without going broke (8).
Spice up a boring wall in your home.
Whichever method you choose to spice up your wall, make a point of engaging all your efforts to create a stunning look. But if you aren't quite this creative, consider working with a home interior designer. The ultimate goal is to live in a home that always gives you a reason to smile. If you have any questions or suggestions, we always love to hear from you in the comments below. Also below are links to more fantastic articles about ALL things DESIGN for your home or business.
References.
Some post images are courtesy of Canva. Cover image: Designs by Patricia Davis Brown Designs, LLC. • Photography by Stephanie Davis
Other Posts You Might Enjoy:
How To Choose The Right Wall Art For Your Home
Tips For Creating A Garden For Apartment Living
5 Top Grandfather Clocks with Art Deco Designs
Share This Story, Choose Your Platform!