Unless you have previous knowledge of decorating with the right wall art, the art of selection might not come naturally. For example, what sizes or colors fit your space better or how to pair pieces might not be so easy for you.
Whether you feel overwhelmed by the choices you have or you don't know where to begin, this guide seeks to help you find the right wall art that fits your home and style. So, we invite you to continue reading to learn some design tips for selecting the right wall art for your home.
5 Tips For Selecting The Right Wall Art For Your Home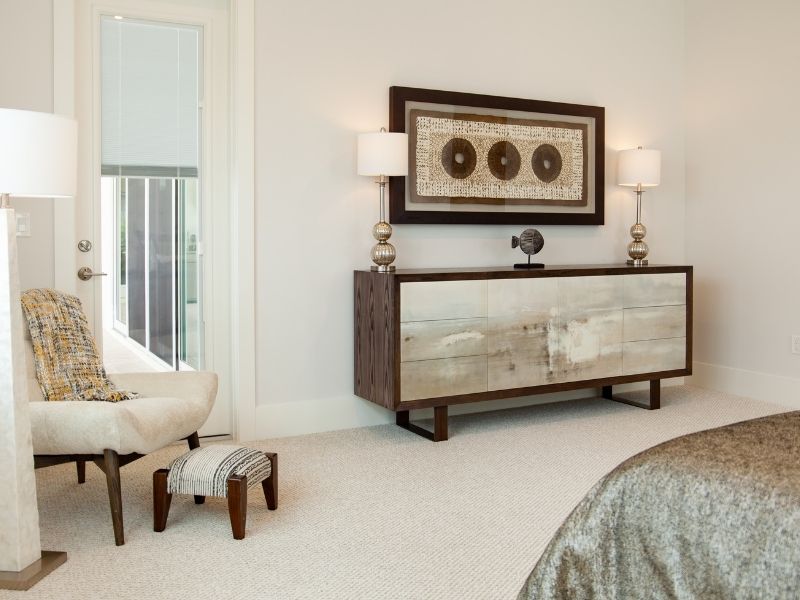 1 • Consider the location of the wall art.
Picking wall art for your living room—whether framed photos, tapestries, a photo collage, or any other—is different from picking wall art for your bedroom. The pieces you choose should complement the existing decor, color, aesthetic, and room purpose. Here are some tips for picking wall art for every room(1):
Living room: The family room is a fun space to decorate and an excellent place to showcase a single large wall art piece or create a large gallery wall. The wall art should be bright and welcoming.
Office or study: The best wall art for the study or home office enhances productivity, creativity, and inspiration.
Bedroom: The bedroom is a relaxation space, a place to retreat, unwind, and rest. Your wall art should reflect that. The best place to position wall art in the bedroom is opposite the bed or directly over the bed.
Bathroom: Most people don't look at the bathroom as a place to decorate with wall art. However, you can place small pieces of custom framed art, especially in pairs. You can hang them side by side or stacked.
2 • Consider the space available.
The size of the room and the wall art need to complement each other. A space like a bathroom would look awkward with a large-scale piece of art. The same piece would look excellent in the living room. Similarly, small artwork on a large living room wall may fail to create proportion and appeal (2).
Here are some rules for hanging artwork in your home:
Consider the ceiling height when choosing the size of wall art and be sure it fills the length and width of the space.
Avoid hanging wall art that's longer than your upholstery behind your sofa
Small pieces don't work well on large walls. Use many small pieces or go for one large-scale piece.
Use small or medium-size pieces for the bathroom and the kitchen.
Your wall art should be above the edge of your furniture by at least 15 centimeters.
You can get customizable wall art to get pieces that perfectly fit the space you have available, whether it's small parts for a wall gallery or a large piece that'll serve as the focal point.
3 • Consider your existing décor.
Before you go out to choose wall art for your home, take a good look at your existing decor and furniture. Choose rich and colorful wall art for mostly neutral spaces, but if you already have enough color and pattern, pick a more toned-down piece. Fitting your wall art with the existing look is crucial for maintaining the home's overall color scheme and style.
4 • Pick the right color.
As a general interior decor color rule, your art piece should match your room without diminishing the other design elements present. However, this isn't to say that you can't pick bold pieces that challenge the status quo. But first, you must understand how you want colors to match in your home. Here are a few ways you can coordinate wall art and color (3):
Stick to wall art with a single color scheme that matches your space's color palette to create a cohesive yet simple look.
Use one color in different shades.
Use the color wheel to guide you on complementary opposite hues.
The color of your wall art should be proportional to its presence in the room. For instance, if the space is navy and beige with bright yellow throw pillows, you can choose wall art that bears navy and beige, with bright yellow highlights.
When in doubt, go with black-and-white wall art.
5 • Show your personality.
As you consider other factors such as the location, available space, and existing decor, it's essential to consider what type of wall art embodies your personality and style. Instead of choosing the conventional art pieces, add your spin to them. Get something custom from your travel and adventure pictures or fond memories.
If you have a theme, this is the time to implement it. You may want your home to have a vintage feel, modern, or a contemporary style. You need to choose wall art that reflects who you are and your desired theme and mood.
In conclusion.
Keep an open mind when shopping for wall art. Go for pieces that you're attracted to and portray your personality. In addition, note to focus on the location, space, and existing home decor to get wall art that's right for your home.
References
"Pro Tips for Choosing Artwork for Your Home", Source:  https://www.thespruce.com/choosing-artwork-by-room-4155124
"How to Choose the Perfect Wall Art for Your Space", Source:  https://www.brosa.com.au/home-decor/guides/choosing-perfect-wall-art
"These Are The 4 Color Rules That Every Interior Design Fan Needs To Know", Source: https://www.mymove.com/home-inspiration/decoration-design-ideas/these-are-the-color-rules-that-every-interior-design-fan-needs-to-know/
Images Courtesy of Canva.
Other Posts You Might Enjoy:
Tips For Creating A Garden For Apartment Living
4 Digital Tools for Modern Art Lovers
The Increasing Need for Smart Security Technology
Share This Story, Choose Your Platform!