Having a pool in your backyard adds value to your home. Moreover, it solves summer dilemmas brought by travel restrictions and worries of safety. While you can do so much with a pool, some households would leave the amenity as it is. But for art appreciators, a bland pool is outright inexcusable. Fortunately, there are endless ways of spicing up a pool ambiance. 
If you're wondering where to begin, here are five unique ways to design a pool for lovers of arts and anime.
5 Tips for Designing Pools for Lovers of of Arts and Anime
1. Pool ambiance personalization with mood setting.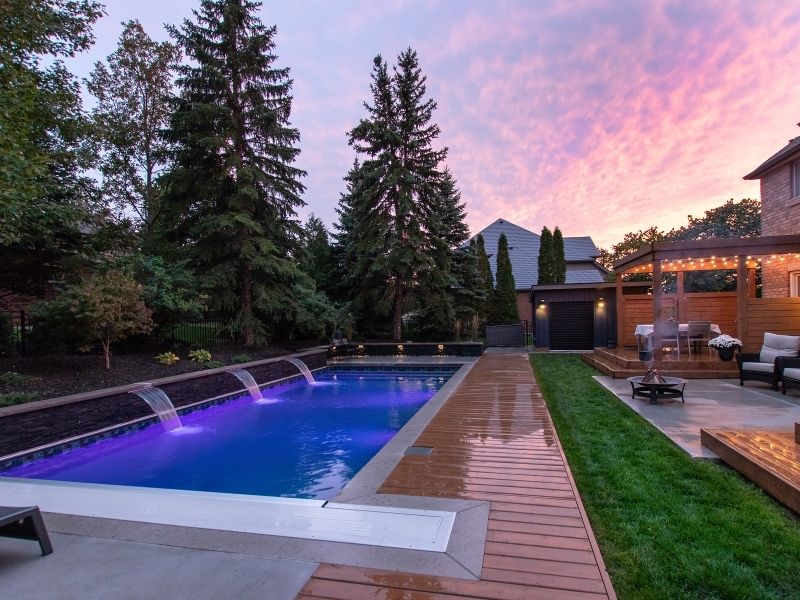 Mood setting is one of the best ways to make an art fascinating. This intricacy applies to pool designing as well. What better way to add aesthetics to the setting than appealing to an intrinsic ambiance? 
The key here is personifying the mood. Treat the pool designs like how people concern themselves with fashion. Towering shades of nature with recurring dark green rough pool tiles bares a silent vibe. On the other hand, marble tiles and comfortable furniture signify the classicism of elegance. 
If you prefer something distinct and edgy, go with a pool ambiance that will suit an anime-themed pool party. It's going to be a bit of a challenge to come up with a pool ambiance that captures the attention of art and anime lovers, but it'll be exciting. To design your pool with art and anime lovers in mind, you can search for poolside decor ideas online. You'll find creative, fun, and detailed pool designs that will match qualities of your target audience, such as outdoor lanterns. You can also consult a designer who will help you create a lovely pool design that connoisseurs of art and anime fans will love.
Meanwhile, a plethora of umbrella-bench combinations entails a skipping vibrant summery feel. For a wide array of pool essentials, check out pool supplies Canada.
2. Bring Japan into your pool for lovers of art.
Nothing beats Japan when it comes to its abundance of unique themes. There are many possibilities to integrate the Japanese style in pool designs. 
Start with integrating the four-sided Yosemune-style to the pool house or Kirizuma-style to roofed fences. Japanese styles also call for the integration of nature into human designs. Practicing a wood-based minimalistic approach of palettes and furniture helps bring out the Zen ambiance. Similarly, plants like bamboo, shrubs and even moss ground covers help add to the pool's greenery. 
Anime is also a repetitive theme in contemporary Japanese designs. The internet now has some of the most beautiful sculpted Waifus available for order. Apart from the addition of a pool-themed waifu statue, you can have your favorite anime painted on the walls of your pool. If there's a feature wall nearby, you can adorn it with figures or covers of anime vinyl albums.
3. Design a center island platform in your pool.
Don't limit the pool activities to just swimming. Contradicting as it may seem, but there are many things worth trying out if there was an area for it. However, at most times, houses and pavilions found at the side of the pool can become annoyingly recurring. Thus, instead of putting that space by the poolside, why not put it at the center instead? 
The ambiance of island pool platforms encourages art lovers to relax or concentrate in this free leisure place. Island platforms also help induce socializing or intimate activities depending on the platform's size and its purpose. Pool guests can share their creative ideas and stories, such as the latest anime shows or movies they watched or artwork they recently purchased online or at galleries.
4. Full-course nature integration through landscaping.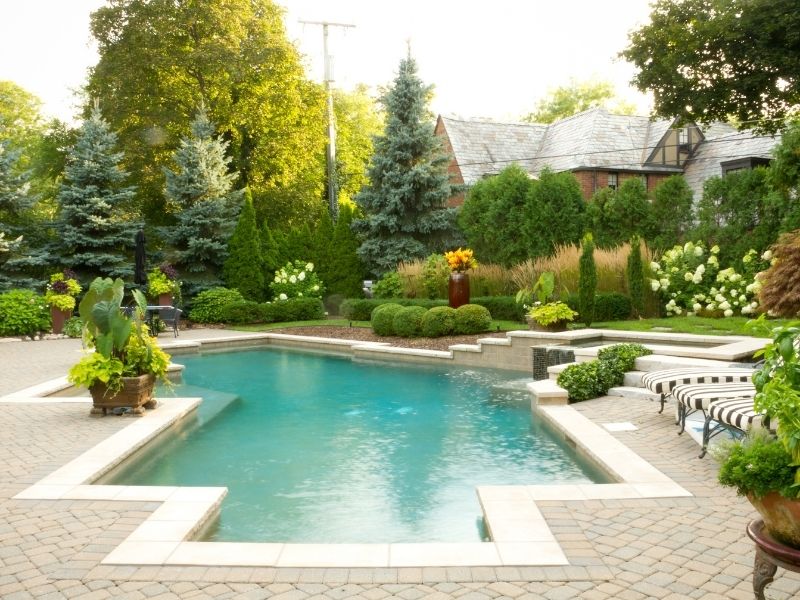 When opting to design a pool that will entice any art appreciator's appeal, look no further because nature holds an answer for that. For centuries, humans long revered the beauty of nature. Who can blame them? Nature's aesthetics are profoundly impossible for our artistic senses to comprehend. 
One way of integrating nature is through landscaping. Proper positioning of rocks and calculated terraforming helps define the surrounding form. On the other hand, placements help accessorize the landscaping efforts. Even the use of grass as patio carpets is an attention-to-detail effort that's necessary for this scheme.
If you want to integrate Japanese landscaping, you can draw inspiration from bonsais. Bonsai refers to a Japanese version of 'penzai' or 'penjing,' a traditional Chinese art of growing ornamental plants. You can grow an ornamental shrub or grow in a pot and implement techniques artificially to prevent the plant from reaching its normal size. Because bonsais love the sun, you can place them strategically in your yard where your pool is located.
5. Music as beneficial add-ons in your pool for lovers of art.
Interestingly, not all "aesthetics" are enjoyed through visual senses. Among the ideas presented, music is the most straightforward concept to implement on pool designs. It's also a non-tangible concept, so it's applicable to an indoor or outdoor pool. 
While music is comparably easy among the list, it isn't overtly stress-free like some easy patch-on solutions to designing. Like visual contexts, music also evokes lasting emotions. It's best to plan its use carefully. 
For instance, in a backyard pool, the use of a sound system is great for a party. But for solo moments, perhaps a subtle, pleasant noise will soothe and relax.
In conclusion.
If you have any questions or suggestions, we always love to hear from you in the comments below. Also below are links to more fantastic articles about ALL things DESIGN for your home or business.
Images Courtesy of Canva.
Other Posts You Might Enjoy:
5 Garden Upgrades To Add Value To Your House
9 Signs You Must Hire a Commercial Roofing Contractor in Naples
Glass Pool Fencing for an Amazing Aesthetic
Share This Story, Choose Your Platform!