A garden for apartment living, as one of the few places for urban residents to take a fresh breath, get close to nature and stay away from the noisy environment, is becoming an indispensable existence for people living in the city. In fact, a house with a small garden to plant flowers or vegetables is acceptable by almost any urban citizen.
As an apartment dweller, do you dream about owning a lovely garden flourishing with your favorite blooms and organic vegetables? Do you imagine working in a fresh green space instead of a monotonous house when stuck indoors due to COVID-19?
Have you ever thought that owning a garden in your house is just a beautiful wish? Today, we bring you information about creating a garden in your apartment, so, it's not unrealistic. After all, you don't have to wait until you own a home with plenty of garden space. If you dream about creating a lovely garden in your apartment but don't know where to start, then kindly continue reading for some practical tips.
Creating a Garden For Apartment Living • Plants and Locations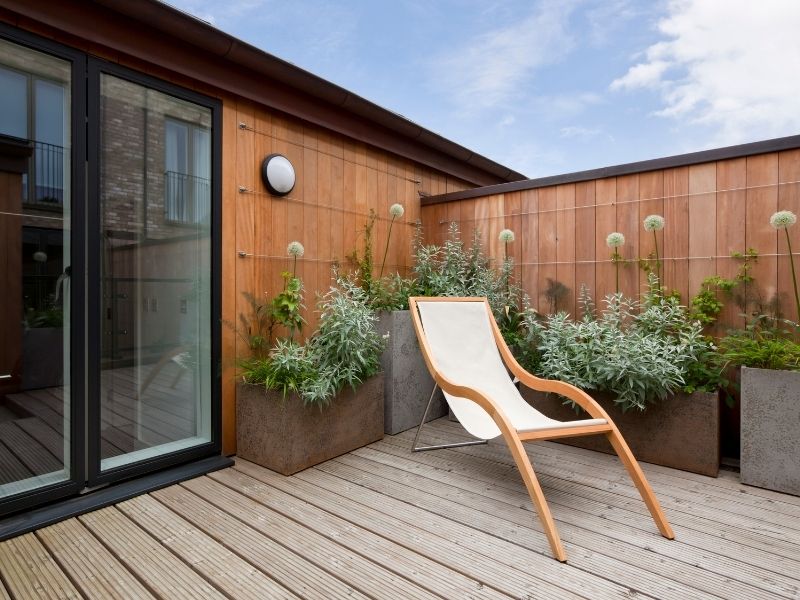 The first step to create your garden is to decide which plants you are going to grow and choose a location for your garden. Some people may think that this is an unnecessary move as they simply want to choose their favorite flowers to grow. However, you might not know all the important aspects of indoor gardens which leads to undesirable results.
① Lighting conditions.
Before you decide to grow a plant, it is suggested to google its growth habit to make sure that you can provide it with a friendly condition. Since it is very unlikely for plants to thrive in the least inviting environment.
The very basic element you need to think about is lighting conditions. If your house has plentiful natural daylight, then you can raise some heliophiles, such as strawberries, asparagus, okra, tomato, potato, cucumber, eggplants, rose, daisy, tulip, coreopsis, mint, etc.
While, if your apartment only has scattered light or the light is not so good, you may consider plants that can thrive without opulent sunshine, for example, radish, lettuce, coriander, spinach, pea, cress, thyme, broccoli, Marantaceae family, daffodil, ferns, lily and so on.
② Indoor humidity.
Some plants effectively adjust the air humidity and such effect is particularly obvious inside the home. Therefore, you must consider whether it is necessary to add more humidity to your house.
If you live in an area of high humidity, then too many moisture-loving plants can increase the moisture in your house, which may not good for your health. Under such circumstances, some drought-enduring plants such as succulent plants, desert plants, or are more suitable for you. While, if your house is super dry, raising moisture-loving plants can be a good replacement for a humidifier. They can not only make your skin and respiratory system feel more comfortable and healthier but also save your energy bill.
③ Location selection.
To create a garden in your apartment, not any room is suitable. First of all, the bedroom should be avoided. It is OK to accommodate certain small plants. However, to create a garden we do not suggest large plants. Interestingly, although plants release oxygen in the daytime, they will also need to absorb oxygen to breathe during the night. Therefore, you must choose a location with an even airflow.
The balcony is absolutely a good choice. Sufficient natural lighting and good ventilation are benefits for your plants to thrive. Of course, a flourishing balcony might just be the highlight of your house.
You can spend some time on your balcony to read or sip a cup of coffee in the morning to welcome a new day. However, in addition, the living room, study, or even the are good options to create your dream apartment garden.
Next, we will move to the major step which is creating your garden!
Creating Your Garden for Apartment Living
After deciding what plants to grow and where to create your garden, next, you can officially take action.
① Planting boxes for the balcony.
If you want to create your garden on your balcony, which is a pretty common choice, then we suggest you choose planting boxes or deep flower pots. Such containers accommodate a relatively large amount of plants in a variety of sizes. For example, cucumbers, big tomatoes, and roses come pretty close to a real garden.
Of course, all gardens require a convenient watering system as well as a relatively spacious area.
② Flower stands for your indoor space.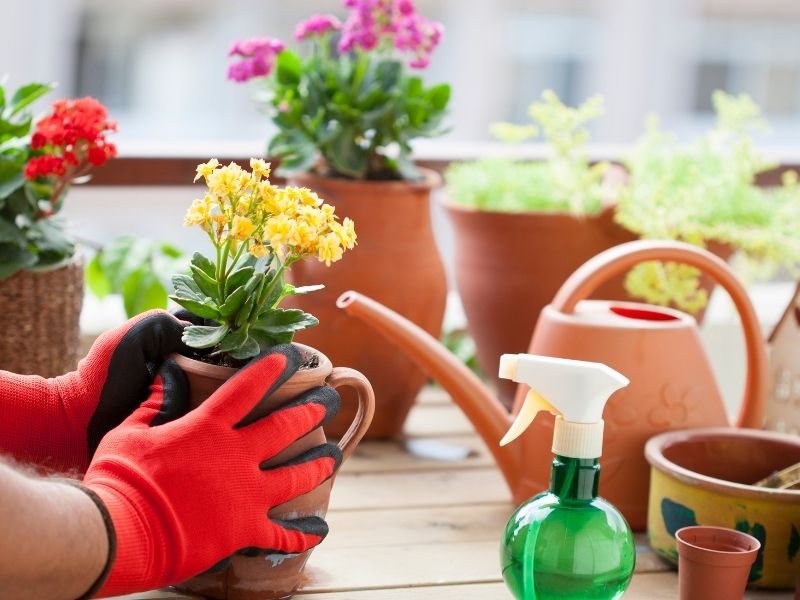 An issue in choosing the balcony is that if the winter in your city is cold, you may need to replant your garden every spring. Therefore, if you want a green garden all year round, you can build an indoor garden.
While, unlike the balcony, it is inconvenient to accommodate large planting boxes indoors. But, don't worry, a multi-layer flower stand is a good solution. Additionally, by design it accommodates a variety of plants.
For instance, you can arrange your plants according to their different features. Also, consider placing the plants that need less sunshine or that have drooping branches at the bottom. Then, place those that like a bright environment on the top layers.
The clever combination of two or more stands creates a soothing feeling like standing in a private forest. With such a stand, your house has more sense of layer, coordination, and spatial arrangement. Moreover, you can also use it as a space partition. Doing so brings you more privacy, comfort, and relaxation.
③ Garden working benches for inside your apartment.
No matter if you create your garden on the balcony or in your living room, there are potential issues. For instance, the limited planting operation space, storage of messy tools and the troublesome cleaning. After all, for a small apartment, it is challenging to keep clean and organized.
The good news is that a garden bench combines a planting and tools organization all in one unit. That is the beauty and usefulness of a garden working bench.
The basic functions of a garden working bench are to transplant, pot, trim plants, and mix the soil. A reasonably designed working bench usually comprises ample storage space for tools, earth, and vacant plant containers. For example, try a working bench that includes side hooks, a drawer, a double-tier shelf, and a top display shelf. This type of bench accommodates almost all of the tools and planting tools you need.
⎆ The many variations of a garden working bench.
In addition, consider a bench with a removable sink is for mixing or changing the soil. Then, you can completely enjoy the planting without worrying about dirtying your floor. We also suggest a bench that is waist height in case you have back or knees issues. This allows users to stand up and free their bodies from soreness and pain after a long time bending down. Moreover, if you buy one in natural wood grain, the bench serves as a flower stand in your home.
A bench also works as a blend of a garden working bench and a flower stand. Users can display the plants on it and it can also serve as a shelf for storing planting tools. So, the garden working benches have a very wide variety of uses. In fact, they boast both great practicality and nice outlooks. You can place them anywhere you want in your house without worrying about the molimen in room decor style.
Creating a garden in your apartment is not that difficult as long as you take the right steps. Of course, the clever organization of planting supplies also make your ideal living design come true!
In conclusion.
If you have ideas or suggestions for creating a garden for apartment living, let us know in the comments below. You will also find other unique and interesting links below for ALL THINGS DESIGN for your home or business.
Images Courtesy of Canva.
About Yaheetech.
Yaheetech is a cross-border e-commerce company established in 2003 with more than 500 employees worldwide.
With our own 39 warehouses around the world, we provide a wide range of products with fast delivery to millions of customers in more than 10 countries, available on Amazon, Walmart, eBay, Wayfair, Wish, Cdiscount, ManoMano, OTTO, Rakuten, Real and more.
We're devoted to making your life comfortable.
Yaheetech Garden Blog link: https://www.yaheetech.shop/blogs/news/how-to-make-your-garden-a-circulating-spice-herbs-warehouse
Product link: https://www.yaheetech.shop/collections/garden-supplies/products/garden-potting-bench-table
Other Posts You Might Enjoy:
Make Your Los Angeles Apartment Look Chic With These 7 Interior Design Ideas
6 Tips for Renting an Apartment
Top Cities to Find Luxury Apartments at an Affordable Price
Share This Story, Choose Your Platform!