Los Angeles is one of the most famous cities in the world. In fact, Hollywood stars on every corner, the TV & film industry, and the gorgeous beaches make LA a famous city and a popular holiday destination. LA is also very popular with homemakers, and if you're looking for inspiration to make your Los Angeles apartment look chic, you've come to the right place!
Like many places in America, Los Angeles offers a wide variety of housing choices from large homes to rooming houses. However, today we're going to be talking about how you can make your Los Angeles apartment look chic! Whether you're looking for inspiration from modernistic furnished apartments in Los Angeles, or you're looking for something a bit more personal to your taste, here are seven fantastic ideas to make your apartment turn from bleak to chic.
7 Incredible Ways to Make Your Los Angeles Apartment Look Chic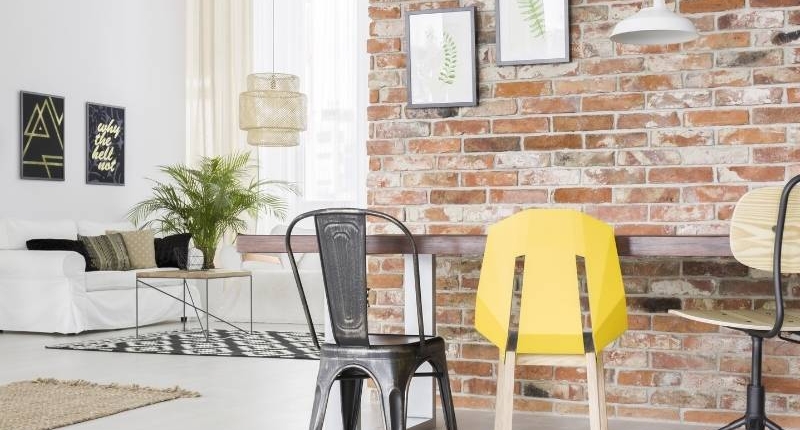 1. Bare Brick Walls
If there's one thing that's really on-trend in Los Angeles apartments, it's bare brick walls. Stripping back the wallpaper, drywall, and giving your bare brick walls a good clean makes a great feature statement in your home. You may not like the idea of all of your walls being plain brickwork, and that's fine too! You might make one wall in your apartment a feature wall and compliment the colors with neutral colors like beige or cool blues.
Don't like stripping your walls back? Or, does your brickwork look less than acceptable underneath? You can buy brick effect tiles to stick to your wall to give off the same effect, for a relatively inexpensive price! Although, rustic brickwork is very on-trend these days, so go with what you enjoy the look of most.
2. Minimalist Furniture
Los Angeles apartments often have large lounge areas that combine into a living and eating space, meaning you've got a lot of furniture to fit into one room. While the room might be fairly large, keeping your furniture minimalistic will help keep your home looking neat, tidy, and trendy.
Opt for square furniture that can be pushed up to the wall or in a corner to create the illusion of more space in your apartment. If your living space is an area you want to combine with an eating area, you can create separation by placing your couch in the center to divide the room up into two separate living spaces; one for relaxing, and one for eating and entertaining guests.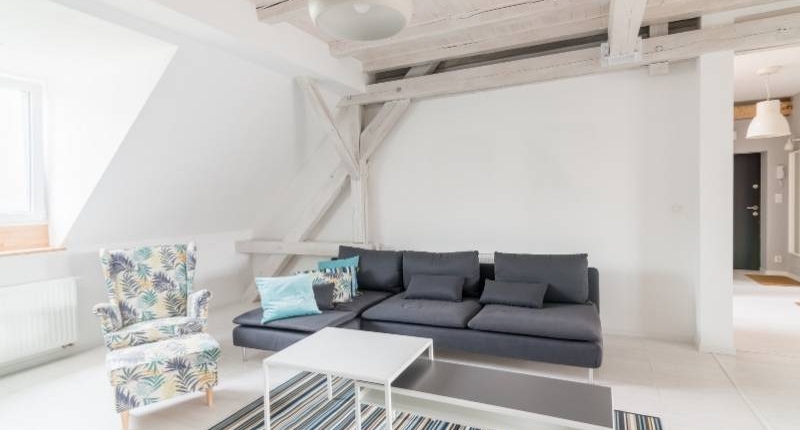 3. Ceiling Beams on Show
Another trend in Los Angeles apartments is having ceiling beams on show. Not only do they add a rustic feel to your decor, but having an open ceiling will help open your living space, giving off the illusion of a bigger room. Combining this with skylights above your head will create a large, rustic-feel living area that will be great for relaxing and entertaining alike.
If you're looking for a modernistic feel in your Los Angeles apartment, you can still enjoy the spaciousness that ceiling beams can achieve. Rather than leaving your beams as they are, paint them and the ceiling above to give a brighter feel to the room.
4. Hardwood Flooring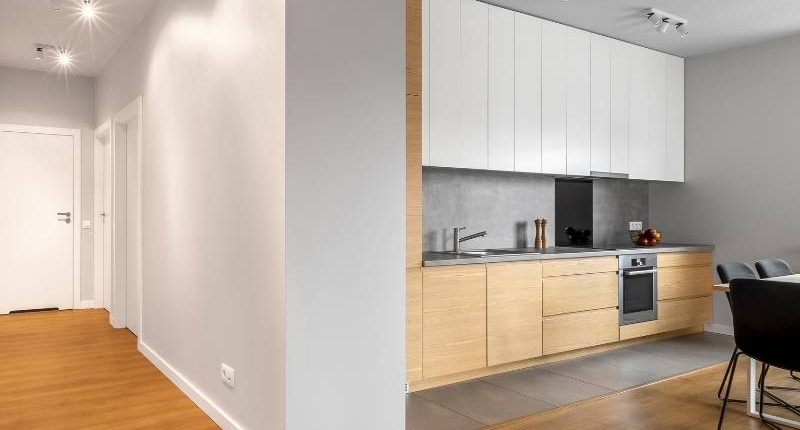 Hardwood flooring has been on trend for some time now, and not just in Los Angeles! Not only are hardwood floors aesthetically pleasing, but they're practical for everyday life too. Carpets can lose their color and fade quickly, not to mention vacuuming – especially with long pile carpets! Hardwood flooring will give off a simple, minimalist look that's easy to clean and lasts for many years.
5. Marble Effect
Marble is great for interior design. Whether it's surrounding your fireplace, marble effect wall plates, or even marble work surfaces in your kitchen and bathroom, it instantly adds a touch of class and sophistication to any apartment.
6. Floor to Ceiling Mirrors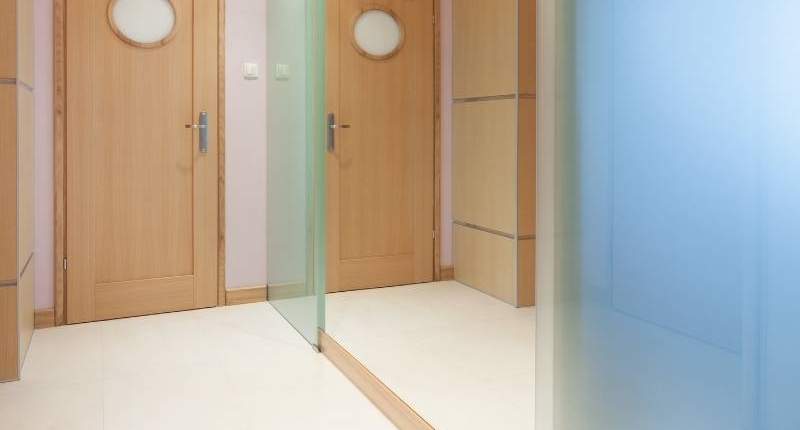 Apartments can feel small, especially when you're not on the ground floor. Creating the illusion of more space is a great way to avoid your apartment feeling too small. Consider fitting floor to ceiling mirrors on your built-in wardrobes to reflect light and give the illusion of a much bigger space. Not to mention the ability to properly check out your outfit everyday!
7. Standout Decor
Finally, keep your apartment looking chic and minimalist by keeping your decor to a minimum. They say that sometimes less is more and in this case, it's absolutely true! Look for eye-catching decor with bright colors and a range of shapes to capture attention and become a focal point in your Los Angeles apartment.
If you have any suggestions or questions, we'd love to hear from you in the comments below. Also below, you will find links to more interesting articles about ALL things DESIGN for your home or business.
Images Courtesy of Canva.
Other Posts You Might Enjoy:
2020's Most Popular Luxury Apartment Design Trends
6 Space-Saving Must-Haves for Apartment Living
4 Steps to Design a Unique Small Office in Your Apartment
Share This Story, Choose Your Platform!