Just because 2020 has been a wild ride doesn't mean that your décor has to take the same detour. Let's start fresh by tackling a few apartment design projects that you've wanted to do. We're going to think about how materials, textures, patterns, and colors come together with reborn and brand new styles. We're going to help you spruce up the new decade with a few modern and timeless luxury apartment design trends.
5 Luxury Apartment Design Trends You Will Love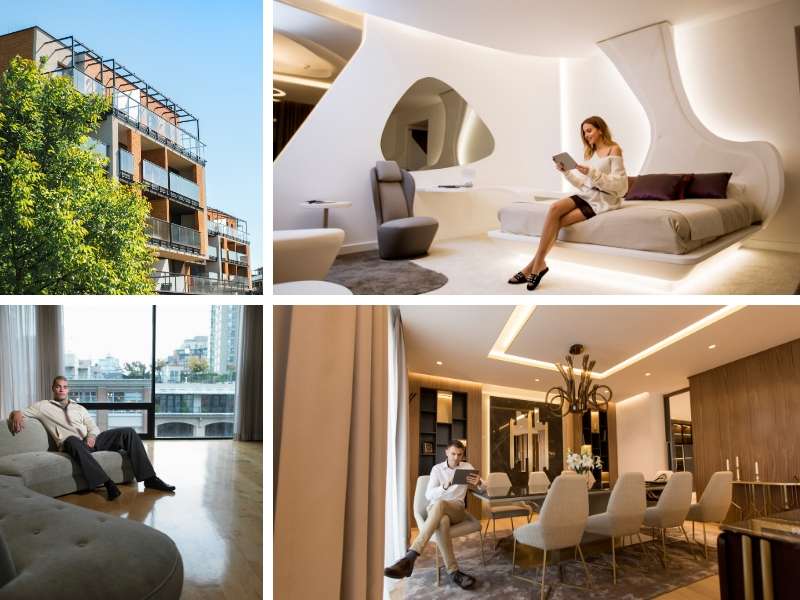 1 • Curvy Furniture
As they say, what goes around comes around. This is very true for upholstered furniture like sofas and chairs that are often rounded and asymmetrical as if they were taken right out of the '70s. This soft-featured furniture gives your apartment a more playful, warm, welcoming atmosphere.
2 • Geometric Patterns
This trend has been on the rise for a couple of years now, and there's no end in sight. The key here is to bring geometric patterns into the mix in moderation. You don't want your couch, art, rugs, and light fixtures to all have the same patterns, so pick one area of your home you want a geometric design to make a statement. This can be a kitchen backsplash or even a simple geometric wallpaper. Keep the complementary pieces classic or contemporary.
3 • Art Texture
We've all had beautiful paintings hanging in our home at one time or another, but in 2020, we're thinking outside the box. One of the best examples of this is fiber art. Elaborately woven tapestries make for creative conversation pieces that can light up a living room or bring a dining room together. Wherever you hang your woven art, it's sure to bring softness and warmth.
4 • Natural Materials
If you're looking to add rich textures and elements of modern luxury, look no farther than materials like wood, stone, marble, and ceramics. Organic materials and designs complement one another like the contrasting edges of stone and the stylish, smooth features of wood and marble. There's absolutely no better way to bring texture to your apartment than with natural décor.
5 • Complementary Colors
When you're decorating with organic materials like marble, stone, and wood, you've got to be strategic about your color schemes. Peach and pistachio are soft, classic colors that bring calm to a busy room. Warm neutrals and waves of blue and deep green help round out your color scheme and keep things lively.
This post is sponsored by The Standard at Domain Northside, a luxury apartment community in Austin, TX.

Images Courtesy of Canva.
3 Tips for Choosing Painters in Spokane WA
Baring Your Soul: What Message Do You Want to Convey With Your Earrings?
On-Trend Wedding Themes for 2020
Share This Story, Choose Your Platform!