Grandfather clocks have withstood the test of time. They match with almost any décor and come in all styles and shapes. In 1930, art deco designs became a style that remains popular even today. Art deco exudes wealth and luxury. You'll often see mechanical pieces, angular patterns, or shimmering gold accents. Of course, along with that came the grandfather clocks with art deco designs!
Art Deco, sometimes referred to as Deco, is a style of visual arts, architecture and design that first appeared in France just before World War I. Art Deco influenced the design of buildings, furniture, jewelry, fashion, cars, movie theatres, trains, ocean liners, and everyday objects such as radios and vacuum cleaners. It took its name, short for Arts Décoratifs, from the Exposition internationale des arts décoratifs et industriels modernes (International Exhibition of Modern Decorative and Industrial Arts) held in Paris in 1925.

Wikipedia
If art deco is your thing, of course, you want your clock to match! According to Clock Nerds, the last thing you want is your clock to look out of place. Luckily, we found some grandfather clocks with art deco design. If this is something that interests you, please continue reading to learn fascinating information about the top five grandfather clocks with art deco designs.
Grandfather Clocks with Art Deco Designs for Your Home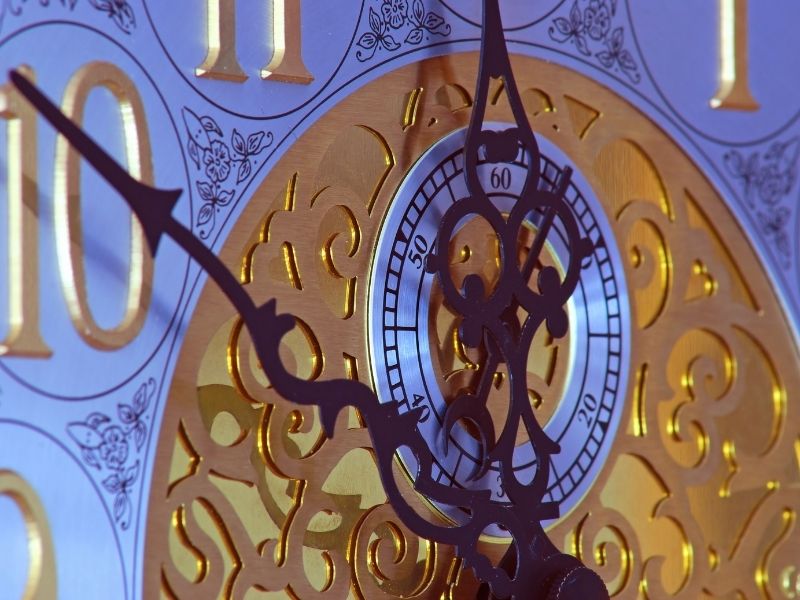 1. Howard Miller Hourglass Clock
Art déco designs use mechanical qualities like gears and metal to showcase the importance of machinery. This clock is no exception. It will best suit your home if you have art deco or steampunk-inspired décor. This clock also features an hourglass in the middle with a metallic frame. In addition, the frame has an aged iron finish with a wooden base to show a distressed look. The Howard Miller Hourglass clock also uses neutral colors to match with any color scheme in the home.
The dial to the clock has an antique-inspired look to it with Roman numerals and embossed gears. In addition, the hands have an iron finish to complement the other colors of the clock. In addition, the hourglass in the middle has a sand timer of one hour and is rotated by hand. The hourglass is protected by a convex glass crystal cover from dust and damage.
This clock style features battery operation and triple-chime harmonic movements with Ave Maria, Bim Bam, or Westminster. It also has an automatic nighttime shut-off and volume control. While the base doesn't have much in terms of space, you can still store lightweight items or books to give it more detail.
2. Everly Quinn Glass Grandfather Clock
The Everly Quinn clock truly showcases opulence. It might not be the perfect match for traditional art deco rooms. However, it certainly has elegance and style to it that you won't even notice it's not true art deco. It features a faux-diamond face that exudes luxury. This isn't the type of clock you want to keep hidden from others because it's sure to excite your family and guests.
The case comes with built-in shelves where you can store items like books or crystals. What's more, the clock doesn't require much maintenance in terms of key-winding because it's battery-operated. However, you might want to spend extra time cleaning since it does have a white finish that's prone to dust or dirt. This will especially need more care if you display items on the shelf.
3. Howard Miller Cogwheel Floor Clock
This grandfather clock is similar in design to the first clock, but it has some major differences. The first noticeable difference is the lack of an hourglass. Instead, it uses cogwheels in the middle. Additionally, this showcases the inner workings of the clock and this unique look is sure to make your clock a conversation piece with your guests.
It doesn't have wooden accents on the base. However, it does have a metal frame that resembles pipes. The frame has a sturdiness that's sure to last for ages like a traditional clock. Of course, the clock looks best in homes that have vintage or antique décor.
The clock doesn't use a key-wind like traditional grandfather clocks. It has battery operated which makes it easier to maintain long-term. The legs on the clock come with adjustable flanges on the legs to ensure it doesn't wobble and stays stable on uneven floors.
4. Hermle Essex Grandfather Clock
This grandfather clock is made by the well-known clock manufacturer, Hermle. You can trust that whatever clock you buy from this maker was built to withstand decades with proper care. The clock has an interesting open-faced design that shows all the components. You can also see the tubular chimes, weight shells, and other features.
Unlike the more modern-looking clocks, it has a dark wood design with a warm-tone finish. It has an ivory-colored dial with Roman figures and a brass polished rim to match the dark wood design. The clock also has a gleaming gold pattern that most art deco décor has. The glass doors to cover the internal parts of the clock give it extra charm. The clock has automatic night shut-off and chimes Westminster, St. Michael, and Whittington.
5. Howard Miller Oscar Floor Clock
It's no surprise we have another Howard Miller clock on our list. They make dozens of clocks that fit the art deco style. This clock would certainly fit in. it even has a more modern flair than the wooden made clocks you'll see on the list.
The clock has a simple and basic design that fits in with most décor. The clock itself is slender. It makes it much easier than larger clocks to fit into tight spaces or if you don't have much room available.
Unlike most traditional grandfather clocks, it doesn't use key-winding. In fact, it's battery-operated for easier and modern use. It also comes with levelers that rest evenly on any floor.
The base has a silver-finished dial and a pendulum. However, it doesn't share the same flair that most art deco clocks have but it does have the elegance. Moreover, you won't have to worry about it blending in with other décor in the room.
In conclusion.
Some people may have thought grandfather clocks were no longer in style because of modern décor changes. However, grandfather clocks still make a great timepiece due to their upkeep with modern styles. You can choose clocks that exude luxury or ones that showcase their steampunk-inspired styles. Any of the clocks you choose above will surely match your art deco ambiance.
If you have any questions or suggestions, we always love to hear from you in the comments below. Also below are links to more fascinating articles about ALL things DESIGN for your home or business.
Images Courtesy of Canva.
Other Posts You Might Enjoy:
5 Ways to Mix it Up With Metal Home Decor
Elegant Traditional Design Touches Keep You In Style
Designer Home Accessories Add the Finishing Touch
Organic Industrial Style from Furniture & Accessories maker Palo Samko
Share This Story, Choose Your Platform!