It seems like design trends change every few years. It's easy to get whiplash from how quickly furnishings and décor go from hot to…not. One minute, people are drooling over the must-have piece of the season and then before you know it, they wouldn't touch it with a ten-foot pole. If you're anything like most people, you don't have the budget or the patience to redecorate every time there's a new trend. That's why sticking to a traditional design scheme (one that's proven itself throughout the ages) is a great idea for establishing some long-term continuity. What worked in the 18th century England or the pastoral French countryside can work for you, too.
Traditional Design Touches to Incorporate Into Your Home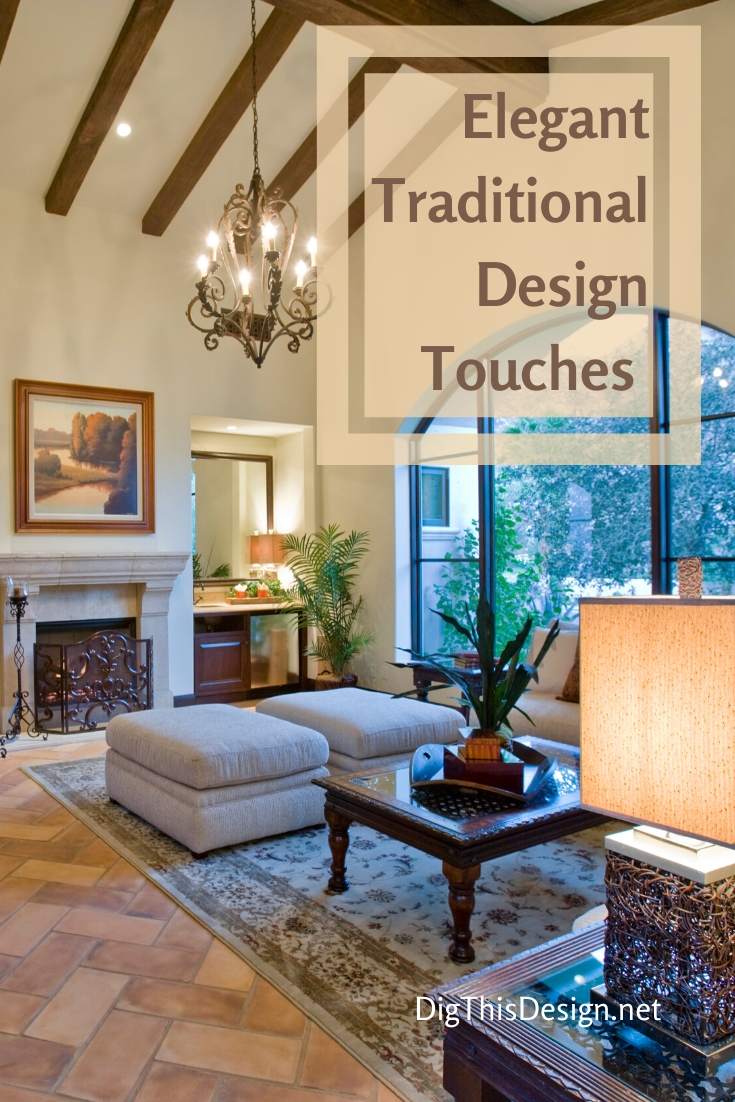 Fair warning: Minimalists beware. The traditional design is all about gilded edges, rounded curves, layered patterns, and a certain warm busyness. These are not stark magazine rooms featuring all-white surfaces plus a single orchid. Instead, these are plush rooms full of golden, maroon, navy and olive green tones. There's no shame in showing signs of life or wear and tear in these cozy rooms. Instead of crisp lines and sterile surfaces, traditional design favors plushness and round accents.
Here are a handful of elegant traditional design touches to try so you get a hint of the old world without going totally overboard.
Treat Your Windows
As functional as plastic blinds and paper shades are, they tend to lack a certain mystique. Instead, imagine drawing a set of dramatic drapes to begin and end your days. You'll feel downright regal, like Marie Antoinette waking up in The Petit Trianon. The key to pulling off traditional draperies is to tie them back with tasseled cords on each side. Scalloped or fringed edges add even more visual interest to the fabric.
Hang a Chandelier
It's no surprise that the go-to light fixture for traditionalists is the timeless chandelier. However, you don't have to hang a heavy, three-tiered model dripping in antique crystals to make it work. Chandeliers come in all shapes and sizes. They all accomplish the goal of drawing the eye upwards to a brilliant focal point above. These elegant light fixtures work well in the foyer and the dining room, but they also look great in the living room and bedroom. Some homeowners even go so far as to hang a chandelier in their bathroom for a European resort effect. However, you should consult with a certified electrician before installing any hanging fixtures in the bathroom because water and electricity don't mix!
Accessorize Boldly
A traditional home should feel a bit like a museum in the sense that the walls and surfaces contain more than clutter – they contain stately artifacts. Now, nobody is asking you to rush out to auction and bid your life's savings on an original Tiffany Lamp. However, you can take your design cues from the past and outfit your home with objects that shine, dazzle and invite guests to pause for a moment and really absorb their splendor. Instead of hanging wall prints, try an oil painting inside a thick, ornate frame. Antique clocks, vintage vases, and tarnished candlesticks also create an opulent effect. Next time you entertain your friends, serve them appetizers and drinks on a silver platter. These little touches of tradition will go a long way in dressing up your home.
Of course, you don't have to go full-on Versailles to create a home that's fit for a king or queen. Adding in just a few of these tasteful touches here or there will do the trick nicely. The end result will be a design scheme you know you can stick with for years to come, if not for life.
Other Posts You Might Enjoy
Using the Renaissance as Interior Design Inspiration
Designing Your Dream Home – What You Need to Know
Share This Story, Choose Your Platform!