The design basics are your home stripped back to its naked form. Flooring, windows, walls, natural light, and color. Let's take a look at each of these design basics and see how you can achieve the perfect home before you start accessorizing it.
The 4 Design Basics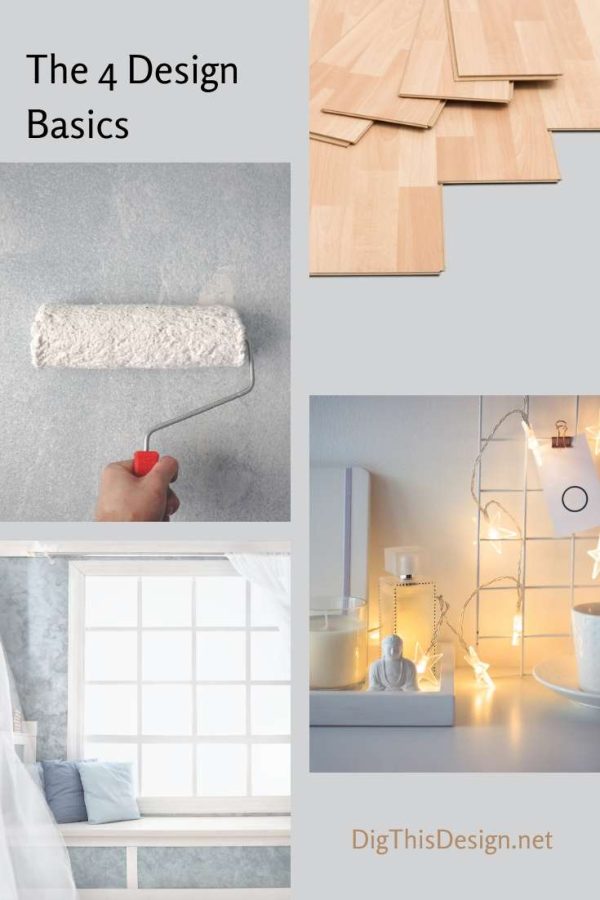 The Floor
People don't put enough thought into this part of their home. We tend to build up the other elements of design before deciding what type of flooring we want. It is important to think about how you are going to use each room and choose a floor solution not just for its appearance but also because of the function. A beautiful wooden floor is great, but maybe a tiled floor would have been better if you have children and pets running all over it. Laminate can also start to lift if it gets too much water on it, so maybe having laminate flooring in your kitchen is a bad idea. The best thing you can do to choose the right flooring is talking to a professional such as Empire Floors. They can walk around your space with you and help you decide the best solutions based around your family.
The Lights
Lighting is another area that is often overlooked. We can become a little confused by it and make mistakes in the way we place it. It's easy to highlight areas that can create the wrong atmosphere and oversee areas that give the appearance of more space. Lighting is something that looks amazing if you layer it. To do this, use lots of different styles in one space, from accent lighting to feature lighting and ambient room lights. Create a real feel of indulgence by using multi lighting techniques together. Speak to a lighting designer who will be able to give you some great ideas about the latest lighting technology.
The Windows
You might not be able to easily add more natural light to your house, but you can rethink the way you dress your windows. When we strip everything back to the basics it is easy to see what we are doing wrong. For example, if you're using large curtains on a rail, your window might look better with a blind or window shutters for a more contemporary look. If you have room in your budget, then you could add more windows. A great idea is integrating velux windows or replacing a wall with some large patio doors. You could even use windows to replace a wall to the rear of your home, giving you an incredibly open feel that brings your outside, indoors.
The Color
The color is such an important part of the design process. However, it should be the last thing you choose after everything else we have covered. Lighting can change the shading of a color choice and the flooring may clash with certain tones you have in the paint. Choosing your color will also depend on which room you are designing. Different colors can provoke different emotions in people and set a tone for the room. Make sure to choose colors appropriately.
Get back to the design basics and make your home perfect for you!
Images Courtesy of Canva.
Other Posts You Might Enjoy
5 Popular Interior Design Styles And How To Get Them Just Right
Stylish Home – The Basic Rules to Create Style and Value
Scandinavian Design is Simplistic Form and Function
Share This Story, Choose Your Platform!