The bedroom is the most personal room in your house. In your bedroom, you find yourself at your most vulnerable. Naked. Relaxed. The real you. It is a room that we rarely put on display. However, when we do, it is because the person we have invited in is someone pretty special. Your bedroom needs to be inspiring when you wake up and inviting when you are heading off to bed. How can you create a balanced bedroom design which balances both the start and the end of your day? I'll tell you how.
How to Create the Most Balanced Bedroom Design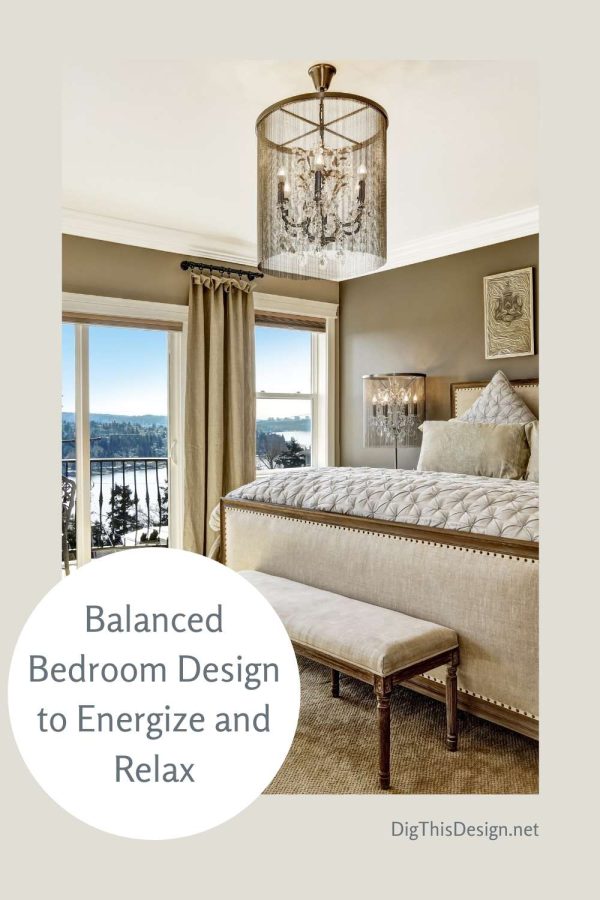 The Bed Basics
Regardless of your design style, the bedroom should have an air of luxury to it. You want a bed that begs you to crawl into it. To get the best out of our health, we need good quality sleep. In order to achieve this, your bed has to be calling for you. Strip your room back to basics and start with the most important part of all, the mattress. You aren't going to be too excited about slipping into a bed that feels lumpy, too soft, or too hard. There are a variety of mattress types on the market, but one of the best is the memory foam mattress. If you can't afford to indulge in a new mattress yet, then invest in a great quality foam topper. This can give you a great level of support and make your bed feel completely new.  
Your pillows and duvets are the next steps. Temperature is vital for a good night's sleep. How many of us are familiar with turning the pillow when our heads become too hot? Research the best cooling pillow and make an investment to help regulate your body heat while you sleep. Four plump and supportive pillows are going to help you to create a really stunning bed, so try to find a balance between form and function.
Different Bedding Options
Once you have the bed basics, you can move on to dressing a bed fit for a queen. Egyptian cotton is a great place to start, and though you may be tempted to go for patterned, it is best to stick to a solid color as the base of your bed. You can layer it up with color for a little drama if you want. White is the easiest shade to work with and gives a crisp, clean look that will draw you in.
Laying lots of different white textures can be really dramatic in a minimalist room, however, if you are looking to indulge your wilder side, you can create some great effects by using rich reds and golds. You could also use extra cushions to give maximum drama. You may find yourself asking what the point of cushions is if their only purpose is to be moved on and off a bed, but you will change your mind once you see them neatly scattered across the pillows.  
Color Schemes for a Balanced Bedroom Design
Color schemes are really important. Some people opt for deep reds or passive blue hues, but I stick to the advice that the main structures in your room should be relatively neutral. Sourcing an ultra-warm white or delicate gray will give you an air of elegance. Furthermore, you can get colorful with the furnishings which will give you more impact and class. Some choose a dark style with heavy black or dark walnut furnishings, and this can offer you a real twist of luxury. However, although a dark room at night is often thought best for sleeping, our bodies are in tune with sun and moonlight. This means that we wake and sleep better if we have a feel of the natural lights.
Lighting for a Balanced Bedroom Design
You can make use of new light technology to throw shapes around your room and change the mood. With LED lighting, there's an opportunity to cast a variety of color combinations depending on your mood. You can give the room a sexy amber glow if you are spending a romantic evening in, or you can throw some warm reds or even blue to give a little extra impact if dinner guests are inspecting your home. It's worth investing in a couple of feature lamps to place on your bedside tables. You can switch the main lighting off but still be able to read. Now, you don't have to get out of bed when you feel ready for sleep. There are some great lamps by British designer Abigail Ahern who take inspiration from the natural world. Her animal range is really fun, mixing up old British style with a quirky modern feel.
Textures in Your Bedroom
Your room should be full of lots of texture. Investing in goat or sheepskin rugs will give your feet a little treat at night and make your senses feel more relaxed and warm. Blankets and throws are also a treat for those long Sunday mornings where you want to laze around listening to the radio or reading a book.  
You don't have to spend fortunes to get a balanced bedroom design that is fit for royalty. Just make a few small changes and start from the basics. Building up, layering, and decluttering will give you a space that works well and encourages rest and love. Don't be tempted to have a TV or take your phone to your room. Make it a technology free room if you can. Blue light emitted from our phones and TV's can disturb our sleep and give our bodies a negative feel to space. Treat this room as your sanctuary, away from everything the world throws at us.
Other Posts You Might Enjoy
Dream Bedroom – A Guide to Creating Yours
Summer Bedroom Decorating Tips
Ways to Make Your Bedroom More Contemporary
Share This Story, Choose Your Platform!