Valentine's Day is quickly approaching, and chances are you're still totally unprepared. No need to worry, because I've picked out 6 Valentine's Day Apps that can help make your day perfect. Whether you don't know what to wear, don't know what to do, or don't know how to prepare for valentines day in general, these apps will help you. All of the following apps are free and available for both iPhone and Android!
6 Useful Valentine's Day Apps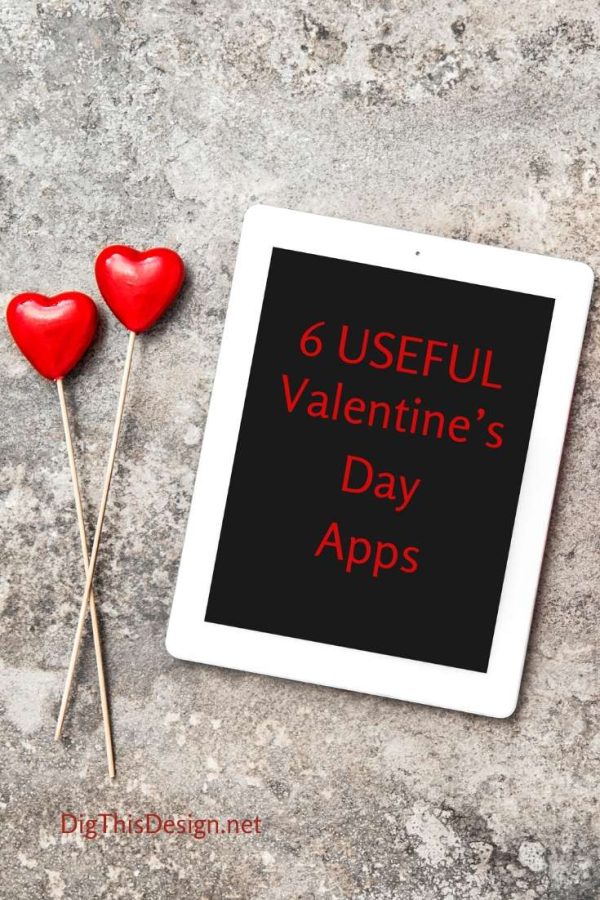 1. Elle Decor
Elle Decor makes it so easy to decorate for Valentine's Day. This app gives you ideas such as how to set the most romantic dinner table ever and more. What about treating yourself or your partner to a sweetly romantic sip with some pretty pink cocktails? Elle Decor has examples of 20 different ones that you can make! Elle Decor also has so many ideas on how to decorate your house with the perfect products. Their app is full of ideas that you are bound to get inspired by.
2. Polyvore
Are you struggling to figure out the perfect outfit to wear for your night out? Are you confused about what jewelry will go best with the clothes that you are wearing? No need to worry, because Polyvore can help. This app is full of ideas and outfit inspiration for Valentine's Day. You can look through and see what other people wear, and even put together your own outfit depending on your preferences and your own personal style.
3. Resy
If you decide that you want to go out for dinner on Valentine's Day, using the app Resy is the perfect way to ensure that you will get a table on this busy night. All you need to do to reserve a table is just tap twice! No need to call, beg, or wait and see. This app also lets you filter by location to find the perfect restaurant nearby. Resy has the best booking experience and reservation selection anywhere.
4. Urban Sitter
So, you decided that you want a night out with your special loved one. The only problem is that you have kids, and you want to be alone for a night. Does this mean that you have to cancel your plans and just stay at home? Nope! With the app Urban Sitter, you are able to find a babysitter in your location in no time. Browse for babysitters with the best ratings, and therefore feel confident knowing that the babysitters on Urban Sitter are reliable and qualified.
5. Hello Vino
Need help shopping for the perfect wine? There's an app for that- Hello Vino! Hello Vino is a free app gives you recommendations for the perfect bottle of wine, anywhere, and anytime. Hello Vino basically works as a personal wine assistant for when you're standing in the aisle looking at hundreds of bottles of wines and unsure what one to pick. Not only does Hello Vino give recommendations on the best wines, but the app also lets you know what wine is best to pair with food, and what's the best wine to give as a gift.
6. Gravy
Now that you have the perfect outfit and the perfect gift, where will you go? You can get ideas of where to go and what to do using the free app Gravy. This app lets you make plans for any night that you want and gives you so many ideas based on your mood and your preferences. Want to do something special with your loved one? Just open up the app and you'll find something unique that you probably had no idea existed.
These Valentine's Day Apps will make your night better than any previous one. Use any, or all of these apps, to help ensure that your day goes exactly as planned.
Other Posts You Might Enjoy
A Valentines Day Filled with Guilty Pleasures!
Valentine's Day Gift Ideas That Your Partner Will Love
Why RED is the Color of Passion for Valentine's Day
Share This Story, Choose Your Platform!