Here you are sitting comfortably in your newly designed home. You feel proud of what was accomplished by you, your marvelous architect and your wonderfully creative interior designer. You've thought of every detail, covered every base. All the planning, all the work and, gulp, all the money was well spent. And the result is a masterpiece worthy of Condé Nast Magazine.
Everything in your home reflects your discerning taste and that suits you just fine. Your home is your paradise, your castle, your oasis if you will. You're the envy of the Smith's and the Jones'…and you like it. Then one morning you saunter out to retrieve the Wall Street Journal from your pavered driveway. You proudly wave hello to Mr. Smith and Mrs. Jones while standing in front of your elegant eighteen-foot Mahogany doors. And as you try to re-enter your castle, it hits you like a freight train. You've locked yourself out! Luckily for you, you happen to have your cell phone with you.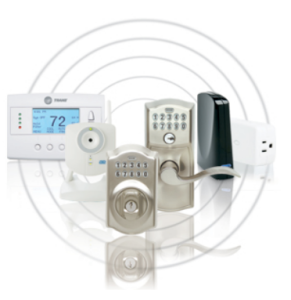 But instead of having to call your spouse, getting an earful of what for, you simply push a few buttons on your iPhone and voila! The doors magically unlock. It's at that moment you thank your lucky stars (and save face) that your interior designer suggested you install Schlage LiNK™… The Wireless Home Monitoring & Control system.
Schlage LiNK™ is more than just some lock you slap on your door. It is literally your peace of mind. Today's modern family is always on the go. Work, business trips, soccer games, family vacations keep us all busy and mostly out of the house. And while new world technological improvements have made our lives easier, there are many old world problems that still exist, like theivery.
Now Schlage LiNK™ technology makes it easy to monitor your home wirelessly from anywhere in the world. Your smart phone or any web-enabled computer allows you to check the status of your door locks, grants access to your home, sends texts or email notifications when family memebers access the lock, adjusts your climate control, or simply enables you to turn your lights on and off with a few clicks on a mouse or your cell phone keypad. And by installing Schlage cameras you can see what's happening in your home at any given time. By combining Schlage time-tested construction with Z-Wave® technology, a wireless RF-based communications technology that transforms a device into a smart device, home management has never been quite so easy.
The advantages of having the Schlage LiNK™ installed in your home is immeasurable. Security, energy cost-savings and convience are right at your finger tips. And all this for less than fifty cents a day with no long-term contract makes this service a deal worth paying for. The days of the latch key kid are certainly numbered with this incredible product/service. We are becoming a techno-based society. As the world moves faster so do we. Schlage LiNK™ is "real security that sets you free". Freedom is good wouldn't you say?