There is a lot of technology in the home design market these days, so much it can make your head spin. What is a homeowner to do with all that is being offered? How do you know that the investment you make today will actually be current in the next couple of years and truly add value to your home?
Let's take a look at what you, the homeowner can do to find these answers and be able to put your home design money where it needs to go for the best return on investment when it comes to home technology.
How to Select the Best Home Technology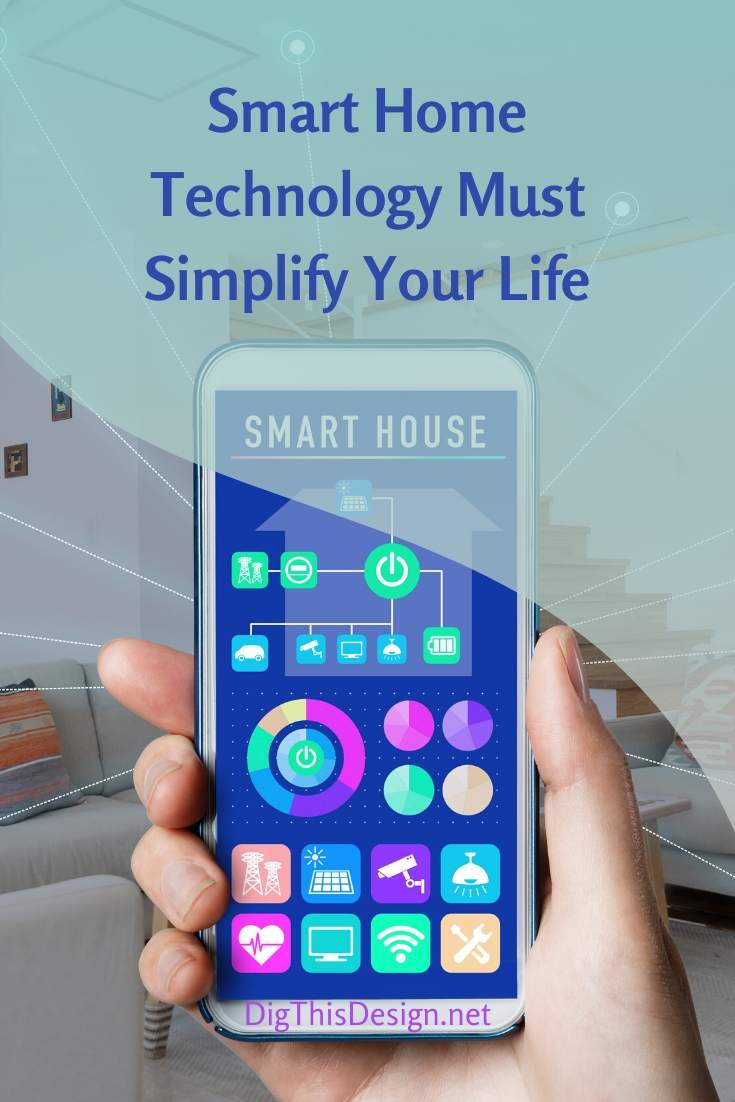 Does it Make Your Life Simpler?
As a designer and a trend-spotter for the industry, I attend a lot of industry shows and each show I attend I am bombarded with the latest home technology gadget that each manufacturer is delighted to talk about.
Connectivity is a big buzz work in the home technology world and I remember standing in an appliance booth with the representative proudly announced to me that I could connect my smartphone so that I could control the interior of my refrigerator. I smiled kindly and asked, "but why would I want to?" Let's face it – if it's not something that improves the quality of my life it is a waste of money, so don't buy into it.
Does it Improve Comfort?
Comfort is a personal preference that only each individual knows what he or she truly needs to make them comfortable. Your home should be filled with things that really help you to feel comfortable and relaxed. For me, it's a soaking tub. I remember when my husband and I purchased an older home that didn't have a bathtub he knew immediately, it would be part of our renovation before moving in because it is what I use every night to decompress which made it worth the investment.
In today's world of home technology, you should be able to find just what you need to make you comfortable from toilets with seat warmers to bathing experiences with chromotherapy, it's available. Then once you have evaluated what makes you comfortable then do your research on what is the latest in design and technology for that product.
One smart home technology product is the Nest Thermostat. This thermostat automatically adapts to your life and the season's change and programs itself to meet your comfort needs. Ultimately this product makes life simpler and adds to personal comfort, it's not just a shiny gadget. I think it is a smart idea for consumers to think about building a new home or remodeling their home to attend industry shows to educate themselves on what's available.
Wifi Capabilities Are a Must-Have
Every home built today needs to have the best possible Wifi Capabilities. It is how everyone accesses their world and it needs to be current and be the fastest available for your area. Besides just accessing the world, gaming has become a worldwide new media subculture. Most every family has a gaming enthusiast, and as an interior designer, I am finding my clients requesting specific rooms be designed into their homes to accommodate their gaming hobby. Rest assured that with millennials becoming the future home buyers this technology should be kept up to date in order to stay technologically current.
It's good to research the area you live in for the services that offer the best most efficient wifi. You want to make sure you have a good wifi router with fast internet so anyone can play their favorite online games. With a good wifi router, you can also stream music, watch movies and TV shows, and so much more. The world is ever-changing and how we access it is too, so make sure your home is designed with the latest home technology available to make this happen.
Home Security
There is nothing more important when designing your home than making sure you have good home security. Home technology has made home security easier to use and more affordable than ever. Once again, this is personal for each person. You know what you need to protect in your home and you want to make a list of these items, from guns, jewelry, and life.
Once you have done this it will be easy to research the latest in safes, etc. Almost every level of home security offers connectivity to a smart device which will allow you to control the surveillance of your property. I would highly recommend making sure that your security can be added too and upgraded as your needs change.
Images Courtesy of Canva.
Other posts you might enjoy:
Reducing Energy Costs the "Smart" Way with Smart Hom Technolgy
How Important is Technology for the Future in Home Design?
How to Design Home Security Seamlessly
The New Technology in Lighting Design and How It is Changing Home Design
https://digthisdesign.net/wp-content/uploads/2017/06/How-to-Select-the-Best-Home-Technology1.jpg
788
940
Patricia Davis Brown
http://development.digthisdesign.net/wp-content/uploads/2016/11/OLD_DigThisDesign_logo.jpg
Patricia Davis Brown
2017-06-22 01:00:03
2021-05-25 13:48:08
Home Technology That Increases Your Homes Value