This blog post is a part of Blogging Competition organized by CGTrader, all opinions are my own. This competition is a call for all bloggers interested in design to join the discussion about the future of design.
Technology has changed every industry and in some cases made whole industries obsolete. The interior design industry is here to stay but has absolutely gone through major changes since the technology revolution. It is important if you are thinking about a home renovation or you're building a new house to research the latest in technologies related to home automation and products. This needs to be considered in the home design process because after the walls are up you've probably missed the opportunity in making your new home state of the art.
This post is going to discuss some cutting edge technological additions to the home design market and help you in designing your home for the future.
New Technologies For Home Design
Automation
Home automation basically allows us to access and control lighting, smart thermostats, ventilation, air conditioning, security, and appliances. With that said, it's something we need to think about during the planning stages of our home design. The automation package you select needs to play friendly with the products you choose for these items.
As a designer, I love how automation has streamlined things as simple as light switches. I design layered lighting design for such rooms like kitchens and bathrooms and in the old days, the wall would be riddled with ugly switch plates. Now, there are many choices available that help us maintain a designer look even down to the switch plates and outlets.
Lighting
Lighting is one of the most forgotten details of home design and the reason is that you don't really test it until you move in and by then it is too late. Technology and lighting are constantly improving every day. Even as a designer who designs lighting it's sometimes hard to keep up with it. My first concern as a designer or a homeowner is will there be enough lighting and then how will it affect my space.
LED lamps have taken over the residential lighting industry and certainly, for good reason, they are more energy-efficient, have a longer lamp life, smaller size, and faster switching. It all sounds good, right? Well, most homeowners are unaware of the different color temperatures (Kelvin temperature) that LED comes in and how it can impact the color of the room and the materials used in the room.
The wrong Kelvin temperature can create havoc in a house by turning colors to mud and actually impact our wellbeing. Not to get too technical, but anything over 3000K is considered "blue Light" which can be harmful to some people.
For years, I specified incandescent lighting which was the perfect color of lighting and kept all colors true and was comfortable natural feeling light. I try to recreate the color of the incandescent by specifying my LED color temperature to be 2800K. Technology makes lighting efficient, but a professional who knows about lighting makes it beautiful.
Home Security
The internet has made it easier than ever to secure your home from anywhere you might be with a smart security system. How it works is by connecting to your home Wi-Fi network allowing you to monitor and control your security devices simply with your smartphone and an app. It has become more affordable with the advancement in technology. An entry-level system comes with a couple of door and window sensors, a motion detector, and a hub that will communicate the devices using one or more wireless protocols like Wi-Fi, ZigBee, or Z-Wave. You can even add to it by including door locks, garage door openers, indoor and outdoor surveillance cameras, smoke detectors, water sensors, etc.
Products
Every time I attend an industry show I am blown away by how the technology revolution is impacting the design industry. I recently attended the Coverings 2017 show, in Orlando, Florida. I viewed porcelain slabs that looked just like wallpaper but were actually a digital image of art impregnated into the porcelain material. Here is an example is shown in a shower application. Can you imagine the design possibilities with this, indoors and outdoors?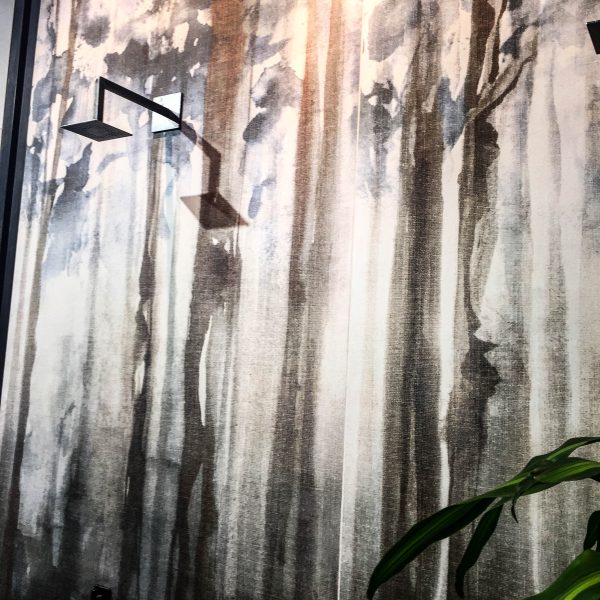 Do you love the look of marble, but don't like the thought of the maintenance? Check out the porcelain tiles created by digital imagery of a marble slab, you simply can't tell the difference. The best news is it's more affordable and maintenance-free.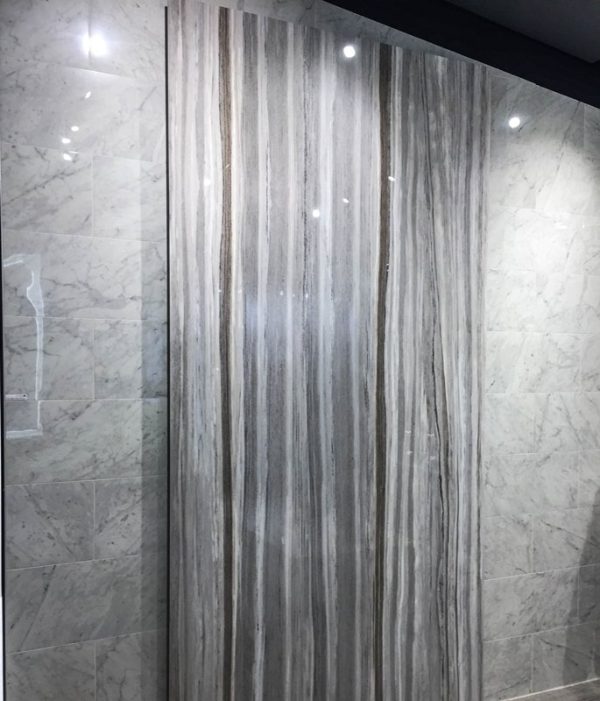 Technology is important for home design and it is up to us to stay current if we are considering designing a new home. Do your research, work with professionals that can help you get the best home design.
Other posts you might enjoy:
How to Design Home Security Seamlessly
Design Businesses – The Future of Technology
Home Lighting Design; How Technology Created a New Atmosphere
Share This Story, Choose Your Platform!