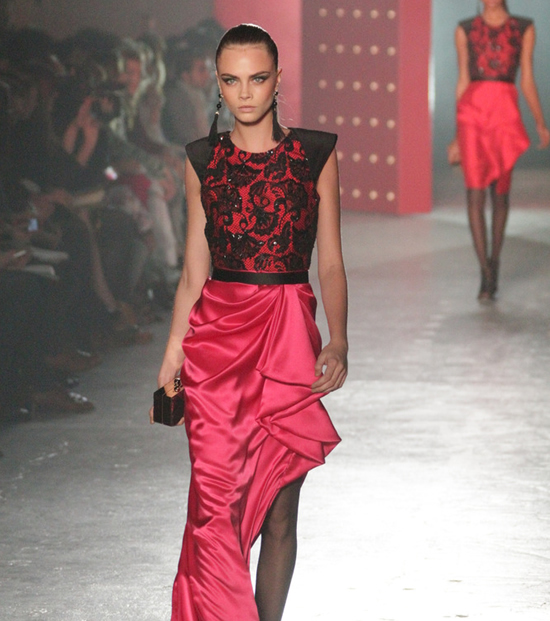 Once again, Fashion Week in New York brings together two of our favorite things, Jason Wu and Brizo.
Jason Wu for Brizo
Jason has designed a new faucet and a coordinating line of accessories for Brizo. Much like his clothing lines, these fixtures are sleek and edgy.
On the Runway with Jason Wu
Here are some of the beautiful pieces in Jason's collection, showcased on the runway during Fashion Week (All photos below were provided thanks to the talented photographer, Jayme Thornton):
Red hot smoke poured out from giant red doors as Jason Wu's collection began making it's way down the runway.
A simple, sleek jacket gets a high-style lift with this beautiful faux fur neckline.
Simple lines mixed with a bold pattern make us love these edgy pieces!
Balancing between flirty and conservative, this teardrop neckline shows off just the right amount of decolatage.
In black with a shimmery print, the teardrop neckline is perfect for a night out.
Who said a slimming skirt had to hide your hips? Not Jason Wu! Look at how the detail at the hip gives her a sexy hourglass shape.
When you're bored with the little black dress – here's a great twist with the color up top and a flowing skirt.
The detail on this dress is just stunning – and again, Jason Wu's signature sleek and simple lines allow this bold piece to stun, but not overpower.
For daring fashionistas – this piece is a show stopper! The black lace, bright hues and unique skirt are sure to turn heads.
And our favorite – this sexy black dress is the ultimate in sophisticated elegance and style.
Congratulations to Jason Wu for creating yet another amazing collection!