As a designer, you use many tools on a daily basis to do your job efficiently. One of those tools might be your smartphone. Today, manufacturers pack mobile phones with Smartphone features to lure in more customers. Take advantage of the following five features found in today's latest tech devices and use them to fuel your flourishing design career.
Smartphone Feature Must-Haves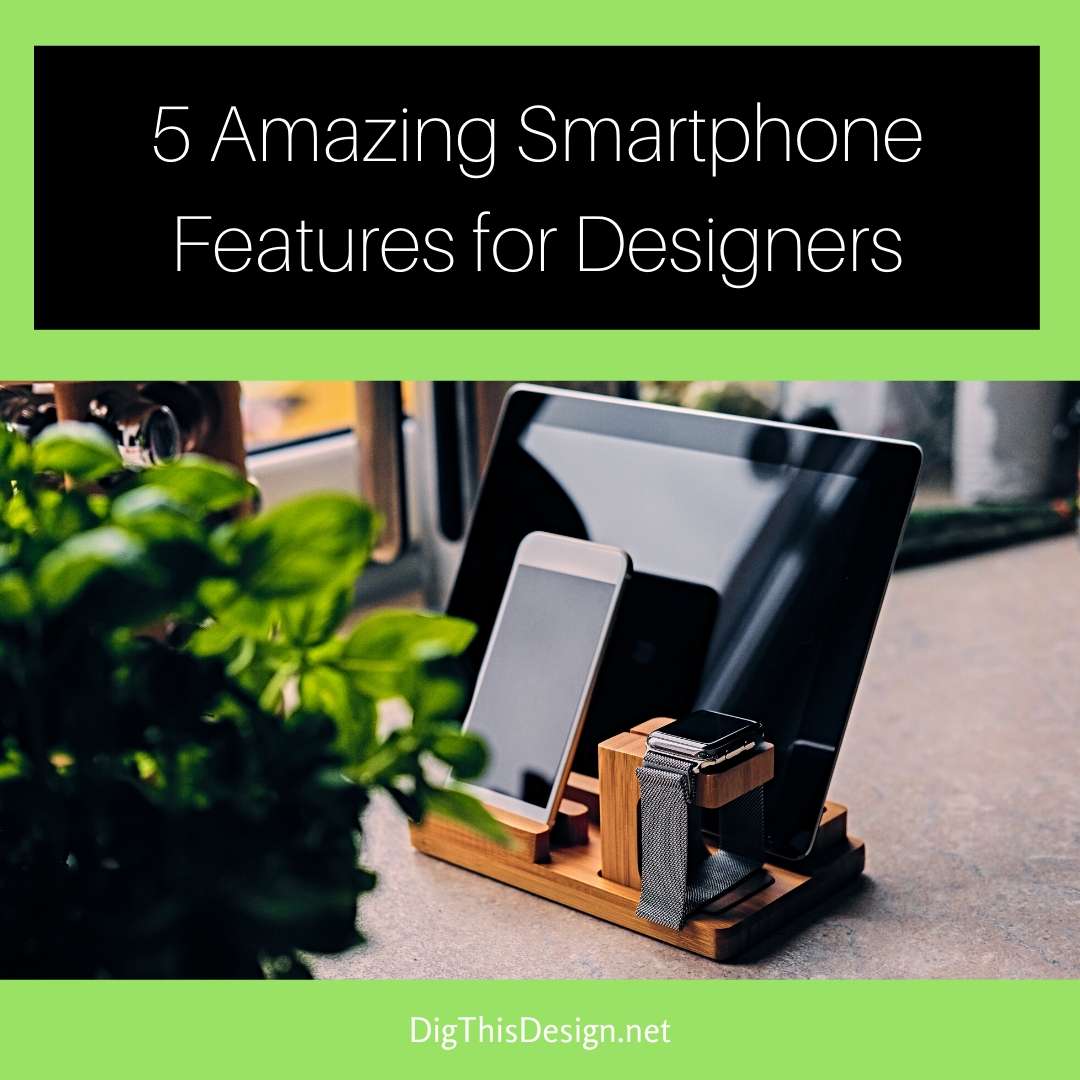 Optical Image Stabilization Feature
Using your phone to snap a quick picture of an inspiring scene or design sketch is a great way to jumpstart your creativity and preserve your ideas. Phones that offer optical image stabilization (OIS) allow you to take crisp, clear photos even if your hands are a bit shaky.
OIS works by using a floating lens paired with a motor and gyroscope to correct any movement that happens during exposure. You can find OIS on many higher-end smartphones, including the iPhone 8 Plus. This Smartphone feature makes taking quick social media pictures look like a professional photo shot image.
Wide-Angle Camera
When using your camera, you'll want to make sure you fit your entire design in one shot. Breaking up your ideas makes the reproduction process harder because you won't be able to see everything at once. Solve this issue by choosing a phone with a wide-angle lens. Not only will you be able to capture more material at once, but you'll also be able to add perspective to close-up shots.
One phone that comes with a 12MP wide-angle lens is the iPhone 7. Look for reliable providers such as T-Mobile that offer an iPhone 7 price affordable for any budget. With T-Mobile, you'll gain access to the fastest-growing 4G LTE network in the nation so that you can share your designs with clients more quickly no matter where you may be working.
4K Video Capability
Why stop with photos when you could also capture your inspiration with a video? Older smartphone cameras are not worthwhile for recording life on the go. However, new models feature 4K video, allowing you to save highly detailed and color-rich video memories of your surroundings.
Since both designers and the general population covet this feature, 4K video is available on many new phones. Catch this capability on the iPhone 7, Huawei P10 Plus, Google Pixel 2 XL, and Sony Xperia XZ Premium.
Long Battery Life
When you're moving from business meetings and client consultations to the office, you probably have no time to spare during the day to charge your phone. Without strong battery life, your phone could die in the middle of an important phone call or while you're in the middle of uploading your latest design specs to your computer.
Luckily, manufacturers understand how valuable long battery life is and have done their best to equip the latest releases with more power. The ASUS ZenFone 3 Zoom is a good choice. With a 5,000mAh battery, estimates show the phone can last for 19 hours and 50 minutes off the charger. The Samsung Galaxy S8 Plus isn't far behind, with 18 hours of solid use. You may also appreciate the Huawei Mate 9, which comes with a 4,000mAh battery that lasts for 18 hours and 35 minutes.
Large Screens
While smartphones started out with tiny screens, today it's rare to find one measuring less than 5 inches. This size works out to your advantage, as a larger screen lets you visualize designs better, improving your workflow and igniting your brainstorming sessions. A large screen lets you see all of your sketches without having to squint to try and figure out what they are.
For the most impressive visuals, choose a phone that has more than 5 1/2 inches of screen. For example, both the Samsung Galaxy S8 and the Samsung Galaxy S8 Plus offer a bezel-less Infinity display that takes images to the edges of the phone. The standard S8 comes with an impressive 5.8-inch size, while the S8 Plus bears a 6.2-inch screen.
Don't be afraid to use technology to help you advance your design career. By finding a phone that incorporates all of the above features, you'll be able to better satisfy your clients, improve your workflow processes, and produce work that truly inspires.
Images Courtesy of Canva.
Other posts you might enjoy:
Advancing Your Design Career: 3 Skills for Success
5 Restaurant Design Tips for Success
Monogram Appliances, Designer Summit 2017 Taught Us Empathy
An Interior Designer's Perspective on How To Avoid a Difficult Client
Share This Story, Choose Your Platform!