Restaurants are havens for people to dine, relax, connect and have a good time. The perfect restaurant design should consequently be an environment that agrees with the aesthetic and functional needs of the customer. The starting point is to choose a theme for your restaurant, that ties the food and the experience together. It also helps to envision your ideal customers and build and visual experience with them in mind.
While eye-catching components like a quirky bathroom or a cool mural are essential, the lighting, layout, and arrangement are the most important features of restaurant design. A great restaurant should not distract the guest from their food and conversations, however, it should contribute to making the experience memorable and the guest wanting to return. Here are five tips for creating a restaurant design that exudes ambiance and comfort.
5 Key Tips for a Great Restaurant Design
Adding Style with Minimalist Shelving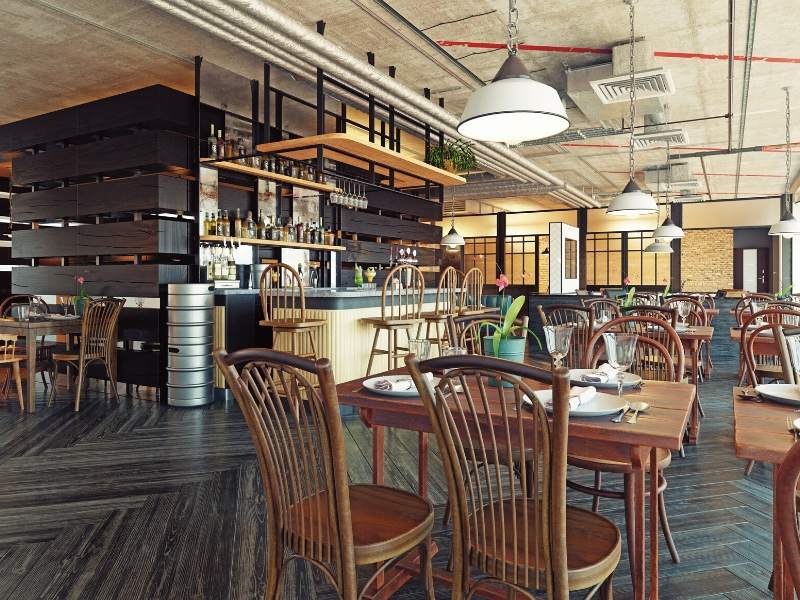 Keeping the visible shelving to a minimum adds style and functionality to the restaurant. While restaurant shelving and storage in the kitchen are important to the staff, shelving in the dining area should be about providing a creative and decorative element. The locations of the shelves and contents on the shelves can be experimented with to see what adds ambiance and style. Do not stack the shelves or place them too close to the tables, as guests will find the décor distracting and imposing on their meal and companions.
Showcasing Local Art
Food and conversations can be greatly encouraged by making your restaurant a platform for the local arts. While showcasing a local artist can add depth and color to your walls, it also supports other local businesses in the community. Do some research into artists in your neighborhood, and invite them in to see what they can do with your space. Your artist will likely invite their family and friends to view their art and try out the restaurant.
Featuring Natural Greenery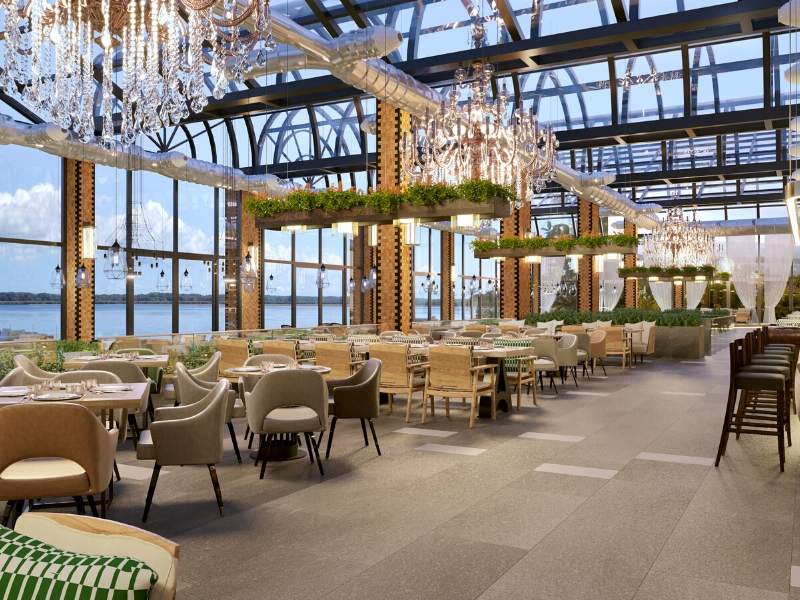 Plants are always a great way to add life and color to an indoor setting, be it your home, office or restaurant. In the case of your restaurant, you can create a unique experience for your customers, by rotating the locations of your plants. Another way to keep your restaurant looking fresh and vibrant is to replace your plants and vary the types displayed. Plants in your restaurant will look best if they are well taken care of and perfectly trimmed. And especially important around food, is to ensure there are no fallen leaves, or plant pieces lying around on tables, chairs or on the floor for hygiene purposes.
Inspired Lighting Fixtures
Lighting is the most important thing in restaurant design. There are hundreds of types of lights available for commercial use, each creates a different atmosphere in a restaurant. Lighting creates mood and is the foundation of the customer experience at your restaurant. How do you want your customers to feel? Lighting can be used to highlight spaces, draw attention to details of the space, and create cozy corners. If you do not have experience with lighting layouts, it is recommended to use a lighting consultant to help you.
Options for Seating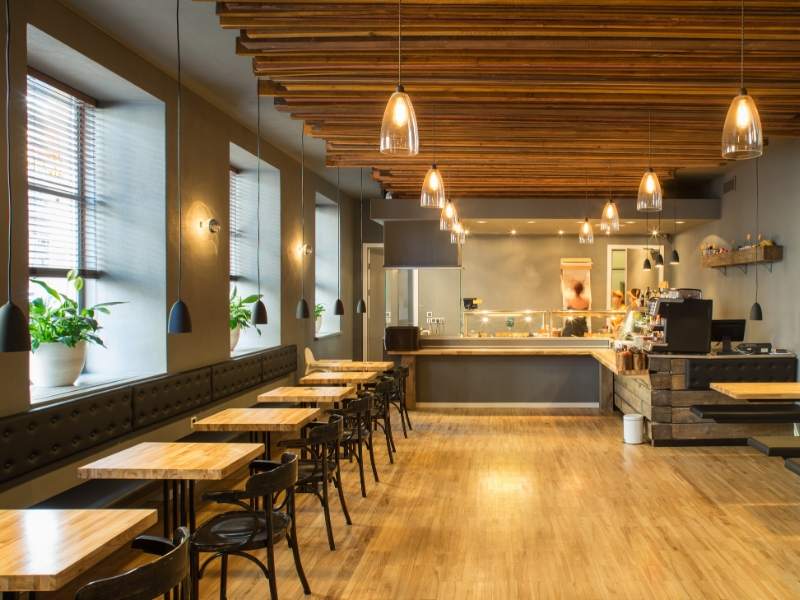 Seating is a design component that makes need some experimentation. Knowing what arrangement will work best in your space will depend on the experience you want to create for your guests. If you are looking to maximize seating the shape of your tables will impact the space needed in between tables. If you want to create an intimate experience, you may choose to place your seating further apart to allow for a private conversation. As with the lighting, there could be different kinds of seating areas and different types of restaurant furniture to create different vibes. Whatever you choose, it is necessary to ensure that the seating is comfortable, convenient and functional.
Restaurants are a great platform to showcase your passion for art and creativity while fueling your sales and business goals. Remember, start with a theme and your ideal guests, then research the options available. Know your strengths and ask for expert input where you need it. There are several online platforms that offer a truckload of ideas. Choose what best fits your intention, needs, and budgets.
There are a lot of pieces that need to come together to make a successful restaurant. Good food satisfies your customers. Good service makes sure that they have the best experience. An important piece that can get overlooked in the fast-paced environment is your restaurant's restrooms. Out of all the different types of retailers, restrooms matter the most to patrons of restaurants. Customers who feel a restroom is dirty are far more unlikely to return no matter how well the rest of their experience goes. To ensure that your customers get the best experiences, take into consideration factors such as building layouts, which are necessary when you want to install things such as premium quality bathrooms and toilet stalls from reputable companies like One Point Partitions. A modern bathroom will not only bring comfort to your customers and staff, but it will also help maintain the restaurant's concept."
Images Courtesy of Canva.
Other posts you might enjoy:
Tips to Throwing a Bar and Restaurant Opening Party
Unique Bamboo Architecture in Bali
Bold Designers Use Newly Engineered Materials
Share This Story, Choose Your Platform!