Finally, spring is in the air, and we are all set to add some life back into our home after a long, chilly season indoors. That's why I bring to you these great Easter décor DIY craft ideas that double as gorgeous home décor and are perfect pieces to usher in a new season. What is the best part? They are just as easy as they are pretty. Take a look!
Easter Decor Egg Tree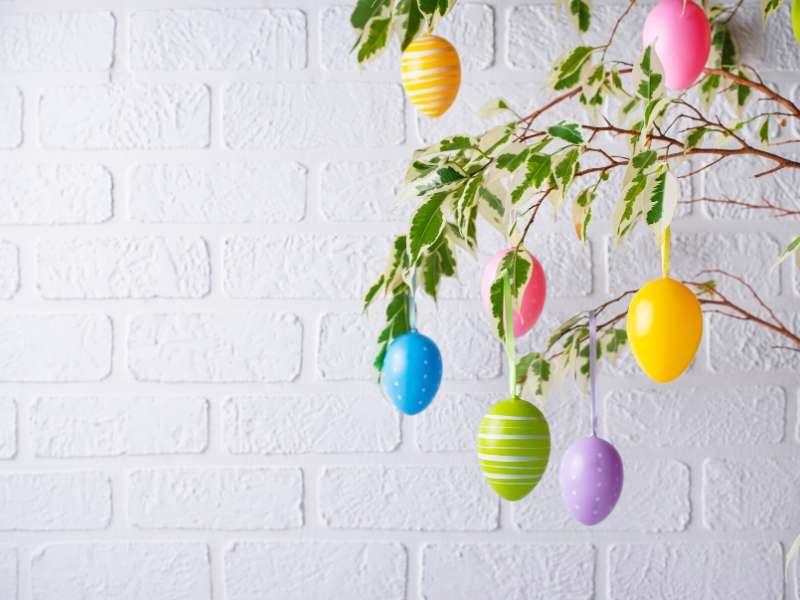 Who says that Christmas is the only time you can decorate a tree? Look at these fallen tree branches adorned with colorful hollow eggs. You can also hang pretty egg ornaments from faux dogwood flower branches and put them in a vase or a bucket. An Easter egg tree makes a festive centerpiece for your table or a display for a mantelpiece or side table.
For a step by step instructions on how to blow out an egg, check out this post, Easter Window Décor with Egg-Art.
Candy Napkin Rings
Hosting an Easter brunch or dinner this season? Why not make cute candy napkin rings to wow your guests? Simply thread small, colorful jelly beans on a 22-gauge tin wire and wrap around twice on a rolled napkin. Curl the ends into swirls to keep the candies in place. This same technique can be used on candle sticks or even a dip spreader to add a colorful Easter décor statement.
Easter Egg Garland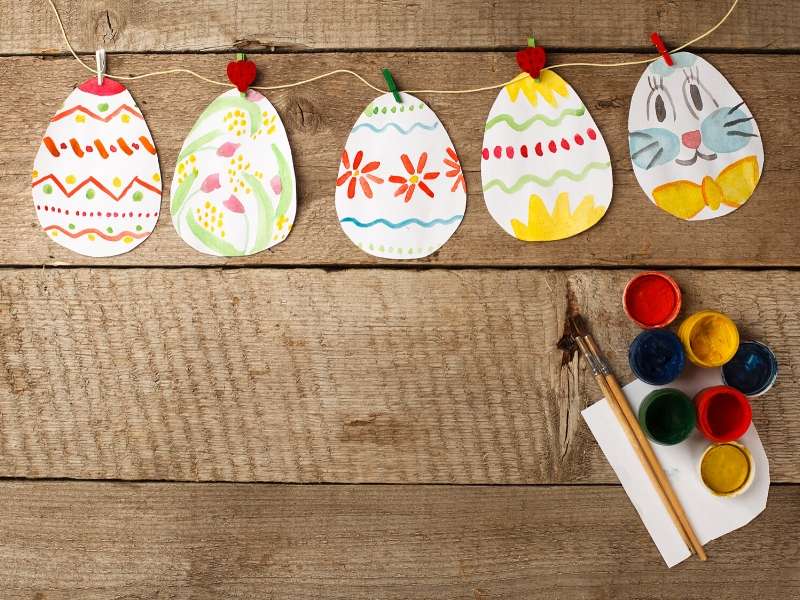 This Easter decoration idea is so simple and is the perfect craft to do with young kids. Cut egg shapes out of paint chips and attach to a string or decorative ribbon to hang. Voila, you are done creating an Easter worthy decoration out of simple materials. It's a simple yet great way to spruce up you home for the holiday while having fun with your children.
Easter Décor Umbrella Wreath
This is a unique twist to door décor. It's easy to hang a wreath, but why not step out of the box with this cute umbrella decoration. Gather a bouquet of silk flowers and arrange them on the top of an umbrella. Tie a colorful ribbon around the umbrella to hold the blooms in place. Make sure to tie it nice and tight. Now add a few dyed, blown-out eggshells and hang them from a standard wreath door hook. What's next? Admire your gorgeous handy work :)
We almost melt over these awesome do it yourself home decor ideas. Don't these Easter crafts put you in the best mood?
For more Easter decorating tips:
EASTER WINDOW DÉCOR WITH EGG-ART
EXECUTE EXCELLENT EASTER EGG DECORATIONS
CREATIVE AND UNIQUE DESIGNS FOR YOUR EASTER EGGS
Images Courtesy of Canva.
Share This Story, Choose Your Platform!