DIY light fixtures are a great way to create something unique and affordable for your home. In fact, it costs anywhere from $100 to $300 per hour to hire an interior designer. With most designers needing at least 35 hours to decorate a room, your cost could easily begin at $3,500. 
If this sounds like a large investment you're not prepared to make, then there's another way. You can create beautiful DIY decor for your home. 
This article is full of ideas for DIY light fixtures. There's no better time than now to learn how to make your own DIY light fixtures. 
How to Create DIY Light Fixtures for Your Interior Design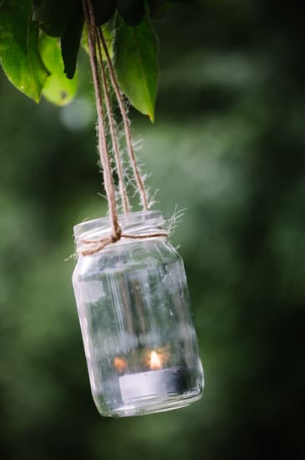 1 • Hemp Pendant Lamps 
You can create your own custom-created pendant lights with some hemp rope and balls. First, buy some cheap kid's toy blow-up balls that are the size of the pendant you want. Next, use clear craft glue to hold the hemp in place. 
To make things easier, draw a small circle on one side of the ball where you plan to mount your lighting hardware. Then proceed to draw a larger circle opposite of the smaller circle to be the bottom of your pendant light. Keep in mind that you need this open space on the bottom for an abundance of light once you hang your pendant. 
Finally, run the hemp cord through the glue and then randomly wrap it around the ball while avoiding the circled areas. Once the glue is dry, deflate the ball and pull it out of the hole. Then, all that's left to do is hang your DIY light fixtures. 
2 • Stainless Steel Pendant Light 
You could look for your own metal containers and drill holes in the sides, but this is a lot of work. Instead, buy stainless steel containers that already have holes in them. In your search, you might try IKEA which has kitchen canisters meant for holding utensils. 
Then, all you have to do is drill a hole in the bottom and mount the pendant light hardware. The canister will hang upside down with the open end pointing downward. 
For a larger light, you could use a galvanized metal bin or bucket. These work well if you need to light a larger space, such as an outdoor table. 
3 • Snowy Wall Light 
Next, how about creating a stunning accent light feature with white Christmas lights, chicken wire, and coffee filters? To begin, cut a shape out of the chicken wire, such as a circle or square. Then attach the LED lights to the chicken wire, so they are evenly spread throughout. 
Finally, gather each coffee filter in the center and attach it to the chicken wire over the lights. They should create a fluffy effect as you pack them close to each other. When you've covered the chicken wire, hang the piece on the wall and plug in the string lights. Additionally, these DIY light fixtures look beautiful as a faux headboard on a bedroom wall.
4 • Paper Lanterns DIY Light Fixtures
Continuing on, let's create custom illuminated paper lanterns! To begin, buy the paper lanterns that match your decor to enhance the look of your room. Then, buy the hardware for a pendant light. 
Next, open the paper lanterns and attach them so that they stay in the open position. Then, insert the pendant light into the lantern and attach the lantern to it. Finally, hang the DIY light fixtures where you want it. 
Use these paper pendants to light a living room, bedroom, office, or study. However, avoid the bathroom as the constant moisture will negatively affect the paper. 
5 • Feminine Tulle Lamp 
If you have a plain lamp, create a more feminine and delicate look by wrapping it in tulle. To do this, you'll need several yards of tulle in your chosen color. You'll then use a needle and embroidery thread to gather the tulle on one side. 
Don't be afraid to really bunch the material up with many, many layers. In fact, the more you gather the tulle, the more like a tutu it will look. Once you've gathered enough material, attach it all go all of the way around.
Finally, you'll want the gathered part to be at the top of the lamp, so the free side extends out like a tutu. 
6 • Gold Feather Lampshade 
Try this DIY lighting fixture if you're looking for something that is the perfect combination of rustic and glam. Start by looking for an antique or vintage lampshade frame. Also, if you can, only buy the frame and not the entire lighting hardware. 
Otherwise, you may find yourself in need of electrical repairs as vintage lighting may not be wired correctly or appropriately for modern homes. You'll know you need an expert if you see your lights repeatedly flickering, the cord is frayed, or the outlet gets hot when in use. 
Then stick some decorative items on your antique lampshade frame. Those items might include large white or black feathers, fishing line, gold spray paint, and gold glitter. Also, consider painting the tips of your feathers with the spray paint. While the paint is wet, sprinkle the glitter onto the paint on both sides of the feather. 
Once the feathers are dry, you can use the fishing line to tie them to the lampshade. When hanging them, try to place them all at around the same length. The feathers should also be large enough to look proportional to the size of the lampshade frame. 
Once you've hung the feathers, you can mount the frame on your lamp base. Another beautiful alternative is to hang the shade on the wall from a hook like a wall sconce. 
Try These DIY Light Fixtures
After reading through all of these DIY light fixtures, we hope you gain inspiration to start crafting your ownd DIY light fixtures. You don't have to do all of these ideas. Instead, simply start by building off of one of them. 
Moreover, when you create your DIY lighting fixtures, you get a custom fixture that perfectly expresses your personal style and home interior decor. 
Browse our other interior design articles below for more helpful advice on decorating the rooms in your home. 
Images Courtesy of Canva.
6 DIY Crafts You Should Incorporate In Your Interior Design
6 Surprising Reasons to Tint Your Home Windows
5 Problems Faced by People with Smaller Bathrooms
Share This Story, Choose Your Platform!