So, you're looking for the best type of gutters. Great! But which kind will add value to your home without decreasing curb appeal? There are a ton of different options on the market, from basic aluminum gutters to special types like copper and zinc. Knowing which type is right for your home depends on a few factors. 
The first thing you must consider is the climate you live in. If you live in a wet climate where you're dealing with humidity and rain, you may want to invest in a high-quality gutter system that can handle a lot of water. Copper and zinc gutters are ideal for this type of climate, as they are both corrosion-resistant and durable.
If you live in a dry climate, on the other hand, you can go with more basic aluminum gutters. They are less expensive, which will help make your home look nicer without breaking the bank.
Another consideration is how long you plan to stay in your house. If you are planning to stay for 30+ years, then zinc and copper gutters are a better choice since they don't need replacing every decade or so like aluminum or vinyl ones do. Keep in mind that gutter repair is also an option if the damage isn't too extensive. Plus, regular maintenance may prolong the life of your gutters. 
The final factor to consider is price. Aluminum gutter systems tend to be less expensive than copper and zinc. Because of that, only invest in them if cost is one of your main concerns.
In an effort to assist your learning about the types of gutter that fit your home, let's look at some of the best options on the market.
Your Guide To The Best Types Of Gutters For Your Home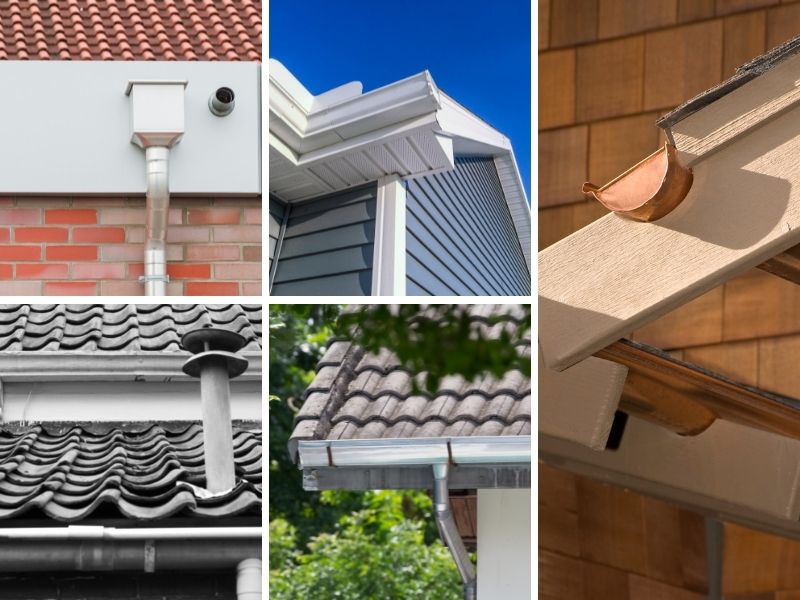 1. Aluminum gutters.
If you live in a dry climate and are looking for an affordable gutter system, aluminum gutters are your best bet. They are durable and should not corrode in most climates. Of course, this makes them an excellent choice for homeowners who stay in their home for a long time.
However, keep in mind that because aluminum is so lightweight, they are prone to warping in extreme heat and freezing temperatures. So, if your climate is less than moderate, it may reduce the lifespan of these gutters. Or you may be looking at frequent repairs.
You must replace aluminum gutters about every twenty years, which is longer than most people stay in their homes. However if you are in your forever home, it's worth it to invest in a longer lasting material.
2. Copper Gutters.
If you live in a wet climate, copper gutters are a great option. They are corrosion-resistant and can handle substantial amounts of water. Of course, this makes them ideal for homes that are regularly hit with rain or snow.
Copper is a natural algaecide and fungicide, so in humid climates it resists algae growing on your gutters, which can also reduce gutter odor.
Copper gutters will develop a greenish patina after being exposed to the elements for a while. Of course, the color affects the overall look of your home. While some homeowners look forward to this antique finish that protects the metal, it may not fit the design aesthetic of every home.
3. Zinc gutters.
Zinc gutters are an excellent choice for both wet and dry climates. They are corrosion-resistant and durable, making them a good option for homeowners who want a long-lasting gutter system. Zinc also develops a patina after exposure to the elements.
A Zinc patina is not green like copper, it will just look less shiny over time. Zinc and copper gutters should both last well over 50 years with proper maintenance and are a valuable addition to any forever home.
4. Vinyl gutters.
If you are looking for an inexpensive gutter system that still looks nice, vinyl gutters are a good option. They come in a wide range of colors and styles, so you can find one that will match the look of your home.
Vinyl gutters have the shortest lifespan of each of these options, at about 10-20 years depending on how wet the climate is among other factors.
If you live in a warm and humid climate, watch for algae growth and bacteria in your gutters. If you ignore it, it causes stains and odors with your gutters.
5. Stainless steel gutters.
Stainless steel or galvanized steel gutters are another good option for homeowners who live in a wet climate. They are corrosion-resistant and durable, making them a desirable choice for homes that see a lot of rain or snow.
These are resistant to rust and avoid warping from the elements. But after a while, the protective coating gives way to rust, reducing the lifespan of steel gutters to about 20 years.
As you consider these gutter options, remember to consider the consequences of each choice. Choosing the wrong gutter for your climate can lead to roof damage, flooding, and other accidents that can reduce the value of your home. As such, price and aesthetics should not be the only factors you consider.
In conclusion.
If you have any questions or suggestions, we always love to hear from you in the comments below. Also below are links to more fantastic articles about ALL things DESIGN for your home or business.
Images Courtesy of Canva.
Other Posts You Might Enjoy:
How New Gutters Can Boost your Property Value
10 Tools You Need For Cleaning Your Home Exterior
4 Benefits Of Inspecting Your New Home
Share This Story, Choose Your Platform!