There are many dangers of clogged gutters. Most of these problems happen with older gutters, rather than new models like the K-Guard Gutter System. The types of gutters that frequently have problems with clogs include half-round and open-top gutters. If you have half-round or open-top gutters and there's a tree overhanging your home's roof, there is a very high chance of gutter clogs.
Of course, gutter clogs are much more than an annoyance. For example, they cause damage to your home that includes landscaping, fascia board and soffits, foundation, and roofs. The damage from gutter clogs is expensive, with the possibility of five-figure repair bills. If you're having trouble with your gutters, this post might interest you. We invite you to continue reading to learn what you need to know about the five top dangers to your home from gutter clogs.
How to Stop Gutter Clogs from Damaging Your Home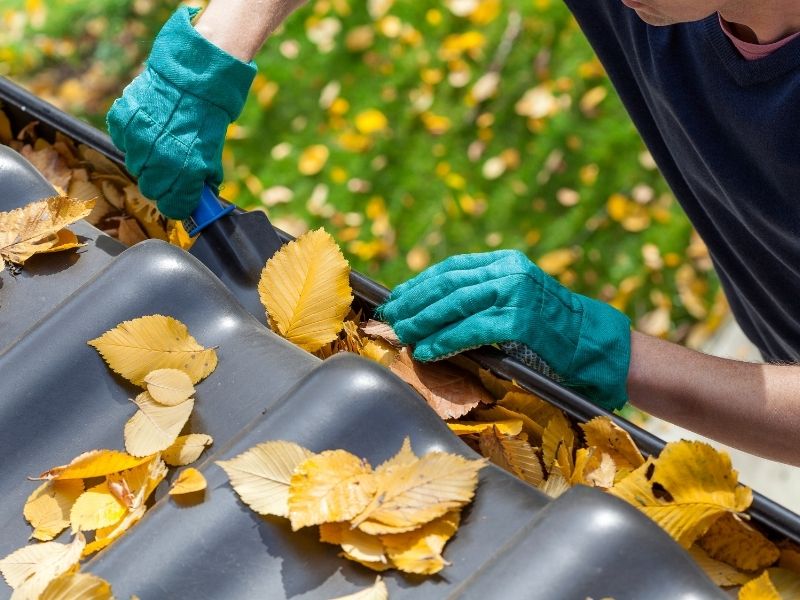 1. Landscaping damage.
While landscaping damage may not be the first problem to come to mind when you think of clogged gutters, it is a common occurrence. Gutters redirect water flow off of your roof and away from your landscaping—unless they're clogged. If gutters are clogged, water will flow off your roof in every direction, potentially drowning expensive plants. Even the grass in your yard may be drowned by improperly directed runoff.
2. Fascia board and soffit damage.
Fascia board and soffit protect your roof from snow and rain damage. Your roof's fascia board and soffit also support the gutter system. However, the gutters can actually overflow and damage the fascia board and soffit. These components are often located directly underneath your gutters, which means they will be badly damaged if your gutters do get clogged. This overflow could eventually lead to rot if not corrected. This rot could eventually spread and cause serious structural damage to your roof.
3. Damage to your foundation.
One of the most overlooked problems caused by clogged gutters is foundation damage. Properly functioning gutters will direct water away from your home's foundation. If water is flowing all over the place due to clogged gutters, it could land on the foundation and weaken it. The foundation may crack, and the house may even lean or tip. If you live in an area of extreme weather, a weakened foundation could lead to catastrophic damage. This is preventable by quickly removing gutter clogs or by getting clog-resistant gutters.
4. Damage to your roof.
When people think of problems caused by clogged gutters, roof damage is probably the first one that comes to mind. This problem is both common and extremely expensive. In fact, a new roof costs $10,000 or more. In fact, even minor roof repairs might cost thousands of dollars. Moreover, clogged gutters overflow and cause several types of roof damage, including leaks, shingle damage, and the build-up of algae and moss. If left in disrepair, roof damage due to clogged gutters gets so bad that your entire roof may need replacing.
Dealing with gutter clogs.
It may seem easy to deal with clogged gutters—all you have to do is clean them out. This is easy to do once or twice but can become a serious problem if your gutters get clogged frequently. Also, cleaning gutters can be dangerous, as you may have to get up on a ladder in an unsafe area.
The safest thing to do is to simply get gutters that are not open on top. This will keep debris like leaves and twigs out of the gutters. This will greatly reduce the risk of your gutters getting clogged, overflowing, and causing damage to your home. There are modern gutter systems available that are designed specifically to avoid clogs, and one of these may be a good choice if your current gutter system gets clogged often.
In conclusion.
It is our sincere wish that these tips help you avoid gutter clogs and the resulting damage to your home. If you have any questions or suggestions, we always love to hear from you in the comments below. Also below are links to more fantastic articles about ALL things DESIGN for your home or business.
Images Courtesy of Canva.
Other Posts You Might Enjoy:
8 Inspired Curb Appeal Ideas to Dress Up Your Front Porch
6 Types of House Inspections to Do Yourself Before Putting Your Home on Sale
Keeping Your Home Safe From a Racoon Infestation
When Should You File A Home Damage Claim With Your Insurance?
Share This Story, Choose Your Platform!