When you get blocked drain problems, it is enough to drive most homeowners crazy. But, don't worry—read on to find out how to effectively deal with blocked drains. It's no fun when suddenly you walk into your kitchen to discover that the kitchen sink won't drain. The day just couldn't take a worse turn, right? Of course, having to deal with it on your own is difficult. The best thing to do is to hire professionals who use their expertise to provide you the best solution. So instead of relying on DIY to fix your drains, use an expert to easily solve your blocked drain problems.
Solve Your Blocked Drain Problems • 7 Easy Tips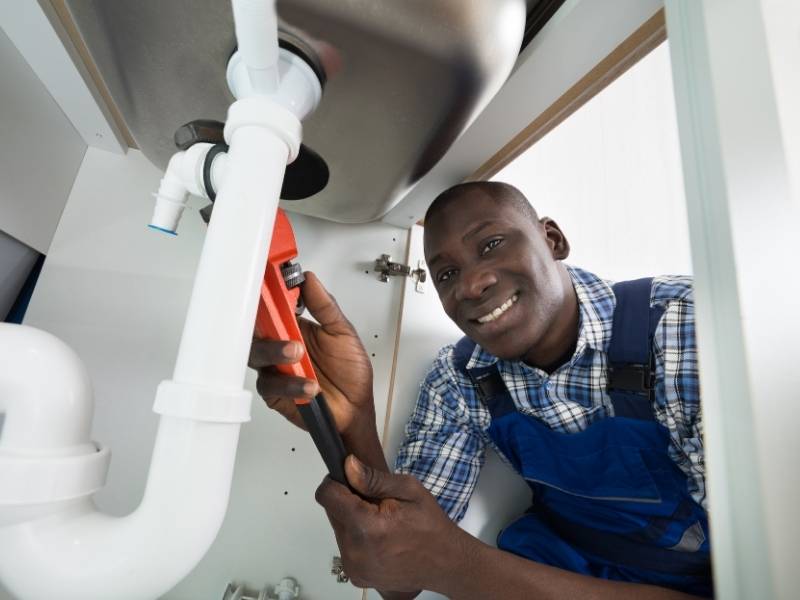 Why are your drains blocked?
There are several reasons that cause a block in your drains. For instance, it might be by broken pipes, tree roots, or items you flush down the toilet. The drains outside your house also get blocked due to mud, water, and dirt. So when you face the issue of blocked drains, and you're calling on the experts, below are some points to keep in mind. Experts have the latest technology and tools, along with the experience for a quick and effective solution.
Research the plumber's background.
One of the first things to check about a service provider is if they have a legit license. Most plumbers are licensed, and before hiring any company for your home or office plumbing needs, check to make sure they are certified. A company with a license will be able to provide expert solutions to your residential or commercial plumbing needs. In addition, you can trust them to be authentic.  So if a plumbing company asserts that it is the best in San Francisco, for example, it should have the credentials to back up that claim.
Check what services they offer.
When choosing a company offering plumbing services, first check their official website for the type of services they provide. The benefit of this will be that you get to find out about other services that this company provides, such as ventilation services, air conditioner installation, and EVC installations. The method used in unblocking drains can vary, depending on the type of drain it is, while they can clear any drain faster by using jet cleaning force.
What is their reputation like?
A company's service depends largely on its experience. When facing a serious and complicated draining problem, be sure to pick a company with a good reputation and experience rather than a new one. A plumber with ample experience will be able to solve your problem quickly with a fast solution. If you choose a company that does not have the right experience, your problem might reoccur.
It's always advisable to go with a company that offers you the right experience. A good way is to talk to your neighbors, and friends, to find out more about their reputation.
Ask the company for a reference list.
Another effective way to evaluate the company is to ask them for a list of references. Whatever their clients say about them in their service records tells you how efficient they are. A company may be offering a huge range of services, but it must also come with a good recommendation from their clients. So checking the references will give a clear idea of the capacity of the company.
Check on the pricing.
Before you sign off on any deals, be sure to find out what the estimated expense will be by having a clear-cut conversation with the company. There is no point in getting handed an outrageous bill at the end of the day, so talk to them and find out in detail how much they charge for the service that you require and also if there are any hidden charges. This can be very helpful when you want to avoid a nasty surprise and can use the rates to compare them with what other companies are offering. You can always go with a company whose rates are reasonable according to market standards.
Do they provide insurance and a guarantee?
A reputed and trustworthy company will always provide a guarantee of the services they provide. So when deciding on a company to go with, check if they provide guarantees of the parts they use to repair your drain. Most good companies also provide a guarantee of the services they provide you. This means that if your drains get clogged again within the period of guarantee, they will fix the issue for you without you having to pay any extra charges.
Most reputed companies follow this practice as it helps to build a larger client base by increasing customer satisfaction. You also need to check if the company provides insurance. There may be things that go wrong while the company is working on your drains, causing damages to the pipes. If the company provides insurance, they will totally cover all costs to cover any damages that occurred during the time they were working on your drains.
Final Thoughts
You don't only need to get your blocked drains fixed; you also need to maintain the pipes to keep them from getting clogged in the future. The best way to do this is by hiring a professional plumbing company. Also, go through the points mentioned in the article to ensure that you don't end up with the wrong company. This way you get a great job done and not have to face the hassles of a huge and unrealistic expense.
If you have any questions or suggestions to add, we'd love to hear from you in the comments below. Also below, you will find more great articles about ALL things DESIGN for your home or business.
Images Courtesy of Canva.
Other Posts You Might Enjoy:
Emergency Plumbing Tips from a Plumber
3 Plumbing Issues that Cause Unseen Bathroom Odor
Learn to Identify 7 Plumbing Issues that Save Money!
Share This Story, Choose Your Platform!