A home renovation makes your home more attractive and comfortable. However, the cost of a home renovation can get out of control quickly, whether your budget is small or big. You might also give in to temptations occasionally without realizing their impact on your budget.
Fortunately, you can reduce costs without compromising on your dream renovation with thorough research, proper planning and good organization. Here are five top tips on saving money for a house renovation.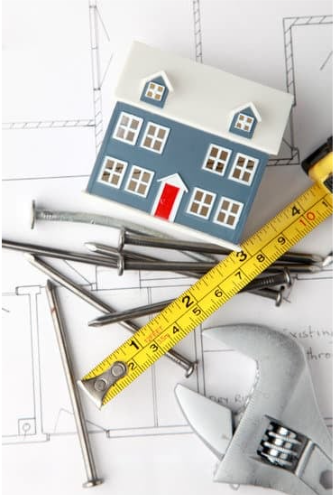 5 Home Renovation Tips That Save Money
1.    Hire a home renovation contractor
It might seem counterproductive, but hiring a contractor for your renovation project can save you money and time. A qualified contractor has the necessary tools and knowledge of insurance, material suitability, and building codes, which you might have yet to think of.
Contractors usually charge a markup fee besides the project costs, but getting a professional for your electrical or plumbing work can save you money in the long run. Learn more about the benefits of hiring a trusted contractor for your home renovation.
2.    Fund your home renovation
Paying cash for your renovation project can save you considerable money in processing fees and loan interests. If you are renovating your home for sale, it makes sense to take a loan to fund the project. You are more likely to get a return on the investment and repay the loan quickly.
If you can't afford it, look for ways to trim your household budget to save for the project. Canceling subscriptions to cable TV and streaming services is one of the ways to trim household expenses and save money for your renovation project.
3.    Don't overspend on wall preparation
Consider using wall coverings such as Texturglas if your walls are rough such that it could take a painting contractor weeks to fill and sand to make them ready for the roller. Texturglas is a sustainable, nontoxic wall covering made of smooth glass filaments and has a similar look and feel to the fiberglass matting used in car-body work. It's available in various surface patterns, is highly paintable, and is designed to be installed over existing surfaces, strengthening your walls while covering up dings.
4.    Re-purpose materials
Reusing cabinetry and some appliances is one of the best ways to save money on a kitchen renovation. You can also change panes if they are damaged for window installation, but ensure you maintain the frames.
Alternatively, you can buy second-hand kitchen or bathroom cabinets online or from building material auctions. You can also get great deals from buy/sell/trade websites. Hunting for re-purpose materials adds character to a renovation project and can help the environment as you save money.
5.    Sell what you don't use
Instead of throwing away items, sell those that you find unviable for reuse or don't fit in with your new home décor. You can sell your old furniture and appliances on buy/sell/trade sites such as Facebook Marketplace or Craigslist. You may donate items to Habitat for Human ReStore within your region. Apart from decluttering your home, you can earn a tidy sum of money.
Endnote
A home renovation is one of the most exciting experiences but can also be the most challenging. Luckily, with proper planning and intelligent shopping, you can renovate your home to maintain your taste and keep up with the latest trends without going over your budget.
Other posts you might enjoy:
Best Fall Home Renovation Projects
How to Prepare for a Home Renovation
4 Ways to Afford Your Home Renovation Project
Share This Story, Choose Your Platform!