If you live in a house for too long, you may start to notice parts of the house where walls are cracking, paint is peeling off, or a termite invasion on your roof. Additionally, you may need other services such as a kitchen, a gym, or a storage room. Therefore, it calls for a home renovation or an extension to your home to make it more comfortable and safer to dwell. There is no need to incur the hassle and cost of moving to a new house. '
Modern home renovation and extensions can increase the value of your home by 20%. However, before you embark on complete house refurbishment, consult with several home extension builders for technical insights. If you want to renovate or update your home, continue reading for eight incredible inspirations for your home renovation and extension.
8 Inspirations for Your Home Renovation and Extension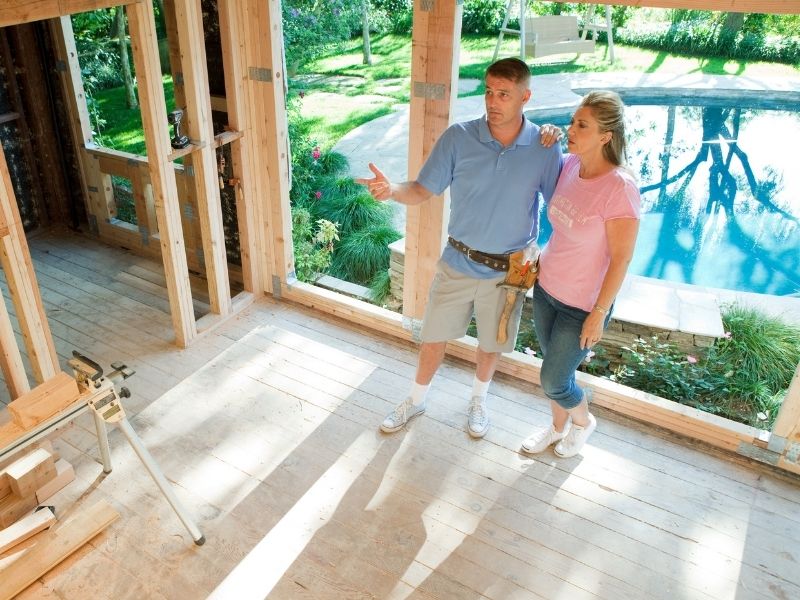 1. Adding a new level.
Renovating and extending your house to add a new level is among the most modern ways. While this increases the value of your home, the main advantage is the space it creates. Using the newly added space, you can install a new bathroom, kitchen, or garden gym room. The new floor can be made using glass or any other light material such that it seamlessly sits at the top of the old one.
2. Extending the garden or balcony space.
When you think of home extension, your focus may be mainly on the interior of the house. However, you can also make your home more appealing by extending the balcony space or your garden. It has the potential to add comfort and value to your home. You can set up a patio where you and your family can take their dinner or enjoy your wine and grilled meat.
You may also enclose it or leave it open air. Adding some seats to your balcony and installing glass walls around it improves the look of your home while adding comfort. Do you not have enough outdoor space? Consider adding a decking extension as an area for entertaining and enjoying a balmy summer evening.
3. Installing a pool.
A swimming pool is an essential addition to your house. Do you have plenty of outdoor or indoor space? If yes, then, renovate your home and add a swimming pool. This adds comfort and leisure to your home. Moreover, you do not have to pay gym costs for an hour of swimming. It also increases the value of your home by a considerable amount.
4. Adding a rear extension.
A rear extension perfectly creates an extra living space in the tour home. It also transforms your living space to better suit your lifestyle. Sought after by potential home buyers, it's the perfect spot for open-plan living. It also adds more dining and kitchen areas, in which you can add homemade countertops or tables made from veneered MDF sheets,  making perfect family spaces.
6. Loft extension.
Extending your loft can be a budget-friendly way to make an additional bed and bathroom count. While substantial loft conversions are covered under permitted development rights, larger renovations like adding a highway-facing window to your loft require planning consent. It reduces the cost of full house refurbishment to add one or two bedrooms.
7. Glazed extension.
Glass extensions to your home have an impressive look and work with any building style. Though expensive, they add the value and aesthetic of your home that makes it attractive to future buyers. Due to the level of engineering required, hiring home extension builders is the best option. The house extension builders handle building regulations with the authorities eliminating that headache.
8. Using eco-friendly energy sources.
Renovating your roof and a Fort Mitchell Kentucky roofing company installing solar panels not only saves you from paying electricity bills but also ensures an uninterrupted power supply. Today, it's possible to have your entire roof made of solar panels. It is environmentally friendly and less expensive in the long run.
In conclusion.
Home renovation and extensions have many advantages. From increasing the value of your home to giving you more comfort while making it more appealing, choosing the right idea saves time and money. Therefore, before embarking on the full house refurbishment, ask yourself whether the idea aligns with what you want to achieve and your budget.
If you have any questions or suggestions, we always love to hear from you in the comments below. Also below are links to more useful articles about ALL things DESIGN for your home or business.
Images Courtesy of Canva.
Other Posts You Might Enjoy:
5 Tips For Planning A Home Renovation
How Much Should I Budget for a Basement Renovation?
4 Ways to Keep a Clean House During Renovations
How to Know if a Fixer Upper is Worth the Cost of Renovation
Share This Story, Choose Your Platform!