The first step is to devise a sold budget for a basement renovation. In fact, this is the first step towards boosting your home's value. What's more, you can use this basement space instead of the expense of adding additional square feet to your home. It's also wise to know the type of features that add value to your home based on your immediate area.
Still, doing renovations doesn't come free, and you must set up a budget before proceeding with your project to keep it as affordable as possible. At this point, you may be wondering about what to expect for expenses when performing a basement renovation.
The answer depends on a number of factors. For instance, it might depend on your plans, materials, features, and more. If this interests you, we invite you to continue reading for some interesting tips on how to budget for a basement renovation.
Setting Up Your Budget for a Basement Renovation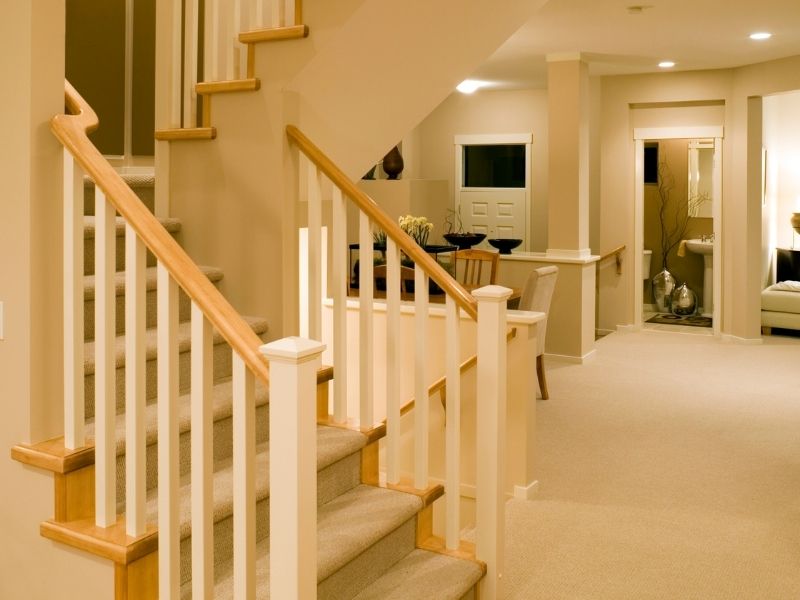 Build your budget for a basement renovation with a solid plan.
The planning stages of a budget for a basement renovation are the most important. During this time, you decide what you expect, how you want it done, and how much you want to pay. At this point, it's wise to consult with a professional for a realistic look at what you want to do. They take into account the average cost of the various elements of basement renovations. Those might include flooring, insulation, ceiling, joint sealing, the addition of any bedrooms or bathrooms, entryways/walkouts, and more. 
There's a lot of moving parts when it comes to planning out your basement renovation. So, you must understand how much everything is going to cost and what your timeline is. A professional helps ensure that everything is clear to you before beginning the renovations.
If you want to sell soon, you must know what buyers are looking for in your area. For example, Calgary basement development might be best tailored towards the addition of extra living spaces to rent out for young students.  
Features that impact your budget for a basement renovation.
Some renovations are more expensive than others. You may anticipate your budget needs for the future by knowing how much certain features cost. For example, modifying the physical structure of your basement may be more costly than simply installing new floors, ceilings and repainting the walls. Below, you will find some of the features to consider before proceeding.
1. Adding a new room.
Adding a new room contributes a great deal to your existing renovation project expenses. If you are physically modifying your basement space, this may add more than if you were simply updating an existing room. In addition, if you're adding a bathroom, you must consider the additional costs for plumbing, materials, cabinetry, and more.
2. Flooring installation.
Most remodeling projects will include flooring installation. In fact, depending on the material, your flooring can cost more or less. Hardwood flooring is a great, visually aesthetic choice, where carpeting can muffle sound better and provide a more "homely" touch. In the end, it is your decision but if budget is an issue, you may want to ask your contractor or basement development professional about which flooring material is most cost-effective.
3. Adding light fixtures.
If your basement isn't a walk-out or does not have enough windows, try adding some lighting fixtures to illuminate your space. It depends on the kind of lighting you add and whether it's hanging or standing. However, typically the labor cost for electrical features ranges between $50-100 per hour of work.
4. Complicated plumbing.
If you plan to include a bathroom or a kitchen, you must factor plumbing into the cost of a basement renovation. This price varies depending on the required labor and materials, where you live, and the type of fixtures you want to install. 
In conclusion.
So, how much should you budget for a basement renovation? It really depends, but it's always better to overestimate than to be in the hole for more than you have to spend. Considering what features you want, the materials you need, and the overall labor gives you a better idea about the cost of your project. You may also want to run your plans by a professional and request a quote. In fact, doing so gives you a better glimpse of how to budget for your basement project.
If you have any questions or suggestions, we always love to hear from you in the comments below. Also below are links to more useful and interesting articles about ALL things DESIGN for your home or business.
Images Courtesy of Canva.
Other Posts You Might Enjoy:
4 Things to Consider Before Adding a Basement Bathroom
Trending Basement Developments in Calgary
Turn Your Drab Basement into a Colorful Playroom
Share This Story, Choose Your Platform!