There are lots of details to consider when planning a home renovation. From choosing the right contractors to selecting the materials and deciding on a timeline, every decision you make has a long-lasting impact. Use these tips and guidelines for planning a home renovation to decide how to arrange, prioritize and plan a realistic home project plan. It will also assist in keeping you on track and within budget.
There is so much to consider! So, if you're thinking about planning for a home renovation, continue reading for some excellent tips.
Planning for a Home Renovation? Follow These 5 Tips.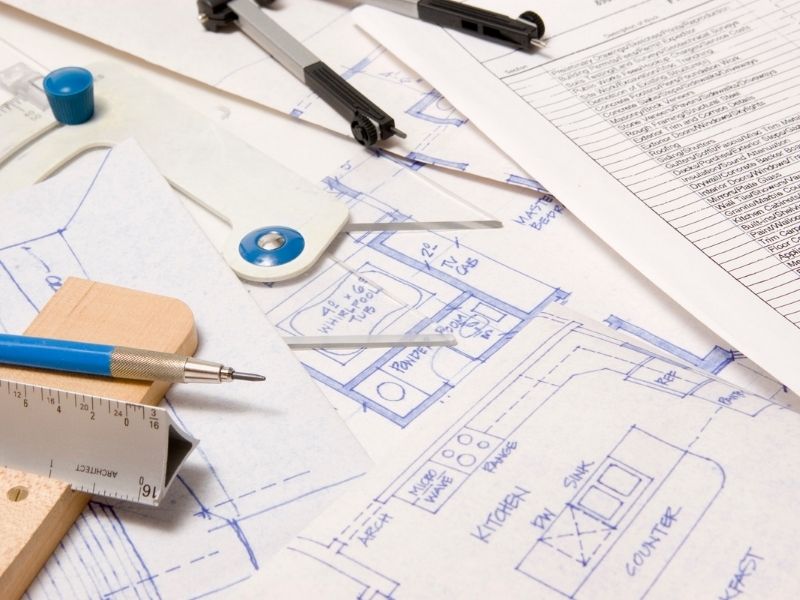 Get your plans in order.
As with any major project, it's always a good idea to start with a solid plan. Work plans for your home renovation include drawings showing every step of the project, the materials list, and the preparation level requirements. Work plans are an important part of any home remodeling job, as they ensure that everything is done according to schedule. Doing so helps avoid delays that may arise from unforeseen issues. 
For example, we recommend that you include the following in your project plans:
The initial outline and inspiration for your home renovation, the estimate of material and labor costs. It must also define your expectations of results.
Provides a detailed layout of your space, including measurements of walls and ceilings and the floor area. Ensure accurate measurements to acquire the correct materials Of course, doing so makes your home renovation less costly and faster. It may also include the original floor plans with room descriptions to better assist you in envisioning the project outcome.
Prepare a budget.
Your budget helps you stick to the plan. Estimate your costs from the type of renovation you want. Include whether you hire a contractor or do it by yourself. A general contractor's estimate must include both the cost of materials and the cost of the labor for workers.
Additionally, you must consider the scope of the renovation, the materials, and the timeline of the project. It's up to you to keep the budget realistic, with room for flexibility for issues or contingencies. You can always ask an expert if you're unsure how to prepare a workable budget for planning a home renovation.
Establish a work schedule.
You must also establish a realistic start date and complete a schedule for completion. First, schedule specific times for essential tasks. Then, set up a method for eliminating non-essential tasks. 
Make sure you schedule enough time to complete the home renovation or consult your contractor about the estimated time for project completion. You also must have a system in place for waste removal to dispose of any rubbish from the construction.
Hire a contractor.
If you decide against doing the home renovation on your own, carefully evaluate any potential contractors. Make sure you check references and ask for project examples similar to yours. This is especially true for plumbing or HVAC projects that require expert skills and knowledge. 
For example, if you need a contractor for heating or plumbing, you should check if they have completed satisfactory projects, like Goldcon Construction. A good contractor will be able to complete the renovation within a reasonable time frame and make sure the project meets all of its planned goals and specifications.
It's best to hire a contractor for most projects. This is because a contractor has been trained to complete specific jobs with a specific level of efficiency. If you were to try to do a variety of renovations on your own, it is easily overwhelming. 
A qualified contractor has the experience and knowledge necessary to complete any home improvement job effectively and safely. You also won't have to worry about whether or not the materials or workmanship is up to par. This is because most contractors go over every aspect of their work with you before beginning work.
Keep it simple.
Home renovations create complications, especially if you've never done anything like it before. Trying to tackle a home improvement project by yourself is overwhelming and frustrating. So, make sure you plan your project carefully and keep things simple at first. 
Here are some tips:
Keep all drafts of your work plans in one place so that you don't forget anything.
Focus on one room at a time. Larger rooms such as the kitchen and bathroom are a good idea for renovation. However, most homeowners complete the same tasks more easily by breaking them up into several manageable stages. 
Keep in mind that some phases of a project may take longer than others and may require more materials or time. By breaking up the project into smaller, more manageable pieces, you complete each task more efficiently and properly.
In conclusion.
When you're planning a home renovation, there are plenty of opportunities to get the job done right. These suggestions for planning a home renovation guide you to a smooth and efficient home renovation project. Take the tips above into account as you create a plan of action for your next home improvement project. With a little time and effort, you complete your renovation on schedule and within budget.
If you have any questions or suggestions, we always love to hear from you in the comments below. Also below are links to more fantastic articles about ALL things DESIGN for your home or business.
Images Courtesy of Canva.
Other Posts You Might Enjoy:
How Much Should I Budget for a Basement Renovation?
4 Ways to Keep a Clean House During Renovations
How to Know if a Fixer Upper is Worth the Cost of Renovation
Share This Story, Choose Your Platform!