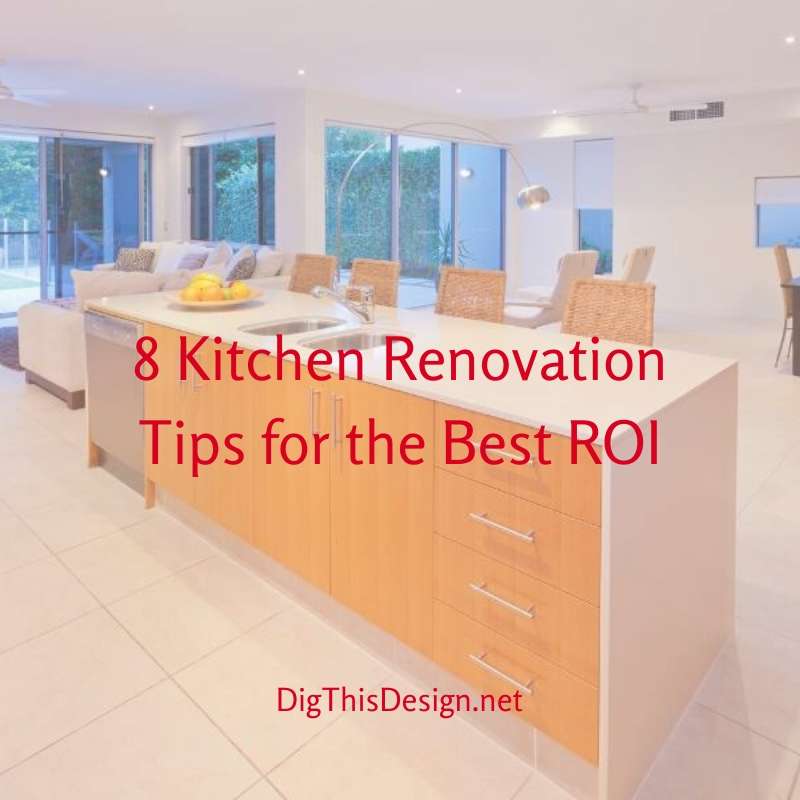 Whether you're looking to flip a property, or simply add value to your home, a kitchen renovation is a great place to start. Ideally, any renovation should add value to your home and, in the end, offer a return on your investment. However, not all renovations are the same, and some add more value than others. We love recommending that homeowners invest their money where it matters, and a lot of the biggest issues that come into play are seen in the kitchen. Your kitchen is the heart of your home, and transformations – both big and small – have a big impact. So, where do you start?
First and foremost, take stock of what you have in your kitchen. Then, make certain that you have a well-established budget for your kitchen renovation. Like any great project, these budgets should outline the parameters of what you can and cannot accomplish. So, from there, the sky is truly the limit. To reign it in and give you some focus for your kitchen renovation, here are eight tips to get off on the right foot.
8 Kitchen Renovation Tips for the Best ROI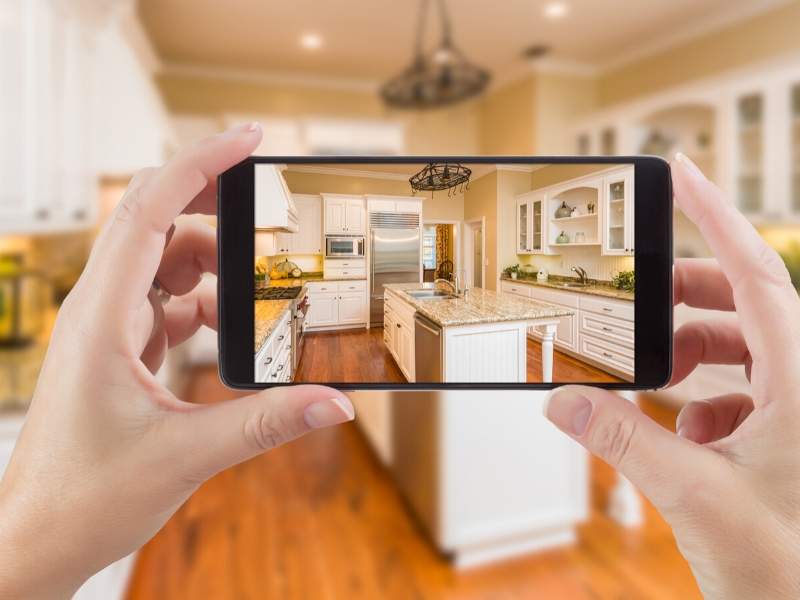 Look For Inspiration
This is always the best place to start with any renovation project. Before you knock down walls, demo, or add new details, you need to take stock of the bigger picture. What are you hoping to accomplish? Sit down with magazines, browse the Internet, and find the most compelling ideas for your kitchen design.
For instance, are you partial to a modern design? Do you prefer a more rustic approach? Whatever you choose, make sure that it doesn't stray too much from the rest of the design in your home. A kitchen renovation should streamline the look and bring it to the aesthetic of the rest of the house.
Think Small
This might seem contradictory, but we always recommend that you start small. Big changes equal big price tags. So, take a look at what you can change without depleting your budget. For example, painting your walls can offer a totally transformative look to the space.
Furthermore, you can swap outdated vinyl flooring for something chicer, or swap the taps for your faucet for something more aesthetically pleasing. Another great way to save money and accomplish a big change, you could tackle a DIY project like painting your cabinets. While time-consuming, it offers an incredible change, and you'll save money in the process.
Focus on the Use of the Room
Gone are the days where rooms served only one purpose. The kitchen is very much an entertaining space, and closed-off rooms aren't all the rage. People want an open space that allows them to interact with others and not feel closed off. Today, more and more people are looking for an open plan room which is ideal for socializing. These multifunctional spaces are ideal for families and couples who enjoy hosting gatherings. So, instead of having a wall separating the dining room and kitchen, a great idea is to knock down the wall and combine the spaces.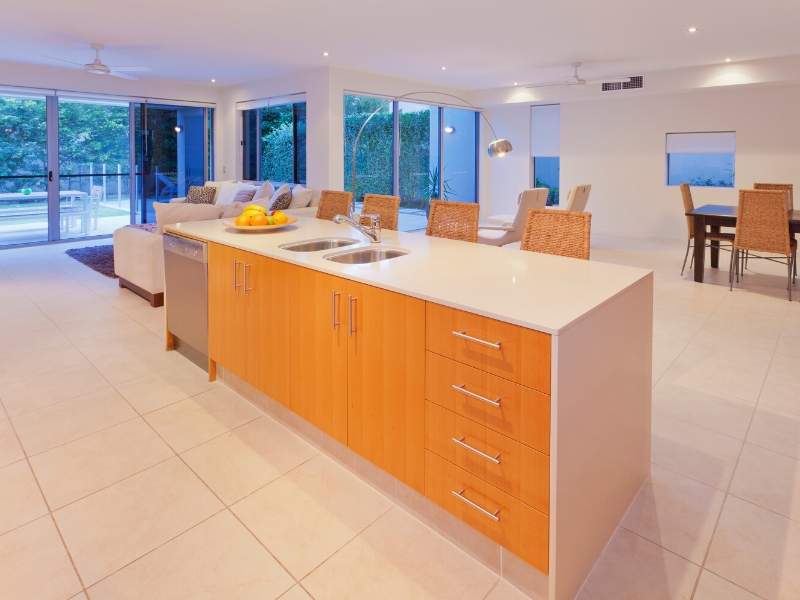 See how you can streamline the areas for the most maximized potential use. An eat-in kitchen and breakfast bar are extremely popular, and a great kitchen island that offers seating is also ideal. Make the most of your space – regardless of the room.
Opt for Easy-to-clean Surfaces
With more and more people living busy, hectic lifestyles, having dedicated time to thoroughly clean isn't always possible. When embarking on a kitchen renovation journey, remember that you're playing the long game. Go ahead and replace difficult-to-clean surfaces that breed bacteria or mold.
Hardwood flooring and sleek granite materials are incredibly popular in modern kitchens, as well as stainless steel and Corian. This is, in large part, because they're durable, easy to wipe down, and crack-resistant. Having built-in ovens and electric hobs is also ideal, as they save a lot of time and energy cleaning.
Fix What's Broken
You might be on your way out, but that doesn't mean you can overlook faulty items during your kitchen renovation. If you have a leaky tap or a broken cabinet door, it'll only serve to damage your home's resale value and potential. These issues are usually super simple to fix, but they need to be addressed.
If plumbing is an issue, don't wait, as the problem can grow more consistent over time. Consider calling in the experts – like those at Green Planet Plumbing – to tackle the issue for you. It'll save you time and, likely, a headache down the road.
Kitchen Renovation is All About Layout
Remember, your kitchen renovation should be as much about efficiency as it is about aesthetics. If you want to get a great return on your investment, take a good hard look at your home's layout. Is it as useful and as streamlined as it could be? Keep in mind, having a highly-functional layout is extremely important to most homebuyers these days.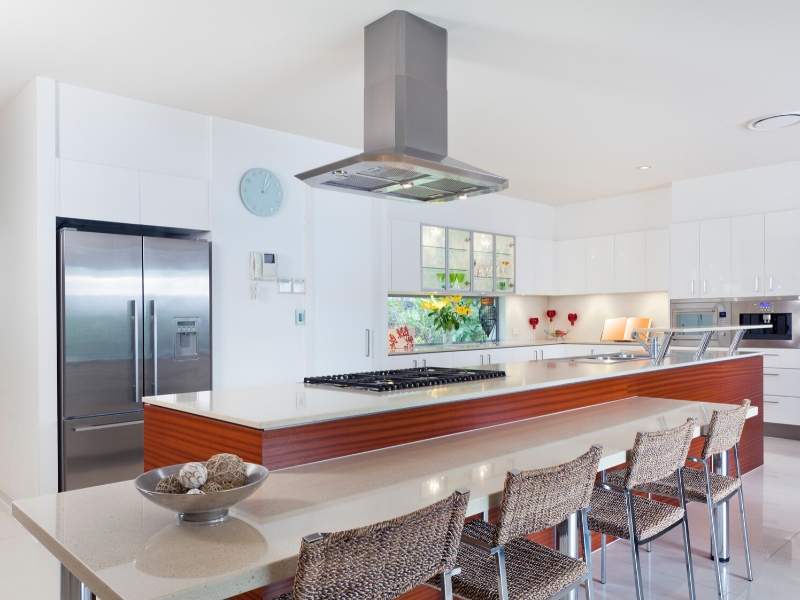 For example, you want to shorten the distance between your fridge and pantry and the prep station. You also want to limit the distance between your prep zone and your cooking surface. Think of it like this; you want your sequential cooking activities to happen side-by-side for a smooth, seamless cooking experience.
Your kitchen renovation should also focus on storage. Think about multitasking and how your space runs as a whole. Pots and pans should be near the stove, your kettle should be near the sink, and your toaster should be at your prep station. Less is always more here. The less running around from side to side, the less hassle of cooking and clean-up you'll have to endure. It's all about efficiency.
Upgrade Your Appliances
This one may seem like a no-brainer, and rightfully so. White or black ovens and stovetops give off a very dated look these days. They simply don't offer that sleek aesthetic that most homeowners are looking for. When making your kitchen renovation budget, make certain to include appliances if necessary. Homebuyers might be deterred if they see dated appliances that don't match the look they want. And remember, appliances can significantly bump up the value of your home.
Choose Timeless Colors
We're partial to color, and you might be, too. However, remember that your kitchen renovation is all about the long game. You're not transforming your space for you. Rather, it should be a return on your investment, and going for deep reds, dark browns, and more can actually lessen the appeal of your space. Of course, you can paint the house whatever color you like, but if you want to appeal to the masses, know that neutral colors including whites and grays are the perfect blank slate to start your design.
Images Courtesy of Canva.
Other Posts You Might Enjoy:
Kitchen Makeover; The Dos and Don'ts
Kitchen Design: 10 Ways to Personalize Your Space
How to Achieve a Chef's Kitchen in Your Home
Kitchen Style: 5 Faucets to Enhance Your Design
https://digthisdesign.net/wp-content/uploads/2018/04/8-Kitchen-Renovation-Tips-for-the-Best-ROI.jpg
800
800
Melissa Moore
http://development.digthisdesign.net/wp-content/uploads/2016/11/OLD_DigThisDesign_logo.jpg
Melissa Moore
2018-04-20 01:04:00
2021-01-16 10:01:53
Kitchen Renovation: Get the Best Return on Your Investment