Inviting guests over can be daunting. Sometimes, you are simply unprepared. One of the most important rooms to focus on preparing when you know you have guests coming over is the guest room. This is the room they'll be sleeping in and spending a good chunk of time in, so it's a good idea to put lots of energy into it. If you want to seriously impress your guests and give them an unforgettable experience, here are a couple of fantastic tips to get you started. Some of these tips will require renovations, some don't cost anything, and others will take considerable planning.
Guest Room Tips to Impress Your Visitors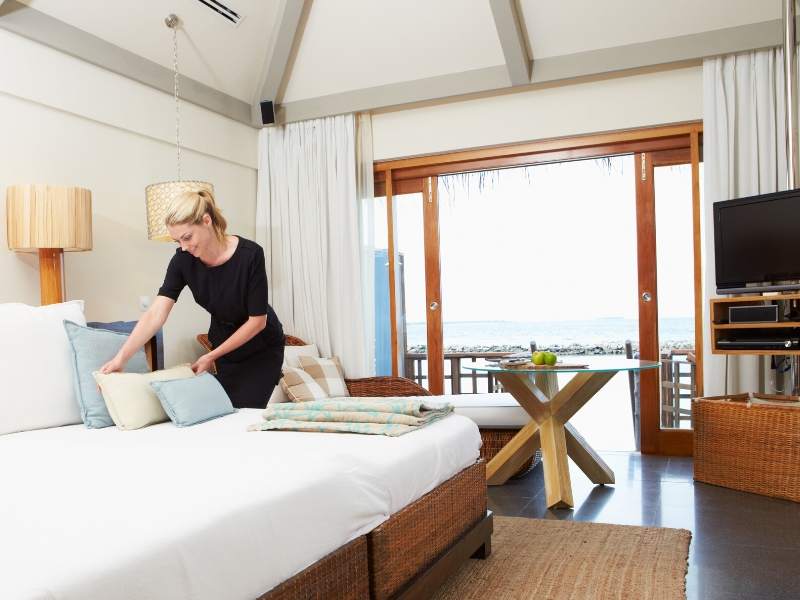 Renovate The Guest Room
Bedroom renovations aren't uncommon, but it's a hefty investment for a room that is seldom in use. However, if you want to provide your guests with a fantastic experience, then you need to invest money into your guest room. However, a bedroom renovation doesn't need to cost a lot.
For example, you might focus solely on the decor and lighting and neglect the actual bed itself. Instead, make sure there's plenty of pillows and a comfortable mattress that doesn't make their back hurt during the night.
Prepare Guest Items
If you want to pamper your guests, then invest in a cart or a tray and fill it with useful essentials. Buy small bottles of things such as mouthwash, toothpaste, and shampoo. Prepare things such as snacks, fruit, and extra blankets for them. You don't want to overload the cart with too many things. If it's a family member or a close friend that you're inviting over, then don't add things such as tea bags, coffee or a small kettle to the room unless they ask for it. For family or close friends, you want them to integrate into your household, so make them comfortable enough to use the kitchen in your house. However, if it's a guest that is visiting for business purposes or something similar, then you might want to include those extra guest items.
Focus On Comfort
There are a lot of ways to add extra comfort to your guest room. For starters, don't be afraid to add lots of extra pillows in order to pamper your guests. Always include an extra blanket or two in the room even if it's summer. Make sure you invest in good bedding as well. So, consider learning more about "down proof" fabric which could be the difference between an ordinary bed and something comfortable.
Give Them Storage Space
Your guests are coming over with their baggage, which means they'll need enough storage space. Things like clothes, towels and so on need to be stored in your drawers, not in their suitcase. Make sure you give them plenty of empty hangers and clear out wardrobes so that they have full access to it. Inside the wardrobes, place spare towels, blankets, and even slippers.
Don't worry about what they use the storage space for, just ensure that you have plenty of drawers so that they can store their personal items. You don't need too much space if your guests are only staying for a couple of days, but it's very important if they plan to stay longer.
Consider Their Electronics
Most guests will come over with some kind of smartphone, tablet, or laptop. Plan ahead for this by giving them a small desk or a laptop table for use with their devices, and ensure that your power outlets are visible to give easy access to charging. If you want to go a step further, plug in a power strip so they can attach multiple devices to charge at the same time. You might also plug-in charging cables for most common devices. They can be relatively cheap, but make sure they're sturdy cables that won't break from too much use. You also want to have a sign that shows your WiFi password and details. If your internet doesn't reach the guest room, then consider getting an extra WiFi extender or a more powerful router.
Bathroom Considerations
If your home is large enough to offer your guests an en-suite bathroom, then there's not much you need to worry about besides keeping it clean. Ensure that there's plenty of spare toiletries such as shampoo, conditioner, soap, and toilet paper. Give them space to store their toothbrush and medical supplies if needed. Ensure the hot water and shower work as expected. If they don't, get them repaired as soon as possible because plumbing issues can be very time-consuming. If you don't have an en-suite bathroom, then you want to give your guests some space in the main bathroom. Clear out some space so they can place their toiletries on a shelf, and give them room on your bathroom rack to store their towel.
Other Posts You Might Enjoy
Dark Rooms – How to Brighten Them
Balanced Bedroom Design to Energize and Relax
Bedroom Design; How to Create Your Perfect Bedroom
Maybe You Don't Need a Whole New Bathroom; 3 Tweaks to Give a New Look
Share This Story, Choose Your Platform!