Adding a bookcase to a room creates the perfect spot to show the character you want to bring out in your décor. They're so versatile for showing off everything from favorite books to family photos. There are many bookcase designs to choose from and it can be overwhelming. It's important to consider the size and shape of your new bookcase as well as its color and function.
How to Choose the Right Bookcase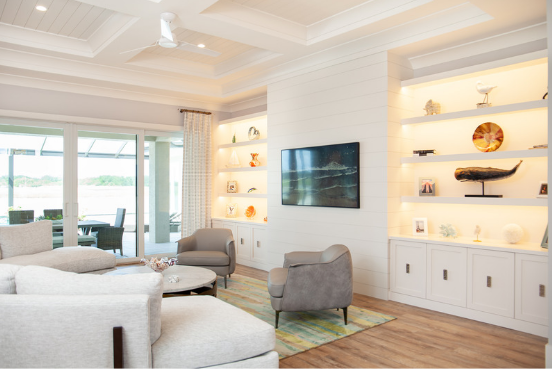 Design by Patricia Davis Brown Designs, LLC.
Read on for some bookcase styling ideas… 
Consider Your Space
The first thing to consider is the size of your bookcase. If your room has plenty of open space, you can go with a wider bookcase that holds a large library of books. If the space is tighter, then take advantage of your vertical height. A couple of tall narrow bookcases can neatly frame a doorway or fireplace. These are also useful for keeping breakable items out of the reach of tiny toddler hands. (On a safety note: if there are young children around, always fix tall bookcases securely to the wall.) While the number of books you possess affects your choice, their size also impacts on the width and height of individual shelves. It's important as well to balance the size of a bookcase to the dimensions of your room. If a bookcase is too small for the room, it will look lost while if too large, it will dominate the space too much. 
Consider the Aesthetics of the Room

 
While bookcases are functional pieces, it's important not to underestimate their aesthetic value. You will want to consider the style of your home when designing a built-in bookcase for your home. With today's trending transitional and contemporary styles you might want to consider floating shelves. Running LED strip lighting under shelves to create ambient lighting not only highlights the objects on the shelf but also adds ambient lighting to any room.
Make Your Bookcase Custom for Your Needs
As well as providing plenty of storage for books and accents, bookcases can also work for you in other ways. Use them to break up a large area into different spaces, maybe creating a dining area or an office space. Pop a tall slim bookcase or a low-level design into a bathroom (or utility room) to give you plenty of storage for towels and toiletries. Use small bookcases as bedside tables or put cube ones with a mix of open shelves into the kids' bedrooms. This is a perfect way to encourage a tidy room. 
However you want to style and use your bookcase, you'll find plenty of choices at bookcase offer Tylko. We have shapes and sizes to suit every space while a wide range of colors and finishes complement any decor. And, most importantly, our designs are sturdy, stylish and designed for a lifetime of use.
 

Other posts you might enjoy:
5 Creative Bookshelf Design Ideas for Your Home Office
Living In Style: 10 Ways to Make Your Living Room Cozy
Home Design Ideas to Update Your Home
Share This Story, Choose Your Platform!